Tomás Saraceno's environmental art implores us to live together differently
Through his own practice and the work of the Aerocene Foundation, artist Tomás Saraceno has advocated for a radical transformation of our relationship with one another, and with the planet. He features as one of 25 creative leaders of the future in Wallpaper's 25th Anniversary Issue '5x5' project, nominated by fellow artist Michèle Lamy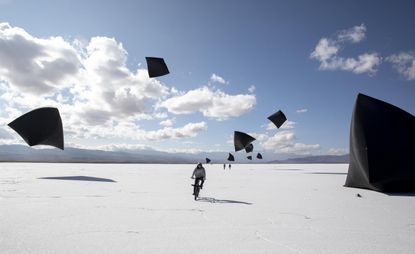 (Image credit: Studio Tomás Saraceno)
Tomás Saraceno believes that we're at the point of no return. His current installation at Copenhagen's Cisternerne – navigable only by boat – is titled 'Event Horizon', after the astrophysical term for the moment when gravity makes it impossible to escape the pull of a black hole.
His art, which from the start has investigated the relationship between humans and the planet and called for a radical transformation, has taken on an added urgency in the face of the climate emergency.
Parallel to his studio practice (which is in itself unconventional, he may be the only artist to operate a state-of-art spider lab and work with arachnid collaborators), he also runs the Aerocene project, which aims to answer the question: 'Is it possible to circumnavigate the world, using no other resource than the sun?'
Through fossil fuel-free flights, made possible by balloon sculptures that are kept afloat by the sun and travel with atmospheric currents, he has captivated audiences around the world, from the otherworldly salt flats of Bolivia to the storied vineyards of Champagne. A human flight in January 2020, at Salinas Grandes in Jujuy, Argentina, travelled 1.7km in 21 minutes, setting 32 world records and demonstrating the viability of a project that once sounded like a pipe dream.
RELATED STORY
Aerocene is a collaborative endeavour, involving scientists, engineers, and volunteers of all backgrounds, and inviting the general public to join in: anyone can borrow an Aerocene backpack to try out themselves, and the less adventurous can still get to know the project through the Float Predictor app, imagining the zero-carbon airborne journeys of the future. For his recent collaboration with Maison Ruinart, Saraceno additionally created an augmented reality experience which would allow the trajectories of Aerocene flights ('Aeroglyphs', as he calls them) to be shared with a global community.
The Argentine artist's upcoming exhibition with Neugerriemschneider, his first with the Berlin gallery since joining its roster in 2021, continues his exploration of environmental concerns and how we can live together differently. From the exhibition content – visualisations of air quality, photos printed using air pollutants from Mumbai, and blown glass works that heighten our consciousness of breath – to auxiliary gestures such as shifting the gallery's opening hours with daylight and powering it with renewable energy, we get a sense of the expanse and ambition of Saraceno's groundbreaking practice, which will only continue to soar in the years to come.
INFORMATION
aerocene.org

'Tomás Saraceno: We Do Not All Breathe The Same Air', 18 September – 31 October 2021, Neugerriemschneider, Berlin, neugerriemschneider.com
'Tomás Saraceno: Du Sol au Soleil', until 24 April 2022, Domaine des Etangs, Massignac, France, domainedesetangs.com
Museo Aero Solar For an Aerocene Era, until 21 November 2021, part of the 17th International Architecture Exhibition, Venice, labiennale.org

A version of this article appears in Wallpaper's October 2021, 25th Anniversary Issue (W*270), on newsstands now and available to subscribers – 12 digital issues for $12/£12/€12 (opens in new tab).
Meet more creative leaders of the future nominated by Michèle Lamy here.
TF has been editor of Wallpaper* since December 2020. He is responsible for our monthly print magazine, planning, commissioning, editing and writing long-lead content across all our content pillars. He also plays a leading role in multi-channel editorial franchises, such as our annual Design Awards, Guest Editor takeovers and Next Generation series. He aims to create world-class, visually-driven content while championing diversity, international representation and social impact. TF joined Wallpaper* as an intern in January 2013, and served as its commissioning editor from 2017-20, winning a 30 under 30 New Talent Award from the Professional Publishers' Association. Born and raised in Hong Kong, he holds an undergraduate degree in history from Princeton University.