Michèle Lamy, agent of change, on the artists to lead us into the future
Co-founder of Owenscorp, artist, performer, agent of change: Michèle Lamy on her conduits to co-creation, and five creatives who can lead us into the future – whom she champions as part of Wallpaper's 25th anniversary '5x5' project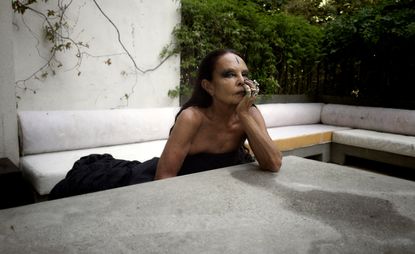 (Image credit: Caroline Tompkins)
Michèle Lamy is a mesmeric force of intention. As a co-founding partner of Owenscorp and the executive manager of the Rick Owens furniture collection, her life is a tactile one. The jewelled mouth, the smudged blackened fingertips, the clank of bangles and the dulcet French drawl are Lamy's talismanic armour and invitation. She creates opulently monastic home furnishings and sculptures in metal, bone, wood, cement and stone – and cocoons herself in silk, wool, leather, nylon and languid plumes of cigarette smoke.
When we speak via Zoom in mid-August, Lamy is fresh from an appointment with the butcher. 'We have been doing some furniture pieces in ox bone, which looks just like ivory, and we needed some more,' she says. 'The artisans at the atelier like it so much because they always get a serving of filet mignon too.' In a few days, Lamy will travel to Venice for the second edition of the Floating Cinema – Unknown Waters festival, for which she asked filmmaker Matt Lambert to curate a series of short films. Next up, she is unveiling a large-scale monochromatic sculptural work at Design Miami Basel. Lamy is always on the move.
'I like to think that I don't know when something is work or holiday, some places open your eyes to something else. I have this base with Rick and the furniture, so that maintains a certain direction. It helps me to travel and do other things I want to do.'
What Lamy wants to do is use the formidable circle of artists, musicians, designers, philosophers, chefs, and even boxers around her to piece together an idea of where our lives are headed. Recently, she has been posing the question 'What Are We Fighting For?', taking inspiration from the slogan used by her friends at the Overthrow Boxing Club, a Manhattan gym with a philanthropic mission. It is, she admits, a big question that needs an even bigger answer.
In Milan last year she hosted a day of multidisciplinary discussions to unpick the provocation, while travelling around on a Moncler + Rick Owens tour bus upholstered in French army surplus blankets, fitted with a stainless-steel bathroom and a Bang & Olufsen flat-screen TV. It was typical Lamy – both flamboyant and alert.
The act of curious intervention is her kickback to a chaotic world. 'For some reason, people come and talk to me, and when you've been around for a while, it's more like dancing out ideas. That's how things come about,' she says. Under Lamyland – the moniker used to describe her broad output – she creates settings for people to engage with an eclectic mix of allies, from the Bronx-based culinary collective Ghetto Gastro to the boxers at the Overthrow, and her own band, Lavascar. Lamy is a conduit for co-creation: 'I like leading, but sometimes I'm just getting seduced by who I meet – if I was in front of a blank page, I could write things all over it. But it's always about collaboration,' she says.
In the early 1960s, Lamy was a philosophy student under Gilles Deleuze, who believed that the standards we use to assign value are internal and intrinsic rather than speculative. 'Everything came together for me when I met him. I was 17,' she says. She learned the value of lived experiences from Deleuze: 'You have to digest things and see stuff that you can analyse for yourself. My bêtes noires are all the books today with titles like How to Live Your Life – you have to read the artists, the writers, and figure it out for yourself! These stupid recipes – which people make fortunes from – are like diet books. They never work.'
Lamy suggests we look to the Afghan-born coder Tameem Antoniades – a co-founder of Ninja Theory, the company that created the action-adventure video game Hellblade: Senua's Sacrifice, developed using research from neuroscientists at Cambridge University. 'Tam is somebody who directly answers the question about where we are going and what is the future.' His work exemplifies the power that tech has to help us understand humanity and 'how to understand harm', Lamy says.
Similarly, she is drawn to the computerised violence in LA-based artist Jordan Wolfson's work and the viscerality of artist Anne Imhof's output: 'Jordan is so gentle. He believes in fairies. He has something with the mind that is beyond conventional thinking – he sees things other people don't. He presents a future where robots seem to have more feeling than us. There is this tenderness even when there is violence and, because this technology is being used by an artist, you can perhaps imagine that robots are going to save our world.' Lamy seems drawn to deeply psychologically affecting works by artists who are unflinchingly sensual; Imhof's seductive and melancholy endurance art is as primordial and spiritual as Lamy's own.
She finds the ecological radicalism of Argentine artist Tomás Saraceno, which draws on the social sciences, compelling. 'He's pushing us to get strength from the sun. And he also wants us to fly! His is a very direct answer to the question of what is pushing us into the future and the direction we want to go,' she says.
In 2018, Lamy discovered the poet, essayist and painter Etel Adnan at Musée Yves Saint Laurent Marrakech, and was moved by the wholeness of her practice: 'When I saw her work, I could not believe that I did not know her all my life. She is fantastic – she's 96. You really have to read her writing to understand her painting, but most importantly, all the people I have chosen [as creative leaders of the future] are not trying to explain anything. They are just saying how they feel. I like when there is the beginning of something, and you are left to figure the rest out for yourself.'
Figuring it out is Lamy's full-time occupation. The protests in France in May 1968, she says, helped her to develop a freer way of thinking; to forge a life amid music, poetry, art. 'You talk about collaboration, but it's more like participation. Participation with the world.' Such an intuitive approach feels pertinent in a world struggling to reconcile its global and political troubles. The commercialised creative disciplines like fashion, architecture and furniture design have operated within the same formal structures for decades and feel at odds with the fluidity demanded of any creative process.
All of those formal structures are falling apart. Perhaps now is as good a time as any to adopt a Lamy-approved MO: to just go with the flow. Lavascar – the band Lamy fronts with her daughter Scarlett Rouge and the artist Nico Vascellari – testifies to this approach. In 2017, Lamy was approached to record an album by Red Bull Studios and around the same time was introduced to Vascellari, who was about to have a show at Palais de Tokyo, Paris. 'He wanted me to be in it somehow, so I said yes.' Together they presented a découpage of Langston Hughes' poetry; today, Lavascar exists as a bridge between spoken word and gothic electronic music. 'I am very One Thousand and One Nights – I have this deep fear that I have to tell these stories. People sometimes complain about my chaos, but it's not chaos. It is spontaneity.'
Many of her projects have a moral imperative. Later this year, she will work with Brussels-based social enterprise The Skateroom to fund the building of a skate park in Morocco. 'It's a way to go to people – or reach something that shows you where you stand, to do something that isn't polluting the world. To work with artisans and create things that are disappearing is very important,' she says.
'The five creative leaders of the future that I have chosen are all artists. We call them artists because they are the ones that push us towards the future. I like to be connected to something and "What Are We Fighting For?" is an event that makes us come up with answers. They are not textbook answers, but they are mine.'
Meet Michèle Lamy's five creative leaders of the future:
INFORMATION
A version of this article appears in the October 2021, 25th Anniversary Issue of Wallpaper* (W*270), on newsstands now and available to subscribers – 12 digital issues for $12,£12,€12 (opens in new tab).
London based writer Dal Chodha is editor-in-chief of Archivist Addendum — a publishing project that explores the gap between fashion editorial and academe. He writes for various international titles and journals on fashion, art and culture and is a contributing editor at Wallpaper*. Chodha has been working in academic institutions for more than a decade and is Stage 1 Leader of the BA Fashion Communication and Promotion course at Central Saint Martins. In 2020 he published his first book SHOW NOTES, an original hybrid of journalism, poetry and provocation.
With contributions from