Jordan Wolfson's transgressive art exposes the ugly parts of our nature
Through technologically sophisticated installations, Jordan Wolfson compels us to confront uncomfortable truths about human existence. He features as one of 25 creative leaders of the future in Wallpaper's 25th Anniversary Issue '5x5' project, nominated by fellow artist Michèle Lamy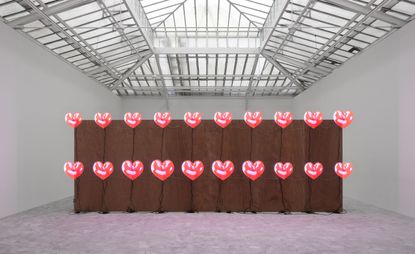 (Image credit: Jordan Wolfson)
The art of Jordan Wolfson has been described as bizarre, transgressive, 'borderline insane'. He shot to fame with Female Figure (2014), a robotic sculpture resembling a woman wears a revealing white dress and a witch mask, gyrating and giving monologues while using facial recognition software to return the viewer's gaze.
Another animatronic piece, Colored Sculpture (2016), involved a child-like puppet with a demonic disposition, suspended from a gantry system with heavy chains. It's flung around back and forth in the air and thrown against the floor in 15-minute cycles; all the while the classic love song When A Man Loves A Woman starts and halts in the background, interspersed with Wolfson's voice reading a menacing text. The violent performance elicits shock and horror, followed by discombobulation and intense debate over its meaning. Some say it's a comment on childhood trauma, some believe it's an allegory for how violence begets violence, others suggest that the work reveals the illusory nature of civility and exposes the ugliest parts of our nature.
Top: Wolfson's Female Figure, 2014. Photography: Jonathan Smith. Above: Colored Sculpture, 2016. Photography: Dan Bradica. Both images courtesy of Jordan Wolfson, David Zwirner, New York, and Sadie Coles, HQ, London
Born in 1980, Wolfson belongs to a generation of artists who came of age with the internet. Online culture has certainly informed the irreverence, brutal honesty and even deprivation that permeates his work; it has also shaped his ambivalence towards technology. Despite his embrace of CGI animation, animatronics, holographic displays, virtual reality and the like, he is no techno-utopian; indeed, a 2017 VR piece Real Violence showed the artist beating a dummy into a (computer-generated) bloody pulp, challenging the viewer to bear witness while coming to terms with their inability to intervene.
When we ask the LA-based artist what technologies and associated social phenomenon he's keen to explore next, he says, 'I'm changing so my work is changing. Once you surrender to that, topical interests seem to blend into each other and don't matter so much. But a big picture view I might ask, "How can consciousness be embedded into media?" And I don't mean just robots that move. What I mean is how all art is the embedment of consciousness into media: painting, sculpture, literature, film, music, etc.'
Likewise, while Wolfson tends to avoid prescriptive readings of his artwork, he is confident in his broader intentions: 'If art is supposed to be celebratory and propose a better world, for me that's decorative art. That's fine. But you're looking at my work from another genre,' he admitted in a 2020 interview. 'I'm not here to heal the world. I'm an artist. My job is to see the world'.
TF has been editor of Wallpaper* since December 2020. He is responsible for our monthly print magazine, planning, commissioning, editing and writing long-lead content across all our content pillars. He also plays a leading role in multi-channel editorial franchises, such as our annual Design Awards, Guest Editor takeovers and Next Generation series. He aims to create world-class, visually-driven content while championing diversity, international representation and social impact. TF joined Wallpaper* as an intern in January 2013, and served as its commissioning editor from 2017-20, winning a 30 under 30 New Talent Award from the Professional Publishers' Association. Born and raised in Hong Kong, he holds an undergraduate degree in history from Princeton University.