Anne Imhof: body language as tool, canvas and concept
Anne Imhof is one of five radical artists chosen by Michèle Lamy for Wallpaper's 25th Anniversary Issue '5x5' project. In the midst of Imhof's carte blanche at Paris' Palais de Tokyo, we explore how she has redefined the concept of body language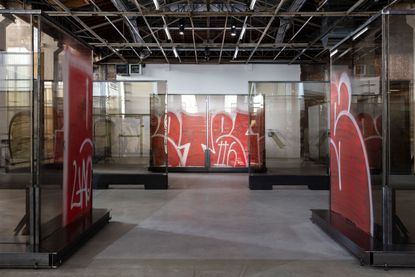 (Image credit: Photography: Andrea Rossetti. Courtesy of the artist, Galerie Buchholz and Sprüth Magers)
In the work of German artist Anne Imhof, the human body is a tool, canvas and concept. Through radical performances, she has redefined body language and become one of the most distinctive creative voices of her generation.
Imhof spent her formative years in Frankfurt am Main, where she taught herself to draw and compose music while working as a nightclub bouncer. Now based between Frankfurt and Paris, she has spent the last decade probing the intensity of isolation, fetishising contemporary consumer culture, and imitating the motifs of neoliberalism. Her performances – spectral, dynamic and unsettling – explore how moments of physicality are becoming increasingly constrained in the digital age.
Anne Imhof is one of five radical creatives chosen by French culture and fashion icon Michèle Lamy for '5x5', Wallpaper's 25th Anniversary Issue project. Her practice spans painting, drawing, film, music, installation, sculpture and hard-edged architectural interventions, as well as acclaimed live performances in which disciplines often intersect.
Imhof's live endurance performances confront the power dynamics between performer and viewer, leaving the latter wondering what's dictated and what's improvised. One of her most compelling pieces, Faust, secured her a Golden Lion at the 2017 Venice Biennale. Outside the German pavilion, four live Dobermans occupied a cage. Inside was a glass floor (or ceiling, depending on whether you're the spectator or spectated) beneath which a cast of activewear-clad performers chanted, gyrated, mutated, and engaged with props to an eerie soundtrack. Her work could be considered intentionally uneasy on the eye, searingly memorable, and entirely unrepeatable.
The artist is currently taking over the entire Palais de Tokyo with a carte blanche solo show, 'Natures Mortes', for which she worked with composer and longtime collaborator Eliza Douglas and 30 guest artists. The once-white galleries have been stripped back to their gritty bare bones; a glass-walled maze punctuates the space and disorientates viewers; a polyphonic soundtrack impales the senses.
In October, Imhof will activate the show with a group of performers, who will engage with the architecture, Imhof's installations, and one another. Simultaneously, she is staging the third of three chapters of 'Sex' at Castello di Rivoli Museo d'Arte Contemporanea, featuring large-scale paintings, performances and engagement with historical works from a parallel exhibition on expressionist art, 'Espressioni. The Proposition'.
In Imhof's work, expression is emitted through those who participate, whether that be performers or viewers. As she has explained of her choreography: 'It's basically the thoughts of the people that are performing in it that, in the end, shape it.'
INFORMATION
Anne Imhof, 'Natures Mortes', until 24 October, Palais de Tokyo, palaisdetokyo.com (opens in new tab)
A version of this article appears in Wallpaper's October 2021, 25th Anniversary Issue (W*270), on newsstands now and available to subscribers – 12 digital issues for $12/£12/€12 (opens in new tab).
Meet more creative leaders of the future nominated by Michèle Lamy here.
Harriet Lloyd-Smith is the Arts Editor of Wallpaper*, responsible for the art pages across digital and print, including profiles, exhibition reviews, and contemporary art collaborations. She started at Wallpaper* in 2017 and has written for leading contemporary art publications, auction houses and arts charities, and lectured on review writing and art journalism. When she's not writing about art, she's making her own.