Takashi Murakami on his monsterizing San Francisco show
Takashi Murakami tells us of pandemic-inspired creatures, eye-popping flowers, and NFTs as he explains the making of his exhibition at Asian Art Museum in San Francisco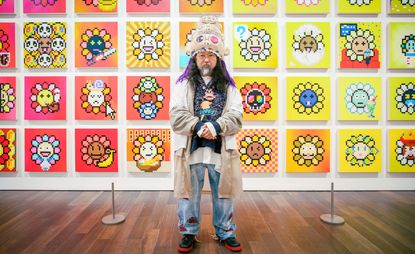 (Image credit: Photography: Eric Martinez, courtesy Asian Art Museum. Artworks: courtesy of the artist and Perrotin. © Takashi Murakami/ Kaikai Kiki Co Ltd. All rights reserved. Photography: Chiaki Kasahara)
For the better part of the last three decades, Takashi Murakami has dominated popular culture with his bounty of recognisable symbols. From his now-ubiquitous Flowers to his equally endearing Mr DOB alter-ego, Murakami's brightly coloured universe has expanded the reaches of art well beyond the canvas. Through his influence, Vans slip-on sneakers, Perrier bottles and T-shirts for Uniqlo, as well as music videos for Billie Eilish, cushions for the Museum of Modern Art and collectible timepieces for Hublot (both IRL and NFT), have all become veritable platforms for art. And while he has made his work available to as many people as possible, Murakami still continues to retain his standing at the pinnacle of the art world.
If it is possible to surpass this peak, Murakami is about to do it with 'Takashi Murakami: Unfamiliar People – Swelling of Monsterized Human Ego', a major exhibition that's currently on view at the Asian Art Museum in San Francisco until 12 February 2024. Showcasing more than 75 works, including more than a dozen that have never been seen before, the monumental presentation offers a unique view of where one of the world's most prolific artists is currently, in both his life and career.
'This exhibition came to be by invitation of [the museum's senior curator of Japanese art] Laura Allen, and in terms of the content, I have been running my own ideas on the rails she has laid out,' shares Murakami. 'Her theme has been to push my interests of the moment to the forefront.'
Rather than retread familiar ground with Murakami's smiling and playful characters, Allen chose to focus the show on the artist's use of monsters as a lens for examining human behaviour against the complex juncture of where we are today: a chaotic present and a virtually limitless digital future.
'The show focuses on works from the past decade,' Allen says. 'In recent years, Murakami's work has been evolving at a rapid pace. He has changed his subject matter in reaction to large external events, such as the 2011 Tōhoku quake, the pandemic, changes in the digital world, and internal events, like the isolation and alienation of the pandemic years.'
By honing his use of monsters, which has percolated as a theme in the artist's oeuvre over many years, the show facilitates a probing of Murakami's darker side, which feels especially poignant against the range of intensities facing the world today.
Discussions for the exhibition first began in 2018. While things ended up being derailed and delayed due to the global pandemic, what has ultimately emerged is an exciting new body of work that will surprise even the most fervent of Murakami fans.
Takashi Murakami on Unfamiliar People and monsterization
'Because the exhibition was interrupted by the pandemic, a great deal of time passed between the conception of the exhibition and its completion. Laura repeatedly expressed that she wanted to see my latest works,' Murakami says. 'Before the pandemic, we had selected the most recent works at that time. Then, after the pandemic began, I produced the Unfamiliar People series, which expresses the horror of the moment when humans turn into monsters, and new NFT-related works in rapid succession, so eventually, almost the entire show came to consist of the latest works. This is how Unfamiliar People became the main visual of this exhibition.'
In Unfamiliar People, Murakami depicts misshapen, sci-fi-style characters that nod to the world of aliens disguised as people in John Carpenter's 1988 film They Live, who revealed different and unexpected traits once their surface layers were peeled back.
'When I contemplated what the audience might expect and would like to see, based on this "Monsterized" theme, one thing I thought of was monsters that are not in human form,' he says. 'After the pandemic started, some people who used to live normal lives started to loudly voice strong opinions, or turned out to be vaccine conspiracy theorists, or started attacking others out of an astonishingly intense sense of fear. Some who seemed to be absolutely kind had abruptly changed, and
I felt that it was impossible to understand human beings just by looking at the surface.'
Allen observes: 'Somehow, the pandemic unleashed a kind of creative rebirth for Takashi. Suddenly, around the fall of 2020, new types of monsters were springing to life – and we were able to capture this moment in the pandemic portraits featured in this show, such as Unfamiliar People, and in the works related to the moment when, as he said "his brain turned on" to the potential of virtual and digital art.'
The exhibition's other namesake (the 'Swelling of Monsterized Human Ego') is equally timely and a jab at society's increasing submersion in the digital realm and its obsession with social media – areas that Murakami, himself a prolific poster, continues to grapple with.
'One of the recent themes for me in creating new artwork has been the formation of new types of ego and the loss of substance in communication caused by social media,' Murakami explains. 'In [Darren Aronofsky's 2022 film] The Whale, the ways in which the main character and his daughter communicate through social media and Zoom seemed to illustrate the drastically different ways the generation that has had social networking since birth and my 61-year-old self communicate. I can't completely comprehend how best to interact with and through social media, and am at times confused. In other words, I have a hard time understanding the distance of new relationships mediated by social media and it troubles me.'

Ironically, by contemplating the effects of rampant digital use in our daily lives, by contemplating the effects of rampant digital use in our daily lives, Murakami began pursuing a new visual arc – the incorporation of ukiyo-e motifs, a classical genre of Japanese art spanning the 17th to 19th centuries, into his work. Translated as 'pictures of the floating world', this style of painting is not only well-known due to its depictions of Japanese wealth, power and prosperity, it was also something Murakami has consciously avoided – that is, until now.
An epic, 25m-long new work, Judgement Day showcases an unravelling composition of classical figures, monsters and beings in various states of being 'monsterized', which poetically dovetails with his signature Superflat style that draws from post-Second World War anime and manga aesthetics. 'Laura and I had started to discuss the keyword "monsterized" for the show a few months before the opening, and I was exploring how to create a work that aligned with the keyword. Then, one day in early July, on the way back from my daughter's ballet recital, the idea came to me and I made this work,' says Murakami.

'For a long time, I was very reluctant to use ukiyo-e motifs for my paintings. The reason was that I used to think it wouldn't be such a good idea for me, as a Japanese, to use "Fujiyama Geisha" to make my debut overseas and gain recognition for it,' he elaborates. 'However, I have now been working in Europe and the United States for about 30 years, and I felt that it would actually be strange for me not to make any mention of ukiyo-e, which is the most well-known art form from Japan among people overseas.'
He continues, 'I thought it might be good to explore and create [different] kinds of Japanese monsters in the context of ukiyo-e, which is very familiar for someone like myself, born and raised in Japan, as well as to the general audience, visually speaking. And so with this piece, I referenced it for the first time. I placed Taira no Kiyomori hi-no-yamai no zu [also known as 'The fever of Taira no Kiyomori'], a work by Tsukioka Yoshitoshi, an artist of the Meiji period (1868-1912), at the centre of my painting, and surrounded it with motifs from famous ukiyo-e paintings by Tōshūsai Sharaku, including the large heads. I tried to express the "monsterized" state of human beings in the painting.'
With solid colour fields created using his trademark squeegee work technique, which he says 'express[es] a rougher and more dynamic use of colour', Judgement Day feels akin to another momentous work, which Murakami created after the Great East Japan earthquake of 2011, The 500 Hundred Arhats, which measures a whopping 100m in length. Allen anticipates Judgement Day to be equally seminal. Completed in just under three months, it is a deep testament to Murakami's artistic process and promises to be a late-career masterpiece.
'Takashi is a force of nature, and so I've been swept into the whirlwind of his practice. Getting a behind-the-scenes view of his creative process, studio mechanics and techniques has been a privilege that we've tried to share in various parts of the exhibition,' she says. 'The scale of the paintings, the density of their imagery, the diversity of styles and techniques. These are all works that really need to be experienced in person.'
Murakami's ruminations about Japanese art's traditional past are also articulated through a series of works made in response to ancient and traditional ceramics, of which he is a fervent collector and connoisseur. Again, he has translated recognisable ceramic motifs, such as Qinghua carp, perch and lotus flowers, into painted form, while preserving the classical palette of painted blue and white porcelain. While seemingly unlikely, and certainly unexpected, Murakami's connection to ceramics is deep-rooted and yet another throwback to an earlier stage in his career.
He reveals, 'When I made my debut at the age of 29, Mr Akira Aoi, a collector who had works by Willem de Kooning and Picasso, took me to the Museum of Oriental Ceramics, Osaka. At that time, he explained to me about the eroticism of ceramics, which I didn't understand at all and took home with me as homework to think about. Mr Aoi has since passed away, more than ten years ago, and I had wanted to and tried to somehow reach his state of mind before that, purchasing and observing ceramics. Along the way, I truly fell in love with ceramics from the bottom of my heart, having developed its vocabulary and sense of history for myself. I am not sure if what I understand now is the same as what Mr Aoi was trying to tell me, but I think I now understand the eroticism of ceramics in my own way.'
'Murakami's evolution is not a straight line but recursive, circling back to older interests, and sampling and remixing again and again, as is his style,' Allen concludes. 'He always has his eye on "the changing flow of desires" in the world, and he's constantly looking for new ways to express the bizarre or brutal [because] those desires affect who we are and how we experience the world. Doing all that, with a sense of humour, is a powerful way to make art that is accessible to a larger and younger audience.'
With the show rounded out by painted works recording Murakami's creation of NFTs and Murakami-themed avatars for the Clone X NFT collection, 'Unfamiliar People – Swelling of Monsterized Human Ego' is a comprehensive snapshot of Murakami's standing as one of the world's most acclaimed contemporary artists.
When asked if he took any risks with this exhibition, he replies, 'I didn't take any risks. Because art is not about taking risks. However, I think the biggest risk was that I made the people at the Asian Art Museum in San Francisco worry for a long time that I may not be able to produce the works in time for the exhibition. I think the risk has been hedged now that we have managed to present Judgement Day.
'I believe that art and philosophy are things with tremendous power,' he asserts. 'When you come into contact with them, your brain shifts at once from your ordinary life to the unrealistic world of imagination, and at the moment of that shift, your sense of values change beyond the reality that is born out of your new life.'

'Takashi Murakami: Unfamiliar People – Swelling of Monsterized Human Ego' is on view at the Asian Art Museum in San Francisco until 12 February 2024, asianart.org, @takashipom
This article appears in the November 2023 issue of Wallpaper*, available in print, on the Wallpaper* app on Apple iOS, and to subscribers of Apple News +. Subscribe to Wallpaper* today
Receive our daily digest of inspiration, escapism and design stories from around the world direct to your inbox
Pei-Ru Keh is the US Editor at Wallpaper*. Born and raised in Singapore, she has been a New Yorker since 2013. Pei-Ru has held various titles at Wallpaper* since she joined in 2007. She currently reports on design, art, architecture, fashion, beauty and lifestyle happenings in the United States, both in print and digitally. Pei-Ru has taken a key role in championing diversity and representation within Wallpaper's content pillars and actively seeks out stories that reflect a wide range of perspectives. She lives in Brooklyn with her husband and two children, and is currently learning how to drive.