5 minutes with Takashi Murakami on his new 'Superflat' Vans collaboration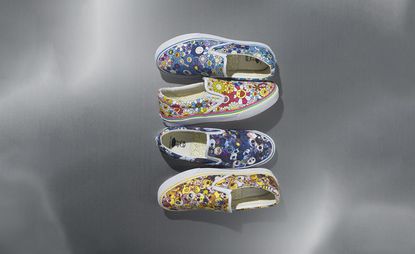 (Image credit: press)
In 2013 Japanese artist Takashi Murakami, who had shot to fashion fame for his Louis Vuitton collaboration during Marc Jacobs' tenure, did a shoot and corresponding interview with US Harper's BAZAAR for his upcoming film Jellyfish Eyes. During that conversation journalist Laura Brown simply asked Murakami, 'Who do you want to work with next?' Without hesitation, he responded Vans. 'The reason then and now is that for the past ten years or more I have worn Vans slip-ons nearly every day while in my studio,' says Murakami from Japan. 'For me, there is no other shoe that is as comfortable and which allows me to concentrate on my work.'

A few months after the article was published Murakami got an email from Brown saying that the footwear company wanted to contact him. Suffice to say, Van's VP global design & merchandising Steve Mills flew out to Japan shortly after and that's how the collaboration, which spans the brand's classic slip-ons, tees and skate decks, began.

We caught up with the artist to discuss his relationship with the fashion industry, his 'Superflat' style, and his thoughts on the union of art and commerce…

Wallpaper*: Your fashion collaboration with Louis Vuitton struck such a chord in popular culture, what appealed about Vans, as brand, for you to venue into apparel again?
Takashi Murakami: To be honest, this project is moving forward in a completely different style from my collaboration with Louis Vuitton. In some ways, it was through my experience with Louis Vuitton that I became educated in the etiquette of the fashion world. Compared to that, the Vans team feels extremely laid back. For a Japanese person like myself, their relaxed style is sometimes quite a shock. But for me this aspect is also one that inspires trust and so I've been able to approach the project in a very positive way.

W*: Why did you choose your smiling flower and skull patterns for this project?
TM: Both motifs were originally used as all-over patterns in my paintings so I thought they would work well when using shoes as a canvas. They are also trademark images of mine that are immediately recognisable.

W*: How do you ultimately feel about the merging of art and commerce?
TM: One of my favourite historical figure is Sen no Rikyū. He is considered to be the person who perfected the Japanese tea ceremony and is one of the most respected cultural figures in Japan. However, his original trade was that of a merchant. Commerce is, in some ways, the study of human desire and I believe that Rikyū brought this knowledge of true human nature to his theories on the tea ceremony. Though some consider this sort of fundamental desire to be base, I also believe that tapping into it allows art to reach its greatest potential. I almost must say honestly that as a Japanese, I do not feel anything strange or unnatural about mixing art with commerce. In our 'Superflat' world, this is something that is taken for granted.