Alber Elbaz on AZ Factory: 'fashion for a reason, not a revolution'
On 25 April 2021, it was announced that the ebullient and beloved fashion designer Alber Elbaz had passed away. Earlier in 2021, we spoke to him about his new brand AZ Factory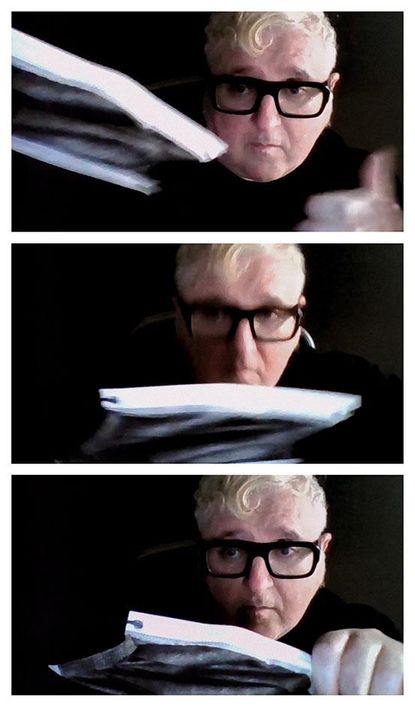 (Image credit: Bruce Gilden)
'I thought, if I name my new label after my initials, people will think of Albert Einstein,' chuckles Alber Elbaz over Zoom from Paris. With his bleached crop of peroxide blond hair, chunky glasses and monochromatic black tailoring, it's also hard not to picture Andy Warhol. January saw the return of the renowned designer, who, to much industry jubilation, launched his new Richemont-backed womenswear label AZ Factory after a five-year creative hiatus.

A reference to the first and last letters of the designer's name, the label sits somewhere between science and art, balancing the theorising of Einstein with the innovative creative production of Warhol. 'What I'm doing here is solving problems all day long,' says Elbaz of his 'solutions-based' label, which eschews seasonal collections in favour of direct-to-consumer drops of thematic, category-specific clothing.
AZ Factory: a brand delivering hard-working clothing that will transcend trends
Gone are the narrative-focused, dreamy creations that the Israeli designer was famous for during his 14-year creative tenure at Lanvin. In their place are clothes rooted in practicality, ones that respond to a woman's wardrobe requirements. 'Fashion week was always about the biggest cape, the shoes of the moment,' Elbaz says. 'My time away from it allowed me to observe life not just as a designer, but as a human being.'

AZ Factory's first release was MyBody, a series of engineered knitwear designs, available in sizes XXS to 4XL, which features form-flattering asymmetric, puff-sleeve and bow-detail dresses in black, beige and high-energy hues like magenta and cherry. The brand's AnatoKnit technology, which took eight months of testing, combines a series of knitting techniques that vary in density, supporting and celebrating the body with panels, compression points and perforations. Designs also feature long gold zippers, acting as can-do costume jewellery and ensuring women are able to fasten their dresses without assistance.
Pieces are paired with pointed-toe sneakers, a hybrid footwear design that treads between sporty comfort and sophistication, elongating the leg with ease. 'I thought, "a black dress?". Is that all I can come up with?' Elbaz laughs, reflecting on the focal silhouette of MyBody. 'Then I realised, at this time that's what we need.' The designer spent half a decade conceiving AZ Factory, but its season-subverting, solutions-celebrating clothing has even more resonance in the wake of the Covid-19 pandemic. Now more than ever, women require meticulously designed, hard-working clothing that will transcend trends. You can read more about this approach in our comprehensive guide to sustainable fashion. 'We change less than we think,' Elbaz says. 'I see women running next to the Seine in the same outfits, day in, day out.'
RELATED STORY
Utilitarian, yes, but well-considered clothing can still be exuberant. The joy of Elbaz's brand is that he can design with freedom, unconfined by industry restrictions. Other AZ Factory releases include Switchwear, a series of modular pieces that span leisure and eveningwear, including layerable, voluminous bubble-hem skirts and base-layer activewear pieces; and this spring's SuperTech-SuperChic, a series of sculptural evening dresses, formed from comfortable nylon microfibre fabrics often reserved for sport. 'Our company is like a fisherman's boat, not a cruise liner,' Elbaz says. 'We can change direction in ten minutes. It doesn't take us a week to make a new turn.'

Elbaz finds multiple meanings in the title of his brand. Beyond his own name, it also suggests a new beginning, and working on a whole alphabet of possibilities. 'There's something exciting about fashion that's of the moment,' he says. It could be a bag, a piece of jewellery or some pyjamas. 'I'm creating pieces for a reason, not a revolution.'
INFORMATION
azfactory.com (opens in new tab)