Introducing Merlette, the eco-aware brand elevating easy dressing
Merlette's fluid, billowing dresses in easy-to-care-for natural fabrics feel relevant and desirable – and are ideal for wearing year-round at home. No wonder the Brooklyn-based brand is having a moment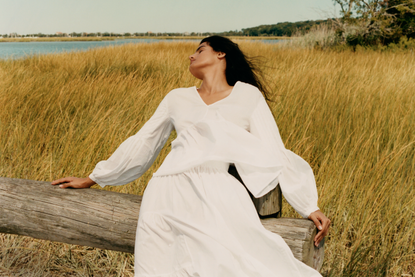 (Image credit: Andrew Jacobs )
Australian designer Marina Cortbawi founded Merlette in New York in 2016. Her easy, voluminous dresses have become the hallmark of the brand, with a design roster which also includes blouses, skirts and separates, all responsibly-made from natural fabrics. Lightweight Pima cotton from India makes up the mainstay; all fabrics and yarns are fully traceable.

'I wanted to create thoughtfully-designed realistic pieces for a woman to wear everyday,' says Cortbawi, speaking from her atelier in Williamsburg, New York. In recent months, the brand has experienced an uptick in 'house dress' sales online, demonstrating the versatility of the elasticated and pocket-detail cotton pieces that are washable, comfortable and versatile.

During a virtual video 'walk-through' of Merlette's S/S 2021 collection, we spoke to Cortbawi about her design mission:
Wallpaper*: You don't have a design background. How did you end up starting a fashion brand?
Marina Cortbawi: I didn't have a design background or degree; I studied journalism in Australia. Somehow, I ended up on the business side of fashion. When I was younger, I really wished I had gone to fashion school, but then I realised that having communications and cultural studies is so useful. I've also learned that design degrees don't necessarily launch you. I wouldn't change my trajectory now. I worked on the International Sales business for Oscar de la Renta and Carolina Herrera. I travelled a lot for those brands and learned a lot. Then I went to Central Saint Martin's and did some crash courses in drawing and pattern-making. After, I went to India to develop all the fabrics and embroideries that I wanted for starting Merlette.

W*: What was your vision for Merlette?
MC: After working in evening-based brands, I wanted to offer the customer something for everyday that was still special, good quality and felt beautiful to wear. Also, freedom in the garment, as opposed to squeezing into something. In 2015 and 2016, it felt more modern to wear looser garments and be a little more conservative, than wearing short tight skirts. I wanted to work with natural fabrics too, not scratchy jacquards or scuba fabrics. Something that felt really good that was also washable. We challenged ourselves to create the most special garments we could made from cotton. Treating it, pleating it, smocking it, embroidering it. We now work with silk and wool, too, but always only natural fabrics.
W*: Where do you source all your fabrics and yarns?
MC: The pima cotton and poplin we developed in Chandigarh, Punjab state, India – it's our own proprietary fabric. The pima yarns are traceable, OEKO-TEX® certified, which means they are fully traceable, come from reputable mills, and are free from harmful chemicals: we know exactly where our fabric comes from, starting with the yarn, which is very important. We know that we are getting great quality fabric every season; it's bought in bulk so we never waste it. We also get eco cottons from Italy and the yarns are from South Korea, Italy, China and sometimes Portugal.
W*: Where does the production and manufacturing take place?
MC: 90 per cent in India and 10 per cent in Portugal. The best sellers are highly embroidered and our best-selling fabric is the Indian Pima cotton. We make our more structured suiting and tailoring in Portugal.
W*: What was your inspiration for your S/S 2021 collection?
MC: The inspiration is different every season. We do a lot of research. This season was centred on a painting called 'The Dancers' by Rufino Tamayo, a modern Mexican artist. We usually start with one or two visual references and pull the colour palette, texture and details from these. The painting is about movement, optimism and freedom, which is what's needed at the moment. Our print is a 'dancing' tulip, designed by London-based artist Pedro Garcia. All the names of the pieces are based on Mexico, (the Acapulco dress, the Baja skirt), as travel is - usually! – very ingrained in our aesthetic. There is tonal embroidery on many pieces. Waists and sleeves are elasticated for comfort, and there are pockets on many dresses. We introduced some new playful colours – shocking pink and pale blue.

W*: Tell us about the bags, which are new this season.
MC: In the wake of Covid-19, we wanted to be resourceful and think about how we could use fabrics that we already had and eliminate waste, whilst venturing into soft accessories. There are three styles – a clutch, bucket, and tote – all pliable and light weight. They have artisanal details and Indian hand-smocking. Now we are five years old, it's nice to evolve into something else.
W*: Can you describe your studio in Brooklyn and the set up there?
MC: We used to be based in Sunset Park but we moved here last year. We have a little design office and a showroom in Williamsburg. I live two blocks away! Its myself; Ivo, my husband who is our CEO; and Jenna, our design manager. We also have Kendra in Los Angeles who takes care of marketing and wholesale as a consultant. We have people working from home, freelance designers and interns. We meet up every now and then - in the beginning it was in car parks from a distance. Now we are coming into the studio occasionally.

W*: How is the current global situation affecting what you are designing?

MC: Its changed much of the thinking around what people want to wear and how they want to wear it. At the moment, there is a big hesitation about doing too many evening dresses. But you still need to feel good at home, if you're not going anywhere you still need to feel happy, you need some hope and you're not going to dress in a slouchy or sloppy way just because you're not going out. It's about the power of the dress and how it makes you feel. We've noticed an uptick in our online sales in 'house dresses' – dresses that are easy to wear all day and perhaps have a detailed top which are good for video calls. Our collection always was really easy and washable – even the knitwear – so that hasn't changed, but we are staying away from things that are strictly occasion wear.
INFORMATION
MerletteNYC.com (opens in new tab)
Tilly is a British writer, editor and digital consultant based in New York, covering luxury fashion, jewellery, design, culture, art, travel, wellness and more. An alumna of Central Saint Martins, she is Contributing Editor for Wallpaper* and has interviewed a cross section of design legends including Sir David Adjaye, Samuel Ross, Pamela Shamshiri and Piet Oudolf for the magazine.
With contributions from