Issey Miyake and Tadanori Yokoo's pop-culture inspired collaboration
Tarzan, Jaws and Marilyn Monroe all feature on a series of men's blousons which 'give a sense of hope and look to the future'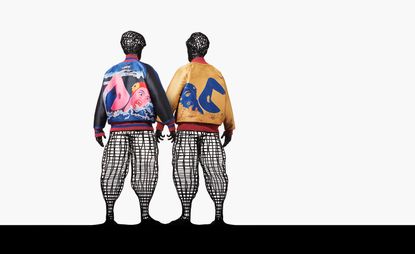 (Image credit: Hiroshi Iwasaki )
It's the kind of image that prompts an immediate double take: against a scarlet red backdrop, Jaws, the shark, flashes its teeth next to a wide-mouthed Marilyn Monroe, alongside a scattering of Japanese characters which translate as 'panic'.

This is one of eight dynamic works by the Japanese artist Tadanori Yokoo which steal the show in a special new series of blousons which will be launched by Issey Miyake this month.

The new Tadanori Yokoo Issey Miyake project was masterminded by Issey Miyake designer Yoshiyuki Miyamae using a series of original artworks by the legendary 84-year-old artist Yokoo, some dating back as early as the 1960s.
Yokoo is no stranger to the world of Issey Miyake. A longtime friend and collaborator of Miyake, he has designed the Issey Miyake Paris Collection show invitations twice a year, since 1977 to present day, in his signature graphic style.

Marking the starting point of the new project, the eight artworks used in the blousons series are bright, bold and dynamic, with a risqué jolt of boundary-pushing in terms of the female form.

Among them is 'Moat', a 1966 work depicting a swimmer with yellow and red flowery swimcap and unshaved armpit against a backdrop of a traditional Japanese castle; another is 'Tarzan' is Coming, created in 1974, with the old school hero's rugged visage centre stage in pop art-style layers of sky blue and light pink.

'We picked artworks which we felt really give a sense of hope and look to the future,' Miyamae tells Wallpaper*. 'We always try to make clothes that can give hope for the future, and have felt the significance of delivering such powerful clothes in this particular time.'

Explaining his choice of a genderless blouson form, he adds: 'Yokoo san's work is so strong that I wanted to maximise this, and I thought a blouson would be the best canvas.'

Beneath the surface lies a signature Issey Miyake mesh of craftsmanship and high-tech innovation. The collection was produced at a weaving factory near Mount Fuji, a hub for Issey Miyake's A-POC (or A Piece of Cloth) computer system.
RELATED STORY
Left, dress, £2070. Right, jumpsuit £2205, by Issey Miyake.
Each blouson is cut from a single piece of recycled polyester fabric using advanced A-POC technology, with the artworks woven directly into the textile using precisely seven different colour threads in each design.

The soft balloon silhouette of the lightweight blouson is lined at the neckline, base and cuffs with a stretchy fabric created using Steam Stretch, another Issey Miyake innovation. 'It's a combination of all the technologies we've developed over the years,' explains Miyamae.

The Tadanori Yokoo Issey Miyake blousons will go on sale in Tokyo's Homme Plisse Issey Miyake / Daikanyama store from October 23, followed by stores in Osaka and Kyoto in November, before launching in Europe next spring. An exhibition focusing on the project and offering unusual insight into the A-POC making process – including A-POC textiles of the individual blouson components and blousons displayed on black 3D-printed mannequins made of a biodegradable vegetables starch – will also take place at Daikanyama T-Site Garden Gallery in Tokyo from October 23 to 25.

Miyamae adds: 'Mr Miyake always tells me that he wants to convey a positive message to the world through his creations. I hope these create a feeling of energy and hope for the future.'
INFORMATION
isseymiyake.com (opens in new tab)