How to shop more sustainably this summer
What is sustainable fashion, and how can you shop with an environmentally friendly focus? Here, we present our checklist on how to look and feel good on the inside and out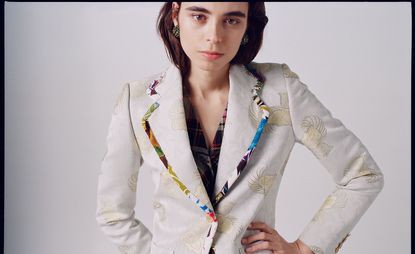 (Image credit: press)
'Sustainable fashion': a phrase common in today's luxury parlance. But the popularity of a term doesn't make it any easier to unpack. In fact, it makes it even more difficult to understand if a brand or retailer is operating from an environmentally-aware manufacturing perspective, or is greenwashing its production practices.

For today's conscious consumer, the buzzwords around sustainability are becoming increasingly impenetrable, from circular economy to supply chains, traceability to carbon footprint, mycelium to micro plastics, regenerated to recycled. Not forgetting the host of conscious certifications used to to label garments (BCI, GOTS, Oekeo-Tex, Cradle to Cradle to name just a few).
Here we present a checklist of how to approach shopping for clothing with a more environmentally friendly mindset, alongside the sustainable fashion brands to focus on.
Sustainable fashion: shop second-hand
Garment production is predicted to grow by 81 per cent by 2030, and as more virgin clothing is produced around the world, so more natural resources are destroyed, from over farmed landscapes caused by cotton, wool and viscose production, to the chemicals from denim manufacturing polluting water supplies. A simple way to spend more consciously? Shop second-hand, and purchase pre-loved designs which are already part of fashion's manufacturing eco-system. Think marketplaces and peer-to-peer reselling plaftorms like Gen Z favourite (90 per cent of users are under age 26) Depop, luxury menswear and sneakerhead favourite Grailed, and for men and women shopping for burgeoning and classic brands alike, France's Vestiaire Collective (whose financing round in March received a €178 million investment, backed by French luxury group Kering) and the United States' The RealReal.
A benefit of shopping second-hand, is that brands that may appear out of reach are in fact, affordable. 'Buying timeless luxury, especially on the secondary market, is one of the smartest things you can do because the quality and craftsmanship behind the pieces mean they can have many lives,' says Sasha Skoda, head of women's, The RealReal. 'In the past year, the website saw a 36 per cent increase in first-time buyers purchasing high-value pieces and saw like handbags, jewellery, watches, and sneakers.' The luxury consigment retailer has also just launched ReCollection 01, a series of upycled pieces, from blazers to shirts, crafted from materials donated by brands including Balenciaga, Dries Van Noten and A-Cold-Wall*, and reworked with an Americana-inspired spin by Atelier & Repairs.
Check your carbon footprint
A considered way to shop is to consider an environmental metric, and work to reduce it. McKinsey's 'Fashion on climate' report published in August 2020, concluded that in 2018, the sector was responsible for some 2.1 billion metric tons of greenhouse-gas (GHG) emissions, which is about 4 per cent of the global total and the same per year as the entire economies of France, Germany, and the United Kingdom combined.

San Francisco brand Allbirds, most famous for its streamlined merino wool trainers, works to reduce the carbon footprint of its manufacturing processes, and alerts consumers to the carbon number of its products. Take its Dasher performance shoe, formed from sugarcane and tree fibres, which encompasses 9 kg of carbon dioxide per pair, estimated by the brand to be nearly 30 per cent lower than the average trainer. Or its t-shirt, made from waste fibres from the shells of Canadian snow crabs, which has a footprint approximately 20 per cent lower than a standard polyester design.
Allbirds is intent on sharing its findings and innovations with the wider retail and apparel industry. Its sugarcane EVA material, used to make its SweetFoam™ soles, is used by Reebok, Timberland and Ugg and in May 2020, the label announced a revolutionary brand partnership with Adidas, to create sustainable fashion with the lowest possible carbon footprint. In celebration of Earth Day 2021, Allbirds released an open-source version of its carbon footprint calculator at FreeTheFootprint.com, to allow other labels to use its technology. Its also called on brands to be more transparent about the carbon footprint they generate during manufacturing. At the G7 summit in Cornwall in 2021, the brand also etched a pair of giant footsteps in the sand of the beach opposite its coastal location, to urge world leaders in attendance to 'walk the walk' when it comes to sustainability.

Merino wool specialist Sheep Inc., which creates unisex jumpers, cardigans, lightweight hoodies and beanies, operates from a 'carbon negative, future positive' standpoint. The label's biodegradable and ultra-fine merino wool pieces are knitted using solar-powered, zero-waste machines, using raw fibres sourced from New Zealand sheep farms, which use regenerative farming methods. Each Sheep Inc piece features a tag that scan be scanned to reveal the provenance and carbon footprint of the design. The label also invests 5 per cent of its revenue into biodiversity projects, projects which mitigate, at minimum, ten times the CO2 impact of each sweater's full lifecycle.
Shop local
Another sure fire way to reduce your carbon footprint – reducing the distance that manufacturing components and finished pieces travel around the world – is to shop from brands that produce in studios and ateliers local to you.
For Spanish footwear and bags, look to Hereu, which works with artisans to create moccasins, shoulder bags and sizeable totes in natural fabrics, including Spanish full-grain calf leather. In the United Kingdom, knitwear label Hades work with a family-run wool mill Yorkshire Pennines in England, and knit their designs in Hawick Scotland, while JW Anderson's 'Made in Britain' capsule collection features shirting and trenchcoats, created in UK-based factories. In France, mother-and-daughter brand MaisonCléo creates hand knitted designs in Lille, using deadstock threads and fabrics, while in the United States, New York brand Peter Do manufactures its designs, in the label's founding city.
Watch your water intake
According to the WWF, it takes more than 20,000 liters of water to produce just one kilogram of cotton, which roughly amounts to a single t-shirt and a pair of jeans. Dyeing, bleaching, washing: there are many manufacturing processes in denim production that require water, but a number of brands are using pioneering technology to reduce their water footprint.

At Levi's, the label's pioneering Levi's Water Less project has seen it incorporate 20 water-saving initiatives, including using 96 per cent less water in its denim finishing process. The label also uses recycled water in its factories, including 100 per cent recycled water in its Epping plant in South Africa, and between 2017 and 2020, the cumulative amount of water its suppliers recycled grew by 40 times, for a total of more than 9 billion liters of water. Currently, Levi's produces 80 per cent of all its products using Levi's Water Less techniques. Other brands, including Frame and Reformation, have joined with the Ellen MacArthur Foundation's The Jeans Redesign initiative, adopting its guidelines and recommendations. Frame's Ellen MacArthur Foundation Jeans Redesign capsule collection features jeans and a jacket which are produced with water waste-reducing processes, without harmful chemicals, while Reformation's jeans offering is made from with cotto from Good Earth, the first Australia-based carbon positive cotton farm.
For other planet protecting options, look to pieces that are crafted using Econyl or regenerated nylon, a nylon substituted made using wasted ocean plastics, like fishing nets and drinking bottles. Evarae, Away That Day and Ohoy Swim all provide chic swimwear options, while Prada's Re-Nylon pieces use Econyl to update its signature sporty nylon silhouettes, from backpacks to bucket hats. The brand plans to be free of all virgin nylon in its supply chain by the end of 2021. Environmental organisation Parley for the Oceans also creates fashion pieces using ocean plastic-derived waste, including a series of woven textile pieces, due for release in autumn, designed in collaboration with innovative Dutch knitwear specialists Byborre.
Embrace environmentally-friendly fabrics
A host of incubators, brands and luxury groups are innovating around novel materials, that can be used as substitutes to materials formed from animal products and non-renewable oil-based polyesters. You may not expect your local green grocer to be a leading contender in the world of environmentally friendly fabrics, but alternatives to leather and silk, are being crafted from oranges, pineapples and apples. The mushroom is also a fungal force, and in March 2021, Stella Mccartney launched two garments, a bustier and a pair of tracksuit bottoms, using Mylo, an alternative to leather crafted using mycelium (sourced from the root system of fungi), developed by Silicon Valley materiality start-up Bolt Threads. In October 2020, Stella McCartney, luxury group Kering, Adidas and Lululemon all teamed up to make investment in the innovative company.
Luxury maison Hermès is also a fan of fungi. In March, the house released a prototype version of its classic Victoria travel bag, created using Sylvania, a lab-grown mycelium leather, created in collaboration with MycoWorks, which had been tanned in its specialist leather workshops.

In June 2021, Gucci announced the launch of Demetra, a non-petroleum or animal-derived alernative to leather, which its team of scientists and artisans have spent two years formulating. Demetra has been used in the launch of three sneaker styles, the 'Basket', 'New Ace' and 'Rhyton', and Gucci plan to expand the use of Demetra within footwear and wider product categories over the coming months.
Elsewhere, other incubators are offering leather alternatives that will soon be industrialised. Natural Fiber Welding Inc, has created a substitute formed from vegetable oil, that has 40 times less carbon impact than traditional leather and 17 times less carbon impact than synthetic leather, made from plastic. All Birds is an investor. Biotech company Modern Meadow is also producing a leather alternative in its New Jersey lab, using a fermentation process involving yeast and collagen.
Pay attention to by-products
Leather is a conflicting material for many, especially those who are vegetarian. However, many 'vegan' leathers also pose environmental problems, as they are produced using plastics. For fans of the durable and long-lasting fabrication a host of brands use leather that is ethically or organically certified, and is not used specifically for fashion production, but as a by-product of the meat industry. Leather specalist Skiim works with companies including The Sustainable Angle and the Leather Working Group to source and accredit its materials, which are used to craft timeless pieces like trenchcoats, ruffled skirts and shirts. These initiatives were implemented after model and eco-advocate Arizona Muse joined the brand as a sustainability consultant.
Opt for upcycled materials
'For those of you who are not familiar with the production process of a garment, you have your flat fabric laid out on the table, you have your pattern pieces—your sleeve piece, your front piece and your back piece—you lay them on the fabric, you cut around your pattern piece, you get your garment pieces and you put them together, but you are left with waste fabric,' London-based designer Phoebe English explained in 'Fixing fashion: clothing consumption and sustainability', an environmental report submitted to the UK government in February 2019. The designer is a leading pioneer in sustainability. In August 2020, she was shortlisted for the Design Museum annual Beazley 'Designs of the Year' exhibition, with the 'Nothing New' collection, which featued a quilted jacket, produced from waste from a previous fashion collection, in itself non virgin material sourced in the label's home city of London.

In the UK, consumption of new clothing is estimated to be higher than any other European country at 26.7kg per capita. However, according to the Textile Recycling Association, it has one of the highest collection rates of used clothes in the world, thanks in part to charity shop networks. Look out for a host of burgeoning brands that incorporate deadstock, waste or upcycled fabrics into their designs, from Paris' Marine Serre, whose brand is made up of 50% upcycled fabrics, London and Devon's Wright Le Chapelain, who create timeless tailoring using denim and shirting sourced through homeless charity Crisis, Dutch Duran Lantink, who works with brands and retaliers like Ellery and Browns, to splice and dice surplus stock and materials into new silhouettes. For A/W 2021, Lantink's collection film was visualised as a satirical salon show, with models sporting DIY deconstructed designs, which were auctioned off on the brand's website after it was streamed. Also slook to London's Ahluwalia and Copenhagen's Ganni, who have launched a patchwork capsule collection created from deadstock leopard print fabrics and leathers.
Analyse your ethics
Sustainable fashion isn't just about the environment, it's about shopping from an ethical perspective too, asking not just where our clothing comes from, but who it is made by. From 19-25 April, non-profit global organisation Fashion Revolution, is launching its latest campaign, #whomademyfabric, one calling upon the public to question more than 60 major brands and retailers, asking ask them to publicly disclose the processing facilities and textile mills in their global supply chains.
Fashion Revolution Week is focused around the anniversary of the Rana Plaza factory collapse in Bangladesh, which saw 1,138 people and scores injured. Worldwide, the charity works to make the fashion industry and governments recognise the interconnection between human rights and rights of nature. Human rights abuses are notable in textile mills, informal workshops, tanneries, dyehouses, plantations and farms, that provide fabrics and materials for clothing. In August 2020, fast fashion retailer Boohoo, which sells dresses for as little as £4, faced a modern slavery probe, after it was revealed that workers in its Leicester garment factories in the UK, were being paid less than half the legal minimum wage.
Up the rent
Lured by a one-wear only occasion piece, bought for a wedding or black tie event, and never to be flaunted again? We suggest renting your out out ensemble instead. Clothing rental platform Rotaro, which has party dresses aplenty, plants a tree for each rental it provides and a thicket of bushes for each new brand in partners with. It also uses recycled packaging and Ozone cleaning, which has minimal environmental impact. Peer-to-peer lending service Hurr, which features a range of products from clothing to shoes, also allows customers to work out the quantatitive enviromental saving of renting an item instead of buying it. The platform has just launched a host of eye-catching jewellery pieces, from London based brand Alighieri. This includes a selection of bridal rental pieces, including embellished dresses, head pieces and veils. Elsewhere, bag rental service Cocoon, which received investment from luxury group Kering in June 2021, allows you to borrow bags from brands including Bottega Veneta, Gucci and Chanel, swapping your choice several times a month, depending on your subscription service.
Care for your clothes
Adopting eco-friendly practices at home is a simple way to operate more environmentally. Wash clothing using natural detergents in the washing machine at 30° instead of 40° and place synthetic items (think sportswear and thermal wear and pieces made from regenerated nylon) in a Guppyfriend Bag, a washing machine pouch that catches microplastics from clothing and prevents them from polluting water systems.
For products to extend the lifetime of clothing, look to Swedish garment care company Steamery, which produces eco detergents produced in a carbon-neutral factory, alongside other tools for pepping up your clothing, from steamers to fabric shavers, clothes brushes to clothing and shoe mist. A host of repair services also ensure you can keep your favourite pieces for a lifetime, from luxury goods recovery service The Restory, to Toast, which offers repair workshops in person and online, using Sashiko, a specialist way of mending and patching clothing.
Move towards made-to-order
According to Greenpeace, 300,000 tonnes of used clothes are burned or buried in landfill each year in the United Kingdom, and the average life span of a garment is only just over two years. One logical solution to reduce garment waste is simply to create less clothing. In a bid to prevent overproduction and create sustainable fashion, a host of innovative brands and retailers are adopting a made-to-order buying model. Traditionally associated with the world of haute couture, this means that garments are only produced after they have been ordered by a customer.

A host of brands and retailers are excelling as made-to-order mavericks. Look to APOC Store, an innovative e-commerce marketplace to emerging artists and fashion designers, which sells according to small production runs or bespoke orders. Check out high street retailer Toast, which has introduced a made-to-order offering of craft-celebrating artisanal designs, from Ikat dresses to leather tote bags. And look to smaller labels like London-based Cawley, which specialises in easy, fabric-focused creations, from gingham dresses to upcycled patchwork jackets, and fellow Londoner Helen Kirkum, who creates spliced and diced sneakers crafted from upcycled footwear and has worked with brands including Reebok, Adidas and Casely-Hayford.