Made-to-order fashion is giving garment waste the chop
Think of made-to-order fashion as a key manufacturing tool to reduce garment waste. Here we present those leading the consumption-reducing charge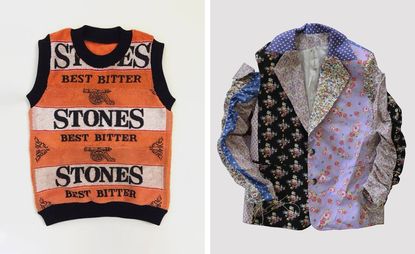 (Image credit: press)
Capitalism, consumption and the allure of fast fashion has encouraged the Western world to splurge on far more clothing than it needs. According to Greenpeace, 300,000 tonnes of used clothes are burned or buried in landfill each year in the United Kingdom, and the average life span of a garment is only just over two years. Sometimes, overproduced garments never even make it to the shop floor. Clothes pile up in material mountains on landfill sites or in recycling centres, and their synthetic microfibres clog the seas (see our comprehensive guide to sustainable fashion for more information). When the world ground to a halt last year, garments also also stacked up in the storage units of retailers and the studios of fashion designers, losing allure and saleability as the seasons changed.

One logical solution to reduce garment waste is simply to create less clothing. In a bid to prevent overproduction, a host of innovative brands and retailers are adopting a made-to-order buying model. Traditionally associated with the world of haute couture, this means that garments are only produced after they have been ordered by a customer. A slower approach to design encourages a more considered approach to consumption; and we've all learnt the benefits of this slower pace over the past 12 months.
Here we detail fashion's made-to-order mavericks
APOC Store: the retail disruptor
When the Covid-19 pandemic hit in 2020, burgeoning fashion labels were among those faced with the cancellation of seasonal buying orders from retailers worldwide. Without expected wholesale revenue, they were left with piles of unsold stock, without an income stream, and in severe financial constraints.
In a bid to support burgeoning non-commercial talent, Ying Suen and Jules Volleberg launched APOC Store in August 2020, a diverse digital marketplace that allows emerging creatives, across fashion and art to showcase and sell their designs. 'The world was kind of crumbling around us,' says Suen. 'We wanted to make a difference.'
APOC's partners are unfettered by retail requirements, like order minimums or category and colour specifications; they can sell pieces according to their own making impetus, be it as small batches of shoppable stock or through made-to-order commissions. Designs featured include beer branding-inspired knits by Adam Jones, bean-shape bags by Ed Curtis, gauzy scar-motif vests by Khanh Brice Nguyen, and upcycled patchwork jackets by Neith Nyer.
'The fashion industry has become very homogenised,' Suen says. 'We respect that every designer is an individual, with different capacities and resources.'
APOC Store allows a platform for emerging talent, including recent graduates, who may find the cost of launching their own e-commerce platform significant, or the prospect of business with a large retailer is unappealing. Volleberg estimates that its Instagram receives 300 direct messages from prospective designers every month. He and Suen speak to their sellers regularly, advising on production and manufacturing issues, including Brexit, and requesting personal feedback. This community-led focus has also resulted in a series of six collaborative projects, which are launching this month. Among them are inflatable latex trousers with 3D discs, created by fashion designers Sun Woo and Harikrishnan. 'These projects have provided real moments of connection, which we've all been so starved of,' says Volleberg.
Yuima Nakazato: the technological innovator
It's taken six years for experimental Japanese couturier Yuima Nakazato to develop his first ready-to-wear collection, Type-1, an offering that was inspired by the single image of a needle. 'I took a picture of a needle that was 20,000 years old at the British Museum,' explains Nakazato, who studied at the Royal Academy of Fine Arts in Antwerp and launched his label in 2015. 'It made me consider that our method of producing clothes hasn't really changed much since then.'

Exploring how garments are fastened together led Nakazato to develop a series of metal rivets or 'dots' that can be used to attach pieces of fabric. These are the formative elements of Type-1, a series of 3D knitted organic cotton T-shirts, which can be customised with a range of made-to-order attachable sleeves and collars, through the designer's new e-commerce boutique. These elegant add-ons are crafted from delicate French lace and prismatic Japanese silk, sourced from the storage facility of a defunct kimono factory in Kiryu.
The designs also take inspiration from traditional native silhouettes, and the concept of 'deconstructing and washing a kimono on a daily basis'. In Japan, there's a wait of two weeks for a Type-1 T-shirt once ordered. International orders take longer. The silhouette is just one of an evolving series.

'If clothes can be dismantled more easily, repairing and recycling of them will be done more easily,' Nakazato says. His made-to-order, customisable designs don't only reduce overproduction and encourage consumer creativity, they also promote a circular economy. When Type-1's 'parts' wear down, like collars and gemoetric lace hems, they can be returned to the atelier, where they will be unravelled for reuse.
Toast: the high street innovator
'We've always designed for longevity,' says Toast CEO Suzie de Rohan Willner, of the craftsmanship-focused fashion and homeware label and retailer, which boasts 18 stores on the British high street and a host of international stockists, from Sweden to the United States. The brand has a robust Social Conscience programme, championing artisanal making and environmentally friendly production. At present, 85 per cent of its fabrics are biodegradable, all customer packaging is recyclable, and the label even hosts a garment lifecycle-boosing Renewal service, repairing and transforming pre-loved Toast pieces.

Willner is conscious that overproduction is a key driver of garment waste, highlighting that often global brands even manufacture pieces destined simply for sale season. 'We'd have a far leaner industry if people didn't produce simply for markdown!' she says. In a bid to subvert this system, the label has launched its first made-to-order service, featuring a curated selection of clothing, accessories and homeware items that can be pre-ordered online before they are produced. These include a patterned ikat wrap dress, a leather pocket bag by Cornish collective Francli Craftwear, and scorched-ash chopping boards and spoons, crafted by Dartmoor-based woodworker Ambrose Vevers, who featured as part of Toast's 2020 New Makers programme. These items can take up to eight weeks to create.
RELATED STORY
'It doesn't make sense to order thousands of pieces from a craftsman, then reduce them on sale and devalue their work,' Willner says. 'These are really designs to keep for life.' For her, this is one 'quiet' initiative towards a longer-term goal that could encompass customers choosing a Toast silhouette of their liking from a specific fabric. 'We're navigating and piloting different methods,' Willner adds of an intention that brings together local makers and producers, and hones the high street into a space for artisanal celebration. 'You have to think about what shops will look like in the future,' she says. 'They're places where creatives can be together.'
Cawley: the local production leader
When Hannah Cawley launched her eponymous label in 2017, after a three-year stint at British label YMC, she ensured slow-fashion was focal point of her label. Cawley's designs, which range from breezy cotton check dresses, to stripe sheepskin jackets, loose linen jumpsuits to layered jacquard vests, are handmade in Lewisham, south London, using natural materials sourced in traditional mills, across England, Ireland, Japan and Portugal.

Cawley operates a two-fold retail model: wholesale global retailers, which include London's Gentlewench and Tokyo's Maidens Shop, operate alongside a made-to-order service, with designs taking around a month to make. 'With this, we offer a different selection of garments at a lower price point,' Cawley explains. 'It's really important for me that the brand is accessible.' Particular made-to-order favourites include the 'Julie' and 'Georgie', gingham cotton dresses with gathered cuffs and straps. The gathered details make reference to a bespoke smocked collection that Cawley has also launched, after learning the time-consuming technique with her mother during lockdown.

The designer draws attention to her network of local factories, which allow her to create garments, including patchwork jackets made from deadstock suede, in very low production runs. 'I can make pieces as experiments, just one or 20. This avoids the pressure of sitting on large amounts of stock,' Cawley says. She's noticed a refreshingly unhurried approach from made-to-order clients. 'I thought people would be emailing me asking where their pieces were. Luckily, I haven't experienced that at all.'
Helen Kirkum: the footwear aficianado
You might expect a trainer designer to be a sneakerhead, but east London-based Helen Kirkum is quite the opposite. 'If I was too invested in the brands that make the trainers I'm cutting up, it would be difficult!' Kirkum smiles. Her interest in trainer design arose when studying for a master's in footwear at London's Royal Collage of Art in 2016, after a technician advised her they weren't 'real' shoes. 'I was interested in construction methods, how we value things and the concept of "unmaking",' she says.

Kirkum's textural, deconstructed creations, formed from patchwork offcuts of upcycled fabrics, have caught the attention of industry leaders and artists, and her fledgling studio has collaborated with and created bespoke commissions for Reebok, Adidas, Casely-Hayford and Takashi Murakami. Kirkum also operates a made-to-order service, and sifts through clothing donation bins for raw materials, working with the charity Traid to gather single shoes that have not been fastened in pairs. 'I clean and deconstruct the shoes and then sort pieces into different sizes and colours. In terms of design, it all comes down to the materiality of the pieces'.

Kirkum's made-to-order clients can opt for a bespoke style in predominantly black or white colours, 'built like a collage and puzzled together', or they can send in up to six of their own sneakers to be deconstructed and remade into one unique 'Legacy' silhouette. 'People attach very specific sentimental value to sneakers,' she says. 'These styles are representative of someone's personality and the memories and livelihood embedded in the materials'. It takes a week to create these emotively charged designs, for which Kirkum designates specific space on her cutting mat, sectioned off with a masking tape label bearing a name scribbled in biro. This label is then affixed to the shoe box of the final 'Legacy' design, which has a unique product code that incorporates the number of fabric swatches that were used, alongside the client's initials.
Oyuna: the force of nature
'My aim has and always will be centred on considered designs, coupled with Mongolian production, from start to finish,' says Mongolia-born, London-based Oyuna Tserendorj, founder of cashmere brand Oyuna. Since 2002, the brand has created timeless, luxurious and tactile ready-to-wear and homeware designs, from cashmere coats to blankets, in natural and vivid hues, which celebrate the artisanal production of nomadic Mongolian goat herders.

It's estimated that 70 per cent of Mongolian grasslands are degrading to some degree, due to climate change and overproduction. What's more, due to mass exportation, very little cashmere is reserved for its country of origin. 'I hear first-hand the devastating effects that climate change and industry pressures have on herders and their livelihoods,' says Tserendorj. In a bid to support her suppliers, the designer has launched Earth, a capsule collection of clothing and throws, from unisex sweaters to fluid dresses in a range of organic tones, which can be bought according to a made-to-order model. 'This will allow herders to benefit directly from the revenues that are generated from their care and work, allowing them to better manage their cash-flow and retain their independence, which is integral to nomadic culture'.

It takes an average of three to four months for Oyuna's Earth designs – which are crafted from Sustainable Fibre Alliance (SFA) certified cashmere – to be produced. Timing depends on when herders choose to comb their goats for raw fibre, as in colder temperatures they require this for warmth. Lucky made-to-order customers can expect to see process shots of their chosen pieces in production, alongside astonishing shots of the Mongolian countryside. They might even get a cheeky selfie from a goat and its herder.