Icicle, the cross-continental label championing sustainability for 25 years
On the arrival of a new collection, 'Hemp Up', womenswear artistic director Bénédicte Laloux tells Wallpaper* the story behind minimally minded fashion label Icicle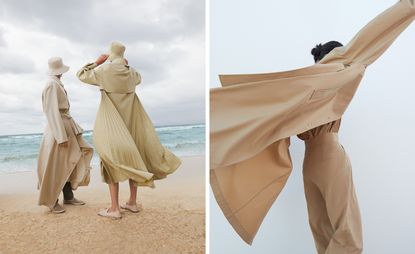 (Image credit: press)
Conversations about sustainability were in their infancy when Ye Shouzeng and Tao Xiaoma began Icicle, a Shanghai-born label that has championed environmentally aware clothing since 1997 – long before such terms became the marketing buzz words du jour. Take any one of its garments – spanning the 25 years Icicle has been business – and you will find 'Made in Earth' inscribed inside, 'signifying the ongoing pursuit of harmony between man, nature and society', as current vice president of the Icicle group Isabelle Capron describes.
Indeed, the idea of harmony proves prescient across the label's collections, which are neither too much, nor too little – a foundational wardrobe of clean-lined pieces crafted entirely from natural fibres in a restrained palette of whites, creams, beiges, denim blues (the colours Icicle uses are either from undyed fabrics, or obtained through the use of plant dyes). In charge of design for the house's womenswear collection since 2012 is Bénédicte Laloux, a French designer who previously had stints at Chloé, Lanvin and Celine. Asked how she might describe Icicle to the uninitiated, she offers: 'natural, singular, sustainable, easy to wear, pleasurable', citing Chinese Taoist principles of balance as some of the label's guiding philosophies. 'Chinese philosophy brings a certain calm and humility to the way we create garments.'
The story behind 25 years of sustainability at Icicle
The ten years in which Laloux has been at the brand – alongside fellow French native Capron, who joined as vice president in 2013 after roles at Dior, Boucheron and Fauchon – have seen a shift in the way Icicle operates; now, the label is split between both Shanghai and Paris, Laloux having set up a design centre in the French city in 2012. Already an expansive presence across China, with close to 300 stores in 100 cities, Shouzeng and Xiaoma wanted to instil the label with a distinctly European perspective, particularly in terms of their connections to design, art and architecture (of the last, Belgian architecture practice Bernard Dubois provides store design for outposts in both China and beyond, reflecting the label's natural palette and 'simple but perfect lines' in its minimally ornamented spaces). In 2019, the brand opened a flagship store in Paris at 35 Avenue George V, which has been followed by a new store on Rue du Faubourg Saint-Honoré this year.
'Icicle stands like a bridge between east and west, inspired by both cultures, and both identities,' says Laloux. 'We create a wardrobe that uses the best skills of both – for example, the Parisian savoir-faire is influenced by the desire for lightness, comfort and high-performance fabrics in Shanghai.'
Adds Capron: 'It's truly a blend of the respective talents of both countries to create something new, and universal. Twenty-five years' experience from the Chinese team on sustainable fabrics, dyeing techniques, textures, merge with this element of French couture.'
Case in point: Icicle's latest capsule, titled 'Hemp Up'. Part of an ongoing series of 'Natural Way' collections – 'a seasonal showcase for the progress of the brand in the area of innovation', as Capron describes, sitting alongside the main S/S 2022 collection – it draws on the hemp plant's impressive credentials as a water-efficient natural fibre that also purifies earth and air, utilised in China since the era of antiquity (its choice coincides with the elemental Chinese year of water). 'Hemp is an ancestral fibre,' says Laloux. 'Like linen, it doesn't need a lot of water to grow, just rainwater, nor does it need pesticide and it actually has a positive impact on biodiversity.'
Combined in the capsule with silk and organic cotton – other fabrics central to Icicle – Laloux creates a hemp–focused collection with 'an almost veil-like lightness', which anchors on a series of riffs on the classic trench coat (whether amplified in proportion, with a stand collar, or cut to a shorter parka-style silhouette). A muted palette of white, sand and camel is derived from natural, plant-based dyes – like a series of 'tea dyes', which don't require any chemicals to fix the colour (a 'clean dye', as Laloux describes). Playful hemp bucket hats, with trailing tie fastenings, complement the languid silhouette.
'The idea is to have a wardrobe that can be shared, that can be worn by everybody, every day,' Laloux says. 'Inspired by workwear garments, they are essentials that can be mixed. We made them adjustable, too, so you can fit them to your body.'
The capsule provides a counterpart to the label's main S/S 2022 collection, a sunny selection of pieces – from gently oversized tailoring to plissé silk dresses and further plays on the classic trench coat – which encapsulate Icicle's easygoing approach to dressing. 'For me it's important that people find true companions in our garments, pieces that will accompany them through their lives – like best friends, to give you confidence and pleasure every day,' says Laloux. 'I hope people wear them with a smile.'
INFORMATION
Jack Moss is the Fashion Features Editor at Wallpaper*. Having previously held roles at 10, 10 Men and AnOther magazines, he joined the team in 2022. His work has a particular focus on the moments where fashion and style intersect with other creative disciplines – among them art and design – as well as championing a new generation of international talent and profiling the industry's leading figures and brands.