The evolution of Rabanne
Once known for its futuristic couture, 1960s-founded fashion house Rabanne is evolving under the creative direction of Julien Dossena, but remains true to its founder's avant-garde legacy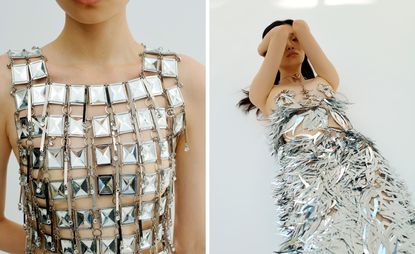 (Image credit: Photography by Sophie Tajan, fashion by Nicola Neri)
Wallpaper* Newsletter
Receive our daily digest of inspiration, escapism and design stories from around the world direct to your inbox
Thank you for signing up to Wallpaper. You will receive a verification email shortly.
There was a problem. Please refresh the page and try again.
In 1966, the Spanish couturier Paco Rabanne presented his breakout collection, 'Twelve Unwearable Dresses in Contemporary Materials'. An evolution of an earlier project, as well as his work creating plastic accessories for Parisian houses like Schiaparelli, Balenciaga and Givenchy in the early 1960s, the collection of abbreviated mini dresses were fashioned from futuristic panels of aluminium and iridescent plastic, joined together with metal rings to evoke chainmail.
The audacious designs would send a jolt through Paris' traditional haute couture salons – 'he's not a couturier, he's a metal worker,' Coco Chanel is said to have sniped – and posited the designer, who first trained as an architect, as fashion's enfant terrible. Alongside fellow couturiers André Courrèges and Pierre Cardin, and furniture designers such as Verner Panton, Arne Jacobsen and Eero Aarnio, he was deemed responsible for ushering in the 'space age' spirit of the late 1960s, which used post-war industrial materials to create a gleaming, utopian vision of the future. 'I defy anyone to design a hat, coat or dress that hasn't been done before,' Rabanne said in 1966. 'The only new frontier left in fashion is the finding of new materials.'
'I can feel the evolution': Julien Dossena on ten years at Rabanne
In February 2023, Rabanne passed away, aged 88, at his home in Brittany. The following month, in Paris, French designer Julien Dossena – creative director of the house since 2013 – presented a collection that he described as a 'coda to the couturier's legacy', ending with five archival dresses and featuring spoken extracts from Rabanne as part of the show's soundtrack. 'Spanning five decades, these dresses will signal the innovative craftsmanship that defines the timeless and totemic women of Paco Rabanne,' read the collection notes.
'He left behind so much, all those radical moments of modernity,' says Dossena, speaking from the Rabanne design studio on Paris' Rue Françoise ('Paco' has now been dropped from the house's name as part of a wider rebranding). 'He was really fighting against the old rules, the old world. Even aesthetically, he didn't understand couture, and he didn't want to understand.'
The collection itself had been completed prior to Rabanne's death, though a sensorial focus on material and texture – several of the intricate paillette-covered gowns and skirts could be heard jangling as they walked the runway – felt a fitting homage to the designer's legacy. 'When you wear Rabanne chainmail, it's really a feeling. There is a sensation between the garment and the skin,' he smiles. As such, collections often begin with Dossena tasking his team to experiment with fabrics and embellishment.
This season, sharp, elongated metal paillettes were honed to evoke both the 'lightness and movement of feathers' and 'little weapons'. Elsewhere, a layer of sheer mousseline was combined with metal mesh to conjure up the effect of 'smoke around the metal', while leather panels seemed to melt away into diaphanous chainmail.
'The two materials together have this tension, this new interaction,' says Dossena, who grew up in the Brittany resort of Le Pouldu, not far from where Rabanne would spend most of his later years. He never met the couturier, preferring to respect the distance that Rabanne placed between himself and fashion by the time he left his label in 1999. 'I did hear from a few people who were still in contact with him that he was really liking what we were doing with the brand,' says Dossena. He was even told that Rabanne had said he was welcome to reach out for a coffee the next time he was in Brittany.
'I never dared to,' says Dossena. 'He was doing so many other things, and expressing himself across so many other fields. And I wanted to respect that – when you work on somebody's name, on their designs, you don't know how they feel. I wanted to keep that respectful distance. So I never met him, but I don't regret it. Let's call it politeness.'
Besides, the designer brought his own influences to the house. He remembers first encountering fashion through a video of a Jean-Paul Gaultier runway show on TV as a child in the late 1980s, the beginning of a lifelong fascination with clothing (in a full-circle moment, he was selected as Gaultier's guest designer this season, showing a collection at the last couture week in July). 'He was surrounded by all those crazy, beautiful people,' he says. 'I'd never seen people like that in Brittany, and I was like, "Wow, that looks so fun. And that's a job?"'
Dossena would go on to study art at the Duperré School of Applied Arts in Paris, before moving to Brussels' visual arts institution La Cambre to become part of the prestigious fashion school (notable alumni include Saint Laurent's Anthony Vaccarello, Bottega Veneta's Matthieu Blazy and Courrèges' Nicolas Di Felice). There, he became fascinated by the work of Belgian designers like Dries Van Noten and Martin Margiela; on graduation, in 2008, he took an internship at Balenciaga, which was in the process of being reinvented by creative director Nicolas Ghesquière. The French-Belgian designer's anachronistic approach melded archival silhouettes with moments of futurism, something which proved hugely influential to the young Dossena.
In 2012, he left Balenciaga and launched his short-lived label Atto. Later that year, stylist Marie-Amélie Sauvé – a longtime Ghesquière collaborator, who now styles Dossena's own collections – introduced him to Marc Puig, CEO of the Barcelona-based Puig conglomerate, which owns Rabanne. The house had gone through two designers in two years and was in need of some stability. After working at Rabanne for eight months, Dossena was promoted to creative director in 2013.
For the first four years, he did not enter the house's archive. 'I didn't want to fall into the trap of recreating [garments], or being retro,' he says. 'Then, at some point, I thought we were solid enough to recontextualise some of the archive.' When he did, he didn't leave for three days, 'taking pictures of every little thing'. What struck him were not the singular garments, but the overwhelming sense he got of the designer from old photographs, newspaper editorials and discarded chainmail tests.
'Rabanne was just in love with metal,' says Dossena. 'To him, it symbolised the next civilisation. He wanted everyone dressed in it. It felt like I was seeing this really deep, personal, cultural expression of him.'
Now Dossena visits the archive when 'he wants to be surprised', likening it to the feeling of visiting an exhibition or gallery for inspiration. On one of these visits, he discovered photographs of Salvador Dalí alongside models in Rabanne's dresses at the artist's house in Catalonia in 1966. Another video, taken at some point during the 1960s, showed the pair throwing sewing machines on the floor as a riposte to the 'old world'. 'When you see that video, you can feel the radicalness, the craziness. Together, they became this great avant-garde energy.'
For the A/W23 collection, four of Dalí's paintings – which Dossena describes as 'mental landscapes', surreal, dreamlike tableaux – appeared as prints across a series of sliced-away gowns. They had been used with permission of the Dalí Foundation (aware of Rabanne and Dalí's relationship, they were keen to collaborate), and contributed to what Dossena calls the 'exploration of sensation' that runs through the collection. 'It's about sensuality, but a new kind of sensuality,' says Dossena. 'The imagination of what it feels like to touch – the dream and the subconscious, they arrive in that moment.'
Archival interviews with Rabanne show the designer repeating a piece of advice for his mother, who worked as chief seamstress for Balenciaga in San Sebastián, in northern Spain, during the couturier's heyday. 'In fashion, you have all the freedom and liberty that you want,' he recounts. 'Except one thing. You are not allowed to attack the beauty of women.' Rabanne saw women as figures of sensual power, describing his clothes as 'weapons'. 'The woman of tomorrow will be efficacious, seductive and, without contest, superior to man,' he said.
Dossena says he has been largely surrounded by women for most of his life, and collections often emerge from observing his female friends going about their day-today lives, 'on the street, in their couples, with their family, when they dance, or when they work. It's a little bit like sociology. I want to give them what I think they might need.'
So far, so successful. In his ten years at the house, Dossena has transformed Rabanne from a near-forgotten fashion house to an agenda-setting, financially successful label built in his vision. Puig does not release the fashion results for its individual brands, though in the group's 2022 financial report, it noted its fashion arm was 'growing at the same pace as the company', whose overall revenue rose by 40 per cent.
As for why, in the topsy-turvy world of fashion – where creative directors rarely last more than a few years at a house – Dossena has achieved such staying power, the designer credits the 'absolute freedom' he has been given at Rabanne. 'It's so close to me, because I really built it from the beginning,' he says. 'Nobody expected anything from Rabanne when I started; it was tough work because you have to prove the value of the brand, but I could create it the exact way I thought it should be.'
'Now, there's a perception of the brand that is completely different,' he continues. 'First, it was the industry insiders that were sceptical about what Rabanne could be. Then we got them on side. Now, Rabanne is going mainstream. I can feel the evolution.'
Model: Shuting at Elite Paris. Hair: Beth Shanefelter using Less is More. Make-up: Kamila Vay using Edulis and Make Up For Ever. Photography assistant: Hugo Varaldi. Fashion assistant: Sara Perilli. Producers: Anya Hassett, Tracy Gilbert.
A version of this article features in the September 2023 Style Issue of Wallpaper*, on sale now available in print, on the Wallpaper* app on Apple iOS, and to subscribers of Apple News +. Subscribe to Wallpaper* today
Receive our daily digest of inspiration, escapism and design stories from around the world direct to your inbox
Jack Moss is the Fashion Features Editor at Wallpaper*. Having previously held roles at 10, 10 Men and AnOther magazines, he joined the team in 2022. His work has a particular focus on the moments where fashion and style intersect with other creative disciplines – among them art and design – as well as championing a new generation of international talent and profiling the industry's leading figures and brands.
With contributions from