Textile innovator Byborre empowers creators to cut waste
'We developed a new process that allows creators to innovate,' says Borre Akkersdijk, co-founder of Dutch textile innovation studio and clothing label Byborre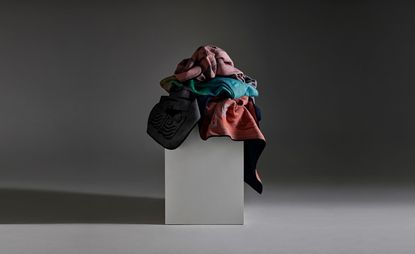 (Image credit: Umit Savaci.)
Borre Akkersdijk, co-founder of Dutch textile innovation studio and clothing label Byborre, was drawn to the textile industry because it was one of the few sectors that had yet to be truly modernised. Textiles, of course, were a key driver of the Industrial Revolution. And, much later, the boom of fast fashion in the 1990s accelerated the growth of the industry. But, Akkersdijk says, 'this was all in an old-school way. It was not driven by technology but by big, labour-intensive factories. Byborre was inspired by the tactility of textiles in a world that had not been revolutionised.'
Founded in 2010, Byborre is committed to curbing wasteful practice in the industry. Within the textile supply chain, fibre makers often influence the direction of yarn makers, who influence the direction of textile manufacturers. At the receiving end are the creators, who generally have little say in what and how textiles are made. When they need textiles for their products, they mostly choose from what is on the market, or visit industry fairs in search of something that comes closest to what they have in mind. So paradoxically, while brand designers best understand their end users, it is textile manufacturers who are driving the product. It is this misalignment which, over the last decade, Byborre has addressed in its mission to build a new ecosystem. 'We flipped the supply chain the other way around,' says Akkersdijk. 'We start from the creators.'
Byborre: 'We developed a new process that allows creators to innovate'
The company recently launched Byborre Create, a scalable platform, operated through an online app, that provides creators with direct access to sustainable design choices, innovations and creative tools. The goal is to democratise innovation, support responsible textile production, and encourage fitter-for-purpose, longer-lasting products. 'We developed a new process that allows creators to innovate,' Akkersdijk says.
Byborre Create breaks down the supply chain into four simple design steps, and guides brands through an intuitive workflow: firstly, determining the function of the fabric – be it for clothing, interiors or automotive – and choosing suitable yarns from the platform's curated and vetted library; secondly, exploring knit types to find the perfect weight and structure to match their creative vision; thirdly, composing the colour; and finally, adding aesthetic elements to infuse their brand's DNA into the textile.
Better products, less textile waste
'When creators and brands start using the platform, we start a new dialogue. So we all learn and improve when everybody uses it. We want to change the industry with this honest open-source mentality. We want brands to make better products and fewer mistakes, so that there is less harm to the environment.'
Akkersdijk points out that the textile industry's R&D process can be staggeringly wasteful. 'As a creator, if you don't have influence in that process, how can you control your impact?' he says. So Byborre set up a hub in Amsterdam for R&D and sampling. When creative needs have been defined, a thorough production brief is sent to the respective factories. 'The machines here mirror exactly those in the factories that we have licences with. Now, because Byborre brings in clients, ensures material supply and provides them with the best programme and design, the factories can lower their minimum order quantity (it was usually between 2,000m and 5,000m, but they can now work with as little as 250m) and it allows quicker delivery. The brands don't have to worry about overproducing or sharing the same textile design with competitors.'
Transparency of each product's impact
Akkersdijk believes there also needs to be a transparent overview of the product. 'At the moment, we are making our own life cycle assessment [an analysis of the potential environmental impact of products during their entire life cycle] for all textiles created by or through us, and a product passport that shows where the fibre came from, where the yarn was born, where the textile was created, and how it was shipped; in short, the textile's full journey.'
Happily, Byborre isn't short of like-minded stakeholders in the industry. Collaborators, many of whom already use Byborre Create, include AZ Factory, BMW, Kering, Porter, and Natuzzi, with which it most recently launched the 'Water' textile collection. Byborre is also working with Sabine Marcelis and Formafantasma for upcoming textile developments. In the future, it hopes to set up hubs in Asia and the US to achieve another important marker of sustainable development – proximity to its markets.
INFORMATION
This article appears in the August 2021 issue of Wallpaper* (W*268), now on newsstands and available for free download