Meet the ethical cashmere brand supporting Mongolian communities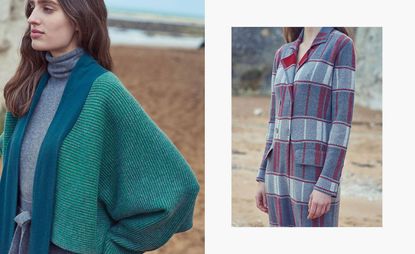 (Image credit: Markn Ogue)
It's difficult to gauge the impact cashmere has on the environment and how it affects its provenance land, Mongolia. Long touted as the luxurious wool for lavish loungewear, cashmere has lost part of its glory due to cheap sweaters popping everywhere on the high street and pushing the industry to produce more while cutting its prices. The downfall: cashmere production has an environmental impact that is 100 times higher than wool. Add this to the fact that four goats are required to produce a single cashmere sweater – whereas one sheep carries enough fibre to make five wool sweaters. The maths is easy.

The increase in cashmere demand has pushed herdsmen to raise far too many goats on Mongolian's pastures, which damages the land and leaves it at threat of desertification. On the other hand, fashion companies started purchasing the material from Inner Mongolia – a Chinese region churning out low quality cashmere – without being transparent on its source. No wonder brands such as Stella McCartney and Patagonia, in their commitment to stop harming the planet, have decided to use only recycled cashmere from factories in Italy. But what if there was another solution to continue working with local herdsmen at a fair price for themselves, the animals and the grasslands?

Meet Mandkhai Jargalsaikhan, the Mongolian designer who grew up in her parents' cashmere factory and learned first hand everything there is to know about wool. 'It really was my playground!' she laughs. Set up in post-Communist Mongolia, the thriving business also acted as a not-to-be-missed tourist stop for Western celebrities, such as Richard Gere or Hillary Clinton, visiting the country. The now 31-year-old woman remembers asking their autograph for other people as a little girl not knowing who they were.
After studying fashion design in London aged 20, Jargalsaikhan started her eponymous brand in 2016 based on fashion-forward cashmere pieces combining the quality of Mongolian crafts with a bold and modern design. 'I remember spending a lot of time watching the workers and learning simple knitting techniques from them,' says the designer. 'So I know what goes into making a beautiful cashmere piece and how to really appreciate the craftsmen for their skills.'

Being at the heart of the cashmere industry means that the label has complete control over its entire supply chain. From the raw material provided by free-roaming goats to the dyeing process and creation of the pieces in its very own factory, Mandkhai ensures that the extra fine cashmere collections it creates respect the land where it takes its source as well as the people who make them. Around 70 per cent of the 200 factory workers are female with high knitting skills who are able to hand stitch the beautiful details on the brand's jackets and trousers. 'It is extremely important for us to pass on the knowledge to the next generation as well as to support women from local communities,' adds the designer.

Besides her efforts in keeping a small carbon footprint and delivering high quality, sustainable cashmere, Jargalsaikhan is equally attached to change the current mindset. She aims to design clothing far from being basic or boring and that speaks to fashion savvy customers, which now also include men. As a reward, her perfectly cut, colourful coats have attracted the likes of Gigi and Bella Hadid who have helped boost sales and reach an international market. Ultimately this will also spread a more ethical vision of the luxurious material into the mass market while still being able to enjoy the soft fabric made by a goat-to-garment ethos.
INFORMATION
For more information, visit the Mandkhai website (opens in new tab)