The Danish chef-turned-crochet designer you need to know now
As Copenhagen Fashion Week kicks off online for A/W 2021, we celebrate the work of crochet designer Lulu Kaalund, who has created pieces for Ganni and Soulland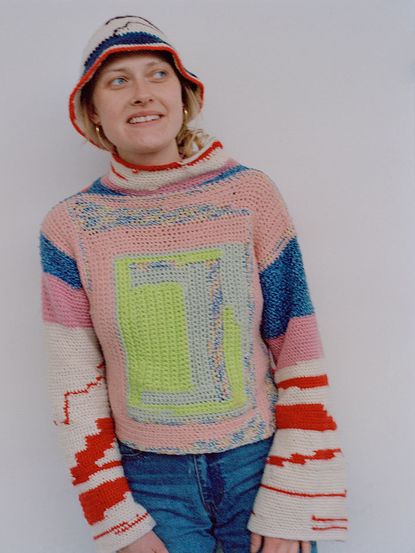 (Image credit: Lasse Dearman )
'Copenhagen is so small and everybody knows everybody,' says crochet designer Lulu Kaalund. Like the Danish capital, where cultural disciplines such as food, fashion, art, design and music cross-pollinate, Kaalund herself is a creative polymath.

Crochet was a second career she never envisaged. After four years' training at culinary school in Denmark, she landed her dream job at restaurant Relæ (a regular fixture on the world's top 50 restaurant lists until its closure last year). Then, five years ago, Kaalund had an accident that left her with severe concussion and unable to continue working as a chef. A friend taught her to crochet while she was recovering.

Is there a thread between the creativity of cooking and crochet? On the contrary. 'Working in a world-class kitchen is all about discipline, there is no room for creativity. You have to do exactly what you are told, and be fast and exact,' she says. 'There is a head chef and they decide what happens. If you try to make or suggest something yourself, you end up in a bad place! But there are a lot of solutions you need to be creative with, because you will experience problems every day in a kitchen like that, such as produce not turning out how you expected. If you have a chef's qualifications, you are really organised and you understand how to prioritise and organise your life. I really think this helped.
One of her first self-initiated projects was to crochet a baby blanket for friends, the model Emma Rosenzweig (formerly Leth) and artist Tal R. They were astounded with her gift and encouraged her to continue. 'Then it happened immediately,' she says of her professional metamorphosis. Three years ago, she started creating art pieces and wall hangings, as well as unique sweaters, tunics and dresses.

Kaalund uses a single needle to crochet her designs. 'Everything must be done by hand. You can't send crochet to a factory and get it mass-produced,' she says. 'It's almost impossible to produce on a large scale.' It takes around 25 hours to complete one of her jumpers. She prefers yarn that is typically 80 per cent wool (she has qualms about the ethics of cotton farming) and most often uses a 4.5 needle – meaning one line of stitch will be 4.5mm wide. 'I made one art piece that was really big using a 2.5 needle, and it took over 300 hours to make. It's very difficult and you get lots of hand cramps as the stitches are so small.' She works freehand without planning, letting the yarn guide her painterly designs: 'Sometimes a jumper will end up as a wall hanging,' she admits.

Her work has featured at Copenhagen's V1 Gallery, where she is set to have a solo exhibition in late 2021. 'Lulu has an extraordinarily well-developed sense for organic composition and colour work. Her intuitive approach to creation is rare and admirable,' says the gallery's co-founder and director, Jesper Elg. 'She creates subtle and strong original works that vibrate between painting and sculpture, whether they are mounted on the wall, lying on the floor or wrapped around a body.'
RELATED STORY
'I have had several studios but I never used them. I always work in my bed or on my sofa. But I can work anywhere! On the bus, or in a car, or eating in a restaurant' – Lulu Kaaland
Kaalund has also been sought out by several Danish fashion brands: she crocheted hats from deadstock yarns for Ganni's A/W20 show (and also made a one-off showpiece dress) and a sweater for Soulland. Upcoming are a capsule collection of playful crochet beachwear designed in collaboration with Sian Swimwear, due to launch this spring, and pieces for avant-garde designer Anne Sofie Madsen.

The new culture of remote work suits Kaalund perfectly: 'I have had several studios but I never used them. I always work in my bed or on my sofa. But I can work anywhere! On the bus, or in a car, or eating in a restaurant.'
She still flexes her culinary muscle, just no longer in the pressure-cooker environment of a professional kitchen. She has catered several events with her friend, chef Eva Hurtigkarl (including dinners for womenswear brand Saks Potts, and Ganni). For herself, it's usually her signature ratatouille.

Although she has a waiting list for her crochet designs, she admits she doesn't take specific orders, preferring simply to make what inspires her. So how to buy one of her unique creations? 'People can DM on Instagram,' she says breezily.
Tilly is a British writer, editor and digital consultant based in New York, covering luxury fashion, jewellery, design, culture, art, travel, wellness and more. An alumna of Central Saint Martins, she is Contributing Editor for Wallpaper* and has interviewed a cross section of design legends including Sir David Adjaye, Samuel Ross, Pamela Shamshiri and Piet Oudolf for the magazine.
With contributions from