Colourful knitwear brands for amping up an autumn wardrobe
Bring a prismatic punch to your personality with knits in kaleidoscopic hues, designed by a host of emerging labels, from Lima to Barcelona, Antwerp to Hong Kong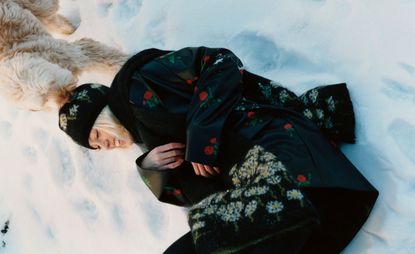 (Image credit: TBC)
A host of emerging labels, from Hong Kong to Antwerp, Lima to A Coruña, are serotonin-boosting silhouettes in vibrant shades and patterns, sure to bring a spring to your step this season. Here we present the colourful knitwear brands scoring flying style colours, essential for warming up your wardrobe.
Bernadette
Antwerp-based brand Bernadette is synonymous with fluid feminine style. Think voluminous dresses and robes in floral prints and pastel hues, fuchsia skirts which tie with exaggerated bows and bottle green silk pyjamas. Now the brand – founded by mother-and-daughter duo Bernadette and Charlotte de Geyte – has expanded its offering into winter-ready snuggly knitwear, accented with hand drawn prints sketched by Charlotte herself. For the colder months, we'll be wrapping up in scarves and cardigans swathed with sweet intarsia daisies, jumpers accented with blooming bouquets and cardigans patterned with gentle meadow florals. Winter style is coming up roses.
Thierra Nuestra
'We knew we wanted to be a brand from the very beginning. One of the most important reasons for creating Thierra Nuestra was that we wanted to raise the name of our country and show all this talent to the world,' explain friends Matías García and Mariseli León, who launched their craftsmanship-celebrating colourful knitwear label in May 2020, with a small gathering at a house in Lima. When previously road tripping around Peru, the duo discovered communities of skilled weavers, crochet makers and knitwear artisans, in areas including Cusco and Ayacucho and also Lima, keen to 'show their work to more people and to be financially independent'. Thierra Nuestra collaborates with these communities, educating and imparting new skills, including 'techniques and finishes', as they create colourful, tactile creations, from dresses with sensual cut-outs to striped sweaters, chunky vests to shorts.

Of particular design inspiration is Flora, a weaver basd in Misminay, Cuzco, with a view from her home that is 'one of the most beautiful we have ever seen.' Naturalistic scenes and Flora's own style inspired García and León, along with Flora's position as 'a hard-working and strong woman that believes in her roots.'

It can take up to five days to knit a Thierra Nuestra jumper and up to 14 days to hand-crochet a dress. 'Our team is really small, but we trust each other as really close friends,' say García and León of their ethic. 'We are even like a family, we don't only talk about work and deliveries. It's much more than that.'
Hades
'We draw inspiration from counter-cultural figures, radical ideas and history,' says Hades founder Cassie Holland of the influences behind her knitwear creations, which range from The Cure to figures in Greek mythology. For Hades' latest offering, Holland looked to the work of a seminal figure of the Romantic period: William Blake. 'He was a free thinker, an iconoclast and he spent his life de-crying the status quo,' says Holland, who delved into Blake's canon over the winter season. 'Many of his ideas would appear radical now and many of his criticisms are as applicable to 2021 Britain as they were in 1795'.

Lines from 'The Gates of Paradise' (1793) are printed onto Hades' newest 'Flannery' cardigan - a delicately-knitted ode to Blake, which also features floral and decorative panels evoking 18th century art. 'At the beginning we take the concept and draw up a design on a canvas, this canvas is then applied to the shape of the garment,' Holland says of the silhouette's design. After the cardigan is fully constructed it his printed onto by skilled artisans based in the UK's Midlands. 'We print with dyes so that the fibres feel beautifully soft and we create in very low numbers to avoid waste.'

Hades' lambswool yarn comes from a family run mill located in the heart of the Yorkshire Pennines in England that have been operating for over 200 years. The brand's designs are then made by hand by family run manufacturers in Hawick, Scotland. 'The process of crafting each jumper is lengthy...a Hades piece is made using a mix of ancestral craftsmanship and technology,' says Holland. 'The end product is something that can last a lifetime'.
Sonia Carrasco
For Sonia Carrasco, tactility is integral to her design process. 'I research materials, touching them, feeling them, meeting new textures and letting them talk to me,' says the Barcelona-based designer. For S/S 2021, Carrasco has focused on the basic design principles that inspired her career in fashion, creating an offering which celebrates two things: knitwear and tailoring.

Alongside tuxedo dresses with knitted side panels and trousers and polo shirts formed from a transparent hole-punctuated knit, Carrasco's collection features an easy knitted suit in vibrant tangerine. Its jacket has a striking asymmetric button detail and its matching trousers are flatteringly flared. 'In terms of silhouettes, we took advantage of the "reset time" afforded from the Covid-19 pandemic and we created a very precise S/S 2021 collection,' Carrasco says.

Working with sustainable materials is essential to Carrasco. In a nod to a circular economy, the label uses post-consumer recycled wool which is certified by the Global Recycled Standard (GRS). It is also committed to using the highest quality organic and vegan fabric resources. Look out for Carrasco's A/W 2021 collection at London Fashion Week in February, which is made using wool sourced from transhumant herders.
&Daughter
Our new way of living – indoors and domesticated with little requirement for glamour and ostentation – has encouraged us to rethink our approach to dressing. But that doesn't mean our outfits have to be underwhelming. 'I don't think the answer is just about what is practical, we still want there to be a joy in what we wear, we want pieces that imbue the everyday with a quiet specialness,' says &Daughter founder Buffy Reid, who launched her knitwear label in 2013, in partnership with her father, an expert in cashmere and tweeds.

The British label's Winter Market collection features colourful and pattern-punctuated pieces that are sure to lift sombre self-isolation spirits, including hand embroidered floral detail cardigans, ultra long striped scarves and intarsia sweaters knitted with comforting symbols. 'This piece is based on the idea of a keepsake sweater,' Reid says. 'Traditionally, these were knit by someone you knew to represent all your favourite things and fondest memories. We loved the hopefulness of that and the simplicity. So we knit a sun, a house, a flower and a sheep.'

&Daughter's design DNA is based around a slow fashion, forever-piece concept. The soft lambswool and cashmere pieces in the brand's Winter Market offering were created in collaboration with expert spinners and knitters, including Scotland-based Todd & Duncan and a friend named Allan. Adds Reid, 'When you make in small batches and with local makers, there's a freedom in that which makes the working process really enjoyable.'
Camilla Bloom
'With knit, there's the capacity to be very hands on with the surface textures and patterns from the beginning. You design the stitches, patterns and choose the yarns with the final garment in mind,' says Camilla Stolerman, founder of knitwear line Camilla Bloom (a homage to her leopard-print-wearing late grandmother Barbara Bloom).

The London-based British designer, who graduated from Brighton University in 2013, cut her teeth at British heritage brand Aquascutum where she managed knitwear, tailoring and outerwear. Stolerman saved up and launched her own line in 2018 after encouragement from her boyfriend (who runs lighting brand Tala). 'I wanted to change the way I was designing and how collections were structured. I felt like I was on this hamster wheel - I stopped enjoying what I was designing because it felt superfluous and wasteful. I wanted to do it my own way, at a slower, more considered pace.'

Now she designs colourful knitted skinny rib shirts, jumpsuits, dresses and trousers - even facemasks - all inspired by 1980's cult brand BodyMap. Regenerative yarns are key to her low-waste, ethical practices. 'I work a lot with mulberry silk yarn, environmentally-certified viscose for a more drapey slinky look, and more recently, a "seacell" blend which feels like silk but is derived from seaweed!' she says. While favouring mid and fine weight gauges, she loves the versatility that different weights and stitches can produce: 'You can make hard-wearing technical knit trainers and incredibly delicate knitted lingerie.' She relishes the full attention that knitwear requires, from selecting the initial fibres to creating the final garment. 'Because you're designing the surface textures and garment from scratch, working with knit adds more depth to the overall finished product and design story.'
RUS
Womenswear label RUS is the brainchild of two Spanish sisters, Pati and Inés Gutiérrez, who joined forces in 2019 to create their knitwear-focused line. Pati - a knitwear designer with nearly a decade of experience, and Inés - a pragmatic problem-solving engineer with a knack for distribution planning - may have differing backgrounds but it's proving to be a great strength. Besides, the sisters are united by their simple vision of 'having less but better, selecting rather than accumulating.' This manifests in a line of knitwear-based separates with relaxed silhouettes, intended to be worn year round, in alpaca, super kid mohair, cashmere, merino wool and cotton. 'We aim to inspire women to curate and create their own dressing ritual, experimenting with effortless layering, encouraging responsible consumption, and sharing the importance of investing in considered and ethically produced garments,' they say.
RELATED STORY
A family owned factory in the North of Portugal, a short distance from RUS head office in A Coruña in Spain, manufactures their designs with skill and attention. RUS uses high-quality fibers from Italian spinners capable of guaranteeing high quality standards and ensuring animal welfare. They add, 'All our knits are 'fully-fashioned', which means that the panels are knitted exactly in the required shape and there's almost no yarn waste in the production of the final garments. We also work with whole garment japanese knitting machines for some designs, which "sculpt" the 3D garment and require no seams at all.'
Longevity is central to the brand's ethos: 'We produce with the idea of making quality garments that can last for years with proper care, be rediscovered season after season, and have multiple lives passed from hand to hand.'
Leorosa
'We love simplicity but also within simplicity, we need whimsy and colour,' says Julian Taffel, co-founder of cardigans and sweaters specialist Leorosa. Taffel, who launched the line last autumn, with fellow Parsons School of Design attendee Paolina Leccese, has a passion for nostalgic silhouettes and thrift shop finds. The brand's cardigans have been cropped with a boxy fit, and are imagined in paintbox Bennetton-worthy hues, with bordered collars, colour-blocked pockets and bright buttons.

'We've gotten so many ideas from watching old movies, screenshotting them and sending them to each other, but we also get a lot from being in random places. We go to such weird little shops and pull things from anywhere!' Taffel adds of the duo's research process, which involved binging on 1980s American cinema and the films of Lina Wertmüller, Éric Rohmer and Rainer Fassbinder. For Leorosa, the importance of cheering, long-lasting designs is paramount. 'We're interested in that attitude,' Leccese says. 'Creating something where people can come back 50 years from now and buy the same cardigan again in a different colour.'
Carlota Cahis
'Knitwear requires every stitch to be meticulous', says Barcelona-based Carlota Cahis, who, uninspired by the frenetic, trend-focused pace of the fashion industry, launched her slow-paced eponymous knitwear brand in 2019. 'My principle intention has always been to design garments, which act as a second skin and have outstanding beauty,' Cahis adds of her designs, which include multi-toned sweaters with inbuilt scarves, striped vests, ribbed v-neck sweaters and button detail jumpsuits, that have a feminine and subtly Seventies flair.

Cahis' designs are manufactured in Barcelona, and the oceanic blues, sunset reds and verdant greens in her designs nod to the colour palette of the Mediterranean. 'I want the pieces to be warm for winter yet fresh for summer,' she explains. The tones in her designs are the result of dedicated testing and experimenting. 'I am constantly sat with my notebook in hand, a colour card next to be and glue pasted to my fingers, pasting different yarns together,' Cahis adds. 'I'm searching for that sense of harmony.'
Zankov
'I find strong colour to be transformative,' says founder of knitwear label Zankov, Henry Zankov, from his Rhode Island studio. An experienced knitwear designer who has spent years in the wings designing knits for household names, the New Yorker released his first eponymous knitwear collection in February 2020 with a presentation at New York Fashion Week, just before the world ground to a halt. Since then - and remarkably given the circumstances - his recognisable trademark contrast checkerboard mohair and bold collegiate stripes have been popping up all over Instagram.

'I started Zankov as a visual exploration of a bold and graphic use of color in the realm of knitwear and textile,' says the designer, who also teaches fashion part time at Parsons School of Design. Luxurious fibers such as brushed alpaca, extra fine merino and super soft cashmere, executed in refined knitting techniques and finishings, come in crew neck sweaters and cardigans, as well as knitted basketball shorts, t-shirts and oversize scarves. Zankov cites the 70s and Russian Constructivists such as Stepanova and Rodchenko as inspiration for his 'colourful visual language'. Intentionally genderless and eschewing trends, each special piece is intended to be worn, loved and returned to. Look out for a segue into home textiles coming soon.
Waste Yarn Project
'I told my business partner Sebastian, when visiting his production space in Shanghai, we should really do something about all this wasted yarn,' says Paris-based knitwear veteran Siri Johansen, who launched her prismatic sweater brand Waste Yarn Project in October. The concept? One-off colour-blocked jumpers knitted manually on machines in Shanghai, that weave yarn from small excess quantities, which cannot be reincorporated into large commercial production runs. 'It's actually just cheaper for brands to buy it new,' Johansen explains.

Johansen, who is Kenzo's former head of knitwear, spent the summer of 2019 in Shanghai training knitwear technicians to create her jumpers. They were first flummoxed by the idea of creating single styles, their tones dictated by the excess yarn on offer. There's a cheering sense of free-spiritedness behind how the colours are matched for each style. A Wheel of Fortune-style colour wheel is spun, allowing chance to predict the pairings. 'The wheel decides the style of the jumper, not me!' she says. Each sweater takes a day to make, from linking, washing and final photography and Waste Yarn Project has already created over 350 jumpers, from yarn that would still be sitting on a factory floor. Thinking of adapting for the future, Johansen is considering changing the parameters of her colour wheel, to focus on different tonalities. A collection of bold beanie hats is also on the way.
YanYan
When former knitwear director at Rag & Bone Phyllis Chan relocated to her home city of Hong Kong, she was struck by a local design scene, embedded in craft and heritage preservation, that she barely noticed as a teenager. Last year, she and best friend Suzzie Chung launched Yan Yan, a colourful and pattern-centric knitwear label, which celebrates Chinese visual culture and craftsmanship.

'We start by looking at photos, fabrics and clothing that we imagine our grandmothers, our moms or our aunties would have worn, movies they would have seen or comics that theyd have read,' says Chung of their designs, which include boxy knot-detail sweaters, matching jumpers and trousers in colour blocked tones and polo shirts in sparkling tinsel. 'Some general elements that always inspire us are Samfu (matching top and bottoms), Cheongsams and traditional Chinese opera costumes,' Chung adds. 'Sometimes we interpret these ideas literally, and other times they're more conceptual.'

YanYan's latest cardigans and bell bottoms feature cheering figurative patterns, inspired by a traditional Chinese image, 'drawing of a hundred children'. 'It is usually seen in paintings, illustrations, ceramics, or embroideries and wall hangings,' Chan explains. 'It's a symbol of luck and prosperity'. If that's not enough to brighten your mood, the brand is also launching lurex head bands and tinsel hair bobbles this week, meaning you can match your scrunchie to your sweater.