The luxury loungewear sets for easing into 2021
Getting cosy in folds of fabric will boost your serotonin levels. Here, we present the loungewear for luxuriating in during downtime, from brands including Skin, Studio Nicholson, Maggie Marilyn, Raey and Ven Store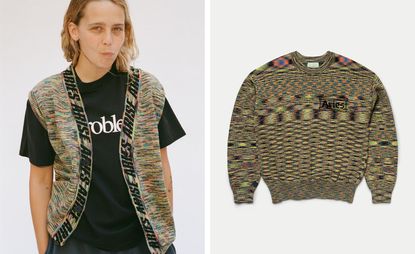 (Image credit: ariesarise.com)
Soft, natural fabrics are fit for cosying up in. Here, we present the brands for bringing you a touch of tactile joy
Aries
How to merge a skate culture sensibility and a star snuggle factor? Just ask Aries' Sofia Prantera. Her cult London brand's S/S 2021 offering boasts a host of cosy options with a grungey, sun bleached sensibility, from space dye knitted sweater vests in prismatic tones to tie-dye tracksuits, two tone jersey shorts to UFO motif long sleeve tees. Edge and ease combined.
Skin
Susan Beischel's second-skin inspired separates have us feeling right at home. We're settling into 2021 in Skin's cosy knit loungewear pieces, available in wool-blend, slim-fit shapes, as suitable for snuggling on the sofa or a spot of outdoors stretching. For the ultimate in haute hibernation, we recommend investing in the brand's cashmere ballet flats too. Feel good from the feet up.
Koibird
There's a host of pieces in Koibird's loungewear collection that hits our style heights, from Spencer Vladimir's patchwork knitted jumper to Mira Mikati's colourful chevron detail sweaters, but its Laneus' cashmere jumpsuits that have really hit peak snuggle potential. We're drawn to the slouchy, wide leg fit of this silhouette, which in snow white, has a festive flourish. For your virtual Christmas parties on Zoom, we recommend sticking to clear spirits.
Studio Nicholson
Studio Nicholson's Nick Wakeman is well versed in the creation of timeless classics that withstand trends or fast fashion fads. Wakeman's archetypal garments reflect her fascination with cut and silhouette, which often reference unusual proportions, like ankle skimming trousers. The design touch is noted in Studio Nicholson's recent launch of loungewear sets, which in a blend of silk, wool and cashmere, feature elasticated trousers with a balloon shape silhouette and tapered ankle. The tones of the pieces, which include graphite and rich acai, are on point tonally for winter, and will keep you wonderfully warm too.
Extreme Cashmere
'It wasn't really about starting a brand, but instead we simply wanted to make a jumper without any concessions on quality, colour, shape and price,' say Extreme Cashmere founders Saskia Dijkstra and Camille Serra, 'a jumper that truly makes you feel better. We took the first sample home to our families and fit it on them. The jumper fit every single family member - suiting different ages, sizes and heights. The same sweater, but worn in different ways.'
Having met in Paris while working together at Joseph (known for its quality understated essentials), the duo bring their European sensibility to Extreme Cashmere: a line of pared back, speak-for-itself-quality knitted separates in gorgeous, neutral colours. The studio is based in Amsterdam where Dijkstra, who is Dutch, runs the business side. Serra, who is French, heads up design.

The pair are fastidious about cashmere, using only the longest fibres (meaning stronger, longer lasting knits) sourced from goats living in the mountainous region of China's Inner Mongolia. 'Then, we add stretch to the garments by adding a durable elastane thread, which makes the pieces more fresh and current,' says Serra. 'Now, five years since making our first Crew jumper, we still think people are looking for clothes to make them look and feel better. Something suited for all occasions - whilst still being playful - which they can wear and love for a long time.'
Maggie Marilyn
It's a sink or swim moment for many businesses. But Maggie Marilyn's recent confident pivot to DTC-only (meaning cutting her wholesale business) has been a while in the making: in 2019, she launched Somewhere - her capsule line of carefully-edited essentials - and saw revenue rocket 140%. Now she's adding Somewhere Sport Collection to her offering. Answering our desire for seasonless, comfortable and responsibly designed separates, the line of crewneck sweatshirts, jogging pants, long sleeve T's - all in 100% organic cotton linen in neutral tones - will be inclusively sized from 6-20. 'Our mission is to help transition the fashion industry to one that is transparent, circular, regenerative and inclusive,' says brand founder Maggie Hewitt, who has integrated into her business fair pay, increased biodiversity through working with regenerative farmers, supply chain visibility, and strict monitoring of all carbon emissions. The designer is pulling no punches with her ambitious goal.
Sunspel
There's an environmentally aware élan behind Sunspel (opens in new tab) and David Shrigley's winter collaboration - a sleek take of the festive jumper, with illustrations emphasizing the importance of the world's coldest regions. 'We really like how David's satirical work is a fun and thought provoking take on everyday life,' says David Telfer, Sunspel's head designer, of the collaboration, which also features cute penguin and polar bear emblazoned pants and socks. What's more, Sunspel will donate 10% of the profits of each garment sold to the environmental preservation charity - Stump Up For Trees. Pray they'll be stuffed into your stocking!
Theory
Fancy a selection of your favourite separates in the softest cashmere? New York based Theory has the multifarious style answer. The brand's online Cashmere Shop (opens in new tab) features a range of silhouettes in neutral tones from scarves to cardigans, turtlenecks to beanies. But more outdoors and workwear-focused styles have also been imagined with the softest of touch, from cashmere shawl peacoats to plaid jackets. We suggest you stock up now.
Paco Rabanne
A dash of colour can really dial up your indoors-energy, and thankfully Paco Rabanne has released a capsule collection of relaxed separates brimming with bold hues. The Paris-based label's gender free Lose Yourself offering features hoodies, t-shirts, bucket hats, socks and caps, swathed in candy floss pink and ocean blue tie dye, emblazoned with an escapist Peter Saville-designed mantra. Think of it as Zoom appropriate graphic content.
Raey
We're increasingly keen to wrap ourselves away from the world. One way to protect from the surge of news stories and threat of political implosion? Snuggly, body enveloping cashmere. Raey has a host of immersive options, be it a belted maxi cardigan or a pair of wide legged knitted trousers, in sumptuous caramel and biscuit. Light a scented candle, turn up the heating and prepare for haute hibernation.
Ven Store
As a fashion editor, Charlotte Lewis spent her time travelling on long-haul flights, which sparked her idea to start Ven – a cashmere brand for the modern traveler. We may be spending more time at home, but the beautiful and timeless leisurewear items, made in small quantities to minimize waste with Mongolian yarns and hand finished between Shanghai and Nepal, are just as desirable for luxuriating in on the sofa. Boasting a pared-back aesthetic, the simple yet perfectly fitted pieces – including a soft cashmere cardigan, wool and cashmere wrap jacket with a tactile blanket stitch detail, cater to fuss-free fanatics. 'Ven is designed to make life a little easier for the discerning traveler,' says Lewis. 'Considered, functional, hardworking pieces that don't sacrifice comfort for style.'
Mahabis
We're embracing the reality of bunkering down for winter, and with it comes the question of how to adequately warm our cockles. Luckily, slipper supremos Mahabis have the well-lined answer. With serendipitous timing, the indoor shoe experts have launched 'Curve' the newest eco-aware iteration of its signature slipper. The snuggly style features a striking well-gripping sole formed from Pura Latex, a renewable rubber from the Hevea tree, a soft woollen upper and inner in a selection of organic tones that is breathable, thermo-regulating and antimicrobial, plus a sleek neoprene heel cradle, joining the slipper's upper at a 72 degree angle - the perfect figure for keeping your foot in fine form. In a final bolster of domestic bliss, the Curve's inner left and right soles feature a microfibre top layer printed with the words 'welcome' and 'home'. Our four walls wares have never felt so stylish.
Ganni
Stay-in season is upon us, and it's a snuggly style fit that Ganni has launched its first range of leisurewear - a downtime-centric offering of sweats, tracksuits and tees which are crafted from certified recycled materials. The collection has an eighties élan, with retro athletic 'Ganni' typography and silhouettes that revel in oversized slouch. Ganni Software is crafted using EcoLife, a material made using recycled cotton, saved from end-of-line scraps from manufacturing, PET plastic bottles and 50% post-consumer recycled polyester. The collection is another element of the Danish label's long term commitment to sustainable design, which includes 44 goals over the next three years. Recent initiatives include a rental denim collection created in collaboration with Levi's, a take back scheme, and a dedication to using environmentally friendly fabrics.
Ernest Leoty
We're drawn to the comfort-focused principles behind leisurewear label Ernest Leoty. Its current creative director Marion Rabate discovered the brand's late 19th century founder was famous for the comfort he bought to corset design. Now, the label, best known for its sleek balletic silhouettes, has added loungewear to its repertoire. A/W 2020 sees the introduction of ribbed V-neck jumpers and rollnecks in cosy merino wool and cashmere, which can be thrown over its leggings, bodysuits and bras post workout. Which one will you wrap up in?
Toast
Want to snuggle up and feel satisfied on the inside too? We suggest investing in Toast's latest cashmere two piece – which in a sustainable spin – is made from 100% fine micron recycled cashmere, spun in Prato, Italy. We have a particular penchant for the luxuriously slouchy silhouette of this jumper, available in oatmeal or navy. 'With generous sleeves and a boat neck line, the sweater is a stylized version of a mariner's sweater, a classic reference for us at Toast,' says Laura Shippey, Head of Design. 'The whole ensemble is perfect to slouch elegantly about the home, but also bundled with a thick sock and clog for outdoors.'
Le Kasha
The spirit of travel has long embodied heritage label Le Kasha – its cashmere pieces are crafted using the finest fiber sourced from the Alashan and Arbus regions of Inner Mongolia. Today, the label – steered by Mali Marciano – specializes in neutral loungewear, the lightest cashmere separates and fluid silk dresses. Although the prospect of upcoming adventure has dwindled, we suggest you snuggle up and dream of ensuing escapades in the label's stripe cashmere sweater. Its sea foam stripes will have you dreaming of the seaside.
Tekla
The new, cool Scandi brand to silently burst on the fashion scene is Copenhagen-based home textile studio Tekla. Towels, bathrobes, bed linens and blankets in bold hues are thoughtfully designed with the environment in mind, while being affordable and relevant for the contemporary home. 'It took almost a year and a half to find the quality and the producer that we were happy working with,' says Tekla's founder and former Acne Studios creative Charlie Hedin. 'Finding the pieces suitable for the modern world also means something long-lasting that serves a sustainable purpose.' Woven from organic terry cotton, the hygge-driven products are inspired by contemporary culture to create soft and smooth fabrics providing tranquility and comfort in the heart of your home.
Olivia Von Halle
The London based brand is a cult favourite when it comes to cosying up. Olivia Von Halle launched her eponymous label in 2011 – inspired by the lounging pyjamas worn by Coco Chanel in the Twenties – which boasts a breadth of lounging options, from silk robes to sleeping masks. Halle's silk-cashmere tracksuits are also a firm downtime favourite, and we recommend snuggling up in this style in the subtlest of caramels. The hooded sweatshirt's gold toned hardware will have you feeling glamorous even when your only hangouts are in the home.
Pour Les Femmes
Founded by actress and activist Robin Wright and designer Karen Fowler, Pour Les Femmes is a socially conscious sleepwear brand offering cosy pyjamas and sensual slip dresses. Working with charitable programmes, the label supports women in Congo's conflicted regions by giving them safe working conditions and the opportunity to learn a precious craft. The fair-trade pieces then feature hand embroidered detailing, vintage lace and soft cottons with a romantic and bohemian feel adapted to suit the modern woman. 'At Pour Les Femmes, we practice slow fashion meaning we hand cut our garments and pay three times the normal wage,' explain the two friends. 'We don't mass-produce and try to use all of the extra fabric for lingerie bags and sleep mask.' Another reason to get in bed with an ethical brand this season.
INFORMATION
lekasha.com
oliviavonhalle.com (opens in new tab)
pourlesfemmes.com (opens in new tab)
teklafabrics.com (opens in new tab)
ven-store.com (opens in new tab)
Jack Moss is the Fashion Features Editor at Wallpaper*. Having previously held roles at 10, 10 Men and AnOther magazines, he joined the team in 2022. His work has a particular focus on the moments where fashion and style intersect with other creative disciplines – among them art and design – as well as championing a new generation of international talent and profiling the industry's leading figures and brands.