Water inspires Holzweiler's Snøhetta-designed Oslo flagship
Holzweiler Platz, the new retail destination of fashion brand Holzweiler in Oslo, is designed by architects Snøhetta as a naturalistic space that unites fashion, art and food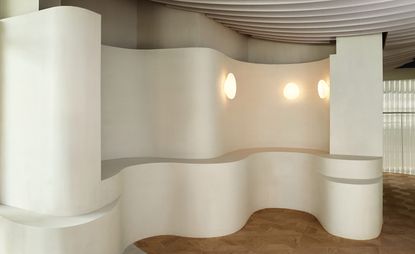 (Image credit: PRESS)
The new Holzweiler Platz in Oslo illustrates that the concept of a successful retail environment today is centred around the idea of a fluid space, part-boutique-part-hang-out-zone, where shoppers can spend, socialise and pass the time, without feeling hurried or hounded.
Take Browns' recently opened flagship store on central London's Brook Street, which boasts a restaurant, make-up and hair styling rooms, an experiential concept space and a concierge service, and allows shoppers to complete their purchases from home; or Matchesfashion's Mayfair townhouse, which features a top-floor café and a roving roster of exhibitions.

For Holzweiler's fifth bricks-and-mortar boutique, the Norwegian brand's most ambitious and experiential retail project to date, the label looked to water as a recurrent motif. Holzweiler Platz, not just a shopping destination, but a two-floor, 300 sq m café and socialising space too, is described by brand co-founder Suzanne Holzweiler as a 'dream of ours for many years'. It sits between the Snøhetta-designed Opera House and soon to open Munch Museum in Oslo's burgeoning Oslobukta waterfront district. Snøhetta – long-term collaborators of the label and Wallpaper* Design Awards 2021 judges and 2020 winners – conceived the naturalistic space, one that encourages collaboration and interaction and unites the worlds of fashion, art and food.
Welcome to the water-inspired world of Holzweiler Platz
'Post Covid-19, after customers are so used to shopping digitally, they need something experience based in terms of physical retail,' Holzweiler says. 'We want to create a fluid connection.' For Holzweiler Platz's opening, the Norweigan artist Marianne Hurum has designed the artwork for the brand's café, the first of an annual roster of artists invited to show within the flagship.

'In the spaces that we've worked on together, we've focused on one natural material,' says Manon Tardieu, Snøhetta architect. 'Because of the location of the space, we focused on water. It's also an element that really unifies people.'
Adds Peter Girgis, senior interior architect at Snøhetta, 'It's a very present symbol in this neighbourhood. Water has been integrated into the city fabric and its public and residential buildings. Water inspired the idea of unity through shape and form, the soft formation of walls and ceiling patterns.' Fluid curves and fixtures abound within the space, formed using glass tubing, oiled oak and walls treated with mineral paint.
When conceiving the experiential space, Holzweiler was intent on creating a dialogue and sensory narrative between the different areas of Holzweiler Platz. 'Initially our sketch of the restaurant space was too small,' Girgis explains. 'Susanne explained she wanted active trigger points between the sensations of the space. For people, for example, to really hear the sound of coffee being made.'

Holzweiler Platz also establishes a cultural connection to the surrounding Oslobukta district, a growing area which was still sparse in its development when Holzweiler first visited the location of her brand's store in September 2019. Outdoor seating and huge windows ground Holzweiler Platz in the surrounding area, one with diverse architectural intentions, described by the co-founder as like a 'hub for everyone', which will also be populated by art and office spaces. 'We've had this project in our minds for so many years, and now it's finally ready,' she says.
INFORMATION
holzweileroslo.com
snohetta.com
ADDRESS
Operagata 61D, 0194 Oslo, Norway
VIEW GOOGLE MAPS (opens in new tab)