Snøhetta designs foraged show set for Holzweiler at Copenhagen Fashion Week
At Copenhagen Fashion Week A/W 2020, sustainability-minded Norweigan label Holzweiler presented a green-fingered runway set designed by regular collaborators and Wallpaper* Design Awards 2020 winners, Snøhetta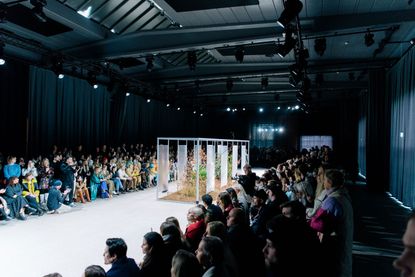 (Image credit: holzweileroslo.com)
Holzweiler's South Norweigan studio faces the Oslofjord, a breathtaking inlet that is part of the Skagerrak strait, connecting the North Sea and the Kattegat sea area. Nature is integral to the design approach of the brand – which branched from scarf design into ready-to-wear in 2014 – and works with sustainability-minded manufacturing processes, including swimwear designed with recycled polyester and in Europe, biodegradable packaging. Last season, Holzweiler's S/S 2020 Copenhagen Fashion Week show produced a mere metre of gaffer tape waste from its production. The Danish city itself is one of the most forward thinking when it comes to eco-friendly fashion. On Tuesday it unveiled a three-year sustainability plan, including 17 standards which brands must adhere to by 2023 in order to remain on its show schedule.

For A/W 2020, Holzweiler has gazed not out to sea but down to the ground we walk on, with 'Our Soil' – a collection of durable, tactile and organically-toned pieces, featuring fossil prints and knitted patterns, spanning tailoring and workwear. This was presented against a greenhouse-inspired show set, designed by regular collaborators and Wallpaper* Design Awards 2020 winners, Snøhetta (opens in new tab).
At warehouse space The Plant – a former plastic sorting factory – a runway featured a glass tunnel housing a variety of hardy Nordic plants available in Denmark in January, including foraged seedpods sourced from an organic farm outside Copenhagen and ornamental grasses. These were sourced in collaboration with floral designer Moa Nordahl to complement the colours and robust fabrics in Holzweiler's collection. After the show, the plant box will be broken down and reused – one piece housed in Holzweiler's showroom, one placed in a new retail outpost in Oslo and one for a pop-up space prop. Every plant will be regrown infront of the brand's HQ. 'The idea is based on our sustainable vision, love for the earth and the idea of being able to use it again in other settings,' says co-founder and brand director Susanne Holzweiler.
RELATED STORY
In real horticultural harmony, Holzweiler also enlisted Joe Patitucci, co-founder of US record label Data Garden and DJ Loke Rahbek to devise a show soundbath which incorporated both meditative electronic beats and botanical plant pulses live from Snøhetta's plant box.
Follow our live coverage on Instagram, featuring a Holzweiler takeover (opens in new tab)
Holzweiler has also nurtured its human relationships, collaborating on its A/W 2020 runway set with fellow Norweigans Snøhetta (whose studio also overlooks the Oslofjord). Snøhetta has worked with the label on a number of projects including its design studio, digital retail channel and Oslo flagship store. 'We started designing furniture for a small pop-up space in Paris a couple of years ago,' say senior interior architect Peter Girgis and architect Manon Tardieu. 'The forms and concepts developed for these pieces really cemented the core understanding of our common visions.'

'We gave Snøhetta the challenge of creating something that could be mounted and dismounted again in smaller scale,' Holzweiler says. It was a challenge the architects relished. 'The temporality of the installation was very exciting,' add Girgis and Tardieu. 'It demands a fantastic coordination between creative ideas and the built form.' The idea of creating something modular, temporal and with the ability to evolve is symbolic of the importance of reusing and recycling in today's luxury market. Getting green-fingered on a far reaching scale is the only way fashion will flourish.
INFORMATION
holzweiler.no
snohetta.com (opens in new tab)