Under wins Wallpaper* Design Award for Best New Restaurant
Designed by Oslo-based architects Snøhetta, Europe's first underwater restaurant has won the coveted Wallpaper* Design Awards 2020 for Best New Restaurant, as selected by our discerning jury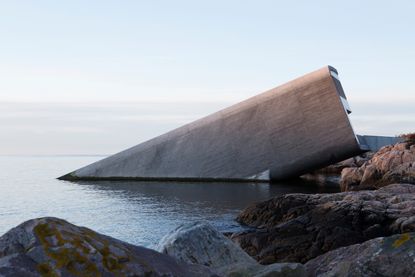 (Image credit: Ivar Kvaal)
WINNER
Under, Båly, Norway
Designed by Oslo-based architects Snøhetta, Europe's first underwater restaurant, submerged 5.5m below sea level at the southernmost tip of Norway and resembling a periscope, features a reinforced, convex concrete shell and thick acrylic windows to ensure you won't get so much as your hair wet. Inside, guests are welcomed into the warm arms of strippedback Scandi design, while Danish chef Nicolai Ellitsgaard has conceived a menu to match the view. In terms of content, it makes adventurous use of what's swimming past the glass, but Ellitsgaard is also carving out his own gastronomic territory and is armed with Michelin stars to prove it. Menu prices are robust, but Under is well worth the waiting list, connecting flight and cross-fjord expedition.
LOCATION: Bålyveien 48, Lindesnes
CHEF: Nicolai Ellitsgaard
DESIGN: Snøhetta
under.no
SHORTLIST
Hélène Darroze at The Connaught, London, UK
This culinary institution, which debuted at The Connaught hotel back in 2008, has recently reopened following a two-month refurbishment by Pierre Yovanovitch. The banquettes have been given sensuous curves, horizontal surfaces take on rounded abstract shapes like parts of an Alexander Calder mobile, and the velvet and leather upholstery, in salmon pinks, bright yellows and pale greens, give the space a playful energy. Downstairs, a chef 's table area, comprising a single boomerang-shaped table with a travertine top and patinated steel base, features a grey terrazzo floor, fluted pine wall panelling, a Yovanovitchcommissioned ceiling fresco by French artist Rochegaussen, and a cinematic view of the adjacent kitchen.
LOCATION: Carlos Place
CHEF: Hélène Darroze
INTERIORS: Pierre Yovanovitch
the-connaught.co.uk
Subscribe to Wallpaper* today and save
Opasły Tom, Warsaw, Poland
When Agata Wojda left Opasły Tom two years ago, Warsaw's gourmet elite wondered how the restaurant could survive the absence of the chef whose lyrical style had made such an indelible imprint on the city's contemporary dining scene. One way was to relocate the restaurant to a new two-level spot on Wierzbowa. The Wrocław-based Buck Studio layered the space with almost gleeful baroque abandon, throwing in corrugated steel upholstered in velvet, art deco accents, geometric terrazzo floors and globular stalactite lamps. In the semi-open kitchen, Flavia Borawska is proving herself a worthy heir to Wojda's mantle as she draws on her stints at Noma, The Clove Club and Cibreo to turn out delicate modern takes on Polish cuisine.
LOCATION: Wierzbowa 9
CHEF: Flavia Borawska
INTERIORS: Buck Studio
kregliccy.eu/opaslytom
Statera, Lima, Peru
The 28-seater Statera, in Miraflores, is inspired by the concept of balance and equilibrium, which is subtly revealed in the building's architecture – a light-filled concrete oasis designed by local firm MD27 – through exposed beams that
pull double duty as planters overflowing with greenery. Inside, the Lima-based Puna Studio has made the most of the minimal space with mood-lit dark timber floors, walnut furnishings and a marble bar. In the open kitchen, Peruvian-Greek chef André Patsias shows off the cuisine that's made him the standard-bearer for Peru's new generation of chefs, creating a series of well-executed dishes using unsung native ingredients gathered from far-flung corners of the country, including the Highlands and the Amazon rainforest.
LOCATION: Avenida Mariscal La Mar 463
CHEF: André Patsias
DESIGN: M217 (architecture) Puna Studio (interiors)
statera.meitre.com
The Manzoni, Milan, Italy
Following a similar format to Tom Dixon's Coal Office flagship in London, The Manzoni first and foremost acts as a platform for his studio's designs. On entering the space, a roughly-cut granite bar sets the tone for a typically Dixon
experience. Moving inwards, a procession of moulded foam and black lacquer 'Fat' chairs, cork dining tables and lava stone tiles define the pale grey room, which is lit overhead by his 'Opal' globe lamps. The narrow dining hall then leads
into the plant-filled Jungle room and private courtyard, scattered with marble 'Primavera' tables and brass 'Spring' lamps. Meanwhile, Modenese chef Marta Pulini has devised a menu of creative takes on classic southern Italian dishes featuring seasonal and locally sourced ingredients.
LOCATION: Via Alessandro Manzoni 5
CHEF: Marta Pulini
INTERIORS: Tom Dixon
themanzoni.com
INFORMATION
Receive our daily digest of inspiration, escapism and design stories from around the world direct to your inbox