Browns Brook Street looks to the future of retail in Grade II*-listed London building
Browns Brook Street opens its doors in London's Mayfair in a historic, 18th-century location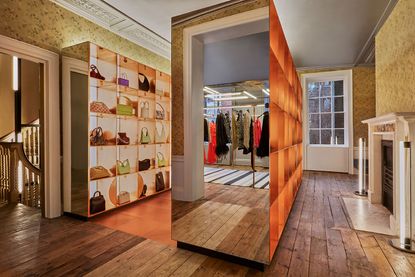 (Image credit: Browns fashion)
Step into Browns' Grade II* listed Brook Street flagship in London's Mayfair, and should you have the renowned retailer's App downloaded on your phone, it will recognise that you're standing in its newest four floor physical location. Through a combination of bricks-and-mortar and digital technology, shoppers in the space will not only be able to browse clothing merchandised according to trend on its gleaming rails, but they'll be able to observe what items on their personal Wish List are available in store IRL, scan QR codes to view infinite shopping shelves, and even access their Recently Viewed items through virtual mirrors on the top floor private shopping suites. Should shoppers wish to make a purchase, there's no faffing at tills. They can even complete their purchase from home, have their bags delivered at a later date, and even plan out the rest of their day through the assistance of an in-store concierge.
Welcome to the world of retail in 2021
Experiential, immersive, holistic, and where the physical and the digital combine. 'You need storytelling and technology to exist in a retail landscape today,' says Browns Chair Holli Rogers of the intention behind the store. As a result of the Covid-19 pandemic, physical retail profits have plummeted. According to Bain, online luxury market sales made up €40 billion in 2020, up from 2019's €33 billion. Online purchasing nearly doubled from 12 percent in 2019 to 23 percent in 2020. 'We need to give people reasons to be in the space apart from just shopping,' Rogers adds.

And reasons there are aplenty. Browns Brook Street is a stones' throw from the retailer's original South Molton Street location, which was opened by Joan and Sidney Burstein over a half century ago, and launched the careers of designers including John Galliano, Alexander McQueen and Hussein Chalayan. In addition to rooms dedicated to fine jewellery and watches, shoes, sneakers and emerging men's and women's fashion talent like Parisian eco-aware designer Marine Serre, the space also boasts a sustainably-led restaurant Native, designed by Shoreditch-based Red Deer Architects, a sun-filled courtyard (ideal for outdoor dining), a parlour for wellness and beauty treatments, and an 'Immersive' room, that features rotating unusual experiences.
Rogers adds that the concept of the store encapsulates 'an understanding of the past and the future', a vision also reflected in the interior architecture of the space. 39 Brook Street was built in 1720 and the space housed interior decoration company Colefax and Fowler, and the private residence of its owner Nancy Lancaster. Original design elements are celebrated and juxtaposed against mid-century modern pieces, in an interior concept by Wallpaper* Design Award winners Dimore Studio.

Period Flemish paintings and murals sit alongside clean modular fixtures in steel and iron, inspired by Donald Judd, Carl Andre and Fausto Melotti. Custom hand-painted floral wallpaper nods to original Victorian motifs, and plays off minimalist furniture and lighting by Eileen Gray, Arflex and Gino Sarfatti. Metallic walls plus jewel tone carpets evoke the century-old grandeur of the space, which is united by its original central staircase, completed by a geometric Dimore Studio-designed light installation.
'It's an elegant, cultured and dynamic space,' says Dimore Studio's Emiliano Salci. 'We have used free standing structures able to adapt to a more dynamic and evolving shopping experience'. In Browns' Brook Street The Yellow Room, located on its womenswear floor, original interior details have been left untouched, and the tones of the walls reflect the existing 1950s colour of the space. The modular interior not only houses clothing by brands including Jil Sander, Loewe and Simone Rocha, it can be transformed into a ball room or party space, for hosting intimate dinners and events.
Changing the game
The holistic success of the space also incorporates digital strides that Browns has taken in the past 12 months. In a way to enhance the e-commerce shopping experience, the retailer has launched AR trying on technology allowing customers to virtually try on watches and trainers. The technology launched in collaboration with Farfetch, the e-commerce disruptor which bought Browns in 2015. 'Trends in gaming have really tapped into how people are shopping on their phones,' Rogers says. 'AR is a new way to engage with our customers.'

'Customers are saying "give me something that wows me"', Rogers adds of consumer expectations of physical retail today. Browns Brook Street certainly makes a long-lasting impression.
INFORMATION
brownsfashion.com
ADDRESS
39 Brook Street, Mayfair, London W1K 4JE