Browns celebrates its milestone 50th anniversary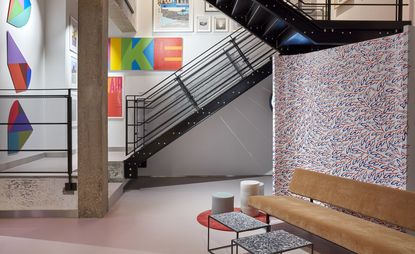 (Image credit: Browns )
This week, historic London retailer Browns celebrates its 50th anniversary. The risk-taking boutique is renowned for championing burgeoning design talent, from London designers including Alexander McQueen and John Galliano and bringing transatlantic talent, including Calvin Klein to British shoppers. In recent years, the store has expanded its retail presence and launched innovate approaches to consumer interaction. Here, we look back to the opening of its first East London outpost, which opened in Shoreditch in 2017.

In May 2015, when online fashion retail platform Farfetch acquired Browns – the cult boutique on London's South Molton Street – it laid out some ambitious plans for the 47-year-old retailer. The Farfetch vision included creating 'the retail experience of the future' that it promised would be a 'pioneering mix of technology and in-store experience'.

Two years later and the first major step to build an omnichannel retail operation, named Store of the Future, has been taken in the form of Browns East – a two-storey concept store housed in a former print factory in London's Shoreditch.

Designed by Brinkworth in close partnership with Browns' in-house team, Browns East is the retailer's first new bricks and mortar outpost in twenty years. While the new arrival is a departure from the traditional retail format, Holli Rogers, CEO of Browns, says that the the store's DNA remains at its heart.
'Browns has a strong heritage in innovation,' states Rogers. 'From the time we first opened our doors in 1970, Browns has showcased pioneering designers. We've blended our love of fashion with incredible in-store experiences and we've always ensured that we change and evolve with our customers.'

Browns East, she says, is in fact the inaugural edition of the Browns Nomad projects, which will be a series of semi-permanent, roaming retail concepts tailored to their city and neighbourhood.

'We've gone back to our roots, with innovation at the heart,' Rogers continues. 'The digital world is a must, but it's a completely different experience when you enter a store and have that physical interaction. We are augmenting the retail experience – it has been static for some time and it's now time to move it on.

'Our view of offline means a blend of what you should expect in terms of exceptional customer service, product you can walk away with there and then, and a subtle, yet powerful overlay of technology as a foundation.'

This nomadic inclination is reflected in the store's fluid design, which takes the form of a series of installations made up of movable, freestanding elements. Arranged throughout the open-plan space, fixtures and rails are realised as bold and brightly coloured sculptural forms in a variety of natural and manmade materials.

'The freshness of the Shoreditch neighbourhood certainly encouraged us to embrace a more free and expressive approach,' says Ana Varela – associate director at Brinkworth. 'This resulted in a playful concept with a rich and unexpected mix of materials, forms and flexibility to accommodate the new Browns East mood.'

Like the Browns mothership on Molton Street, Browns East will offer a regularly rotating edit of established and emerging labels, but in-keeping with its youthful and forward-thinking surrounds, will take a 'gender fluid approach' and adopt the latest retail technologies.

'Our engineers will work alongside the sales associates to really get to know the Browns East customer, and to see how they are interacting with the products and services,' says Sandrine Deveaux, managing director of Farfetch's Store of The Future retail solution.

'Insights will be constantly gathered by our team to adjust the technology. This iterative approach will allow us to shape the connected store retail experience, where we believe technology is there to enhance and to augment the customer experience in subtle, magical ways.'

True to the concept store model, Brown's East's goes beyond fashion with an offering that encompasses art, furniture, fragrance and anything else that catches the buyers' eyes.

However, how long Browns East will be in place for is yet to be decided. 'The beauty of the Nomad concept is that it's ever-changing,' says Rogers. 'Part of the mystery is that you never really know when it's going to appear or disappear. It will always be linked to the local community, to the place where it actually ends up. There are many exciting possibilities – and we can't wait to share.'
INFORMATION
For more information, visit the Farfetch website and the Browns website
ADDRESS
Browns East
21 Club Row
London
E2 7EY