Hall the rage: Harrods makes a grand entrance to remember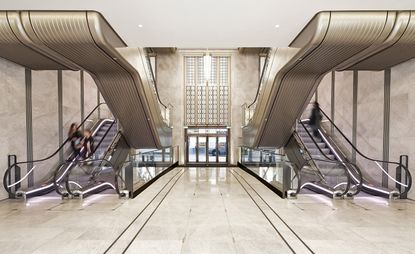 (Image credit: Make Architects, Harrods)
It's been 77 years since the John L Harvey-designed Grand Entrance Hall at Harrods opened, signalling high time for a make-over. Enter Make Architects, which in less than a year (a tight deadline for the project's ambitious scale) entirely redesigned the hall and adjoining escalators in the most complex refurbishment of the Grade II listed building ever attempted – all the way up to the sixth floor.
Bolstered by a £20 million budget, Make drew inspiration from the building's original architecture, looking back at Harrods' archive photographs to inform the grandeur and elegance of the art deco-inspired space, focusing on themes of permanence, longevity and elegance.
Cladding that was erected in the 1980s was stripped back to reveal an original glass window that was previously blocked up. This was recovered and reinterpreted to draw in natural light, while original chandeliers line the black and white marble walls and floors; a replica chandelier has been created to feature in the triple-height entrance hall.
To create the appearance of more space throughout the hall (and especially on the ground floor), Make simply flipped the configuration of the escalators, mirroring the previous positioning, resulting in a more spacious entrance with clear sight lines down to the latest contemporary menswear collections and up to the women's fashion department. The ground floor hall leads directly through to the cosmetics department via a sleek white marble hallway lined with art deco wall lights, and flows over into the Beauty Apothecary and international men's collections departments.
'This is one of the most ambitious and complex renovations in Harrods' history, and we had to get it done in 40 weeks to open before the festive trading period', says Martin Illingworth, director of store development at Harrods. 'We took direct inspiration from the Harrods archives for this redevelopment, tastefully paying homage to the architectural heritage of the brand, but also investing in state-of-the-art digital to enhance the customer experience'.
To wit, hyperreal large-scale digital screens with minute 1.7mm pixels appear on all levels – either flat or cleverly wrapping around corners – showing campaigns from the likes of Rolex or Burberry and underscoring the store's luxury retail offerings.
To accommodate the 16 new floating escalators, Harrods had to dig a new 22m foundation to support the structural requirements. It was worth that monumental effort for the resulting sculptural effect of the bespoke ribbed and fluted nickel bronze cladding used to define the fluidity and emphasise the movement.
'In essence, it is an escalator hall but escalators don't have to be completely functional,' says Make partner and project architect Regine Kandan. 'We wanted to celebrate the escalators similarly to how John Harvey did it in 1939, when he used cutting edge materials and created them in sculptural forms. We have made these into sculptural forms in cast and pressed aluminium, the same material Harvey used.'
'Over the years, layers and layers of technology or regulation or just bits of clutter were added and you sort of forgot the identity of the space as it should be', she says. 'It's a grand entrance; it's about the arrival of the customers and to help them navigate through the store. It was designed to be a very grand entrance and the new hall is a return to that grandeur.'
INFORMATION
For more information, visit the Harrods website (opens in new tab)
ADDRESS
87-135 Brompton Road
Knightsbridge
London SW1X 7XL
VIEW GOOGLE MAPS (opens in new tab)