Manu Atelier's first boutique nods to Le Corbusier in Istanbul
The cult Istanbul-based label introduces bold, sculptural expressionism into this first bricks and mortar store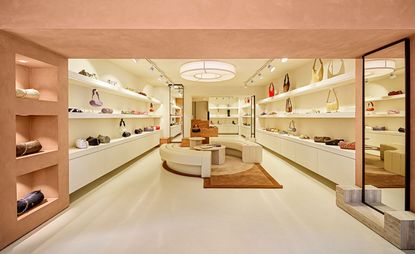 (Image credit: press)
Turkey has begun easing its lockdown measures, and with it comes the gradual promise of engaging in the pre-pandemic activities we once so enjoyed. 'In Turkey, shopping is a social moment, people like going to shop to talk, have a coffee...' explain Beste and Merve Manastır, founders of cult Istanbul-based accessories label Manu Atelier, which is celebrating the opening of its debut bricks-and-mortar boutique, located in Nişantaşı, the dynamic fashion district of its home city. 'In a digital-driven era and especially after the current pandemic, we find it important to learn how to interact and re-connect with each other,' they add.

Founded in 2014, Manu Atelier is renowned for its sculptural, colour-inflected bags and shoes, which revel in architectural details, chain hardware, and tactile fabrications, from supple ruched leather to shearling. For the opening of the Manu Atelier Istanbul boutique, the label teamed up with Istanbul-based design studio Barlas + Parlak Architecture, founded by two women, Ekin Barlas and Burcin Parlak, to translate the 'retro-futuristic', 'geometric', and 'sustainable' visual elements of its design DNA into an architectural language. 'We played with natural and unprocessed textures and recycled materials,' Beste and Merve add. They also found inspiration in the aesthetic impetus of Le Corbusier and the 'bold, sculptural expressionism' of modernism.
Fixtures and furnishings in the boutique emphasise Manu Atelier's commitment to sustainable design. 'We've focused on a minimum waste policy in our Italian and Turkish factories since the first day we launched the brand,' they explain. The brand's S/S 2021 collection was also crafted using deadstock fabrics and its latest Harley Weir-lensed A/W 2021 campaign features clothing crafted from recycled fabrics. A sofa which sits in the middle of the store – and nods to the curving silhouette of the female form – has been crafted using surplus leathers.
RELATED STORY
'Nişantaşı is a neighbourhood that can be easily explored on foot,' Merve and Beste add, recalling moments when shoppers and tourists used to stroll Turkey's streets, unphased be social distancing measures. When we're next able to amble about, we'll be exploring sporting Manu Atelier shoes.
INFORMATION