David Chipperfield designs Furla's new flagship in Milan's historic Piazza Duomo
Gio Ponti, Vico Magistretti and Achille Castiglione inspire the brand's newest Milan boutique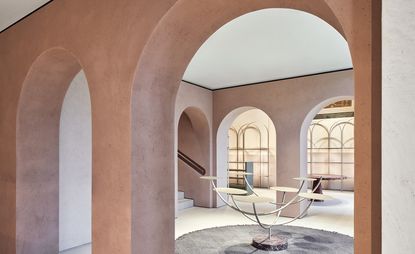 (Image credit: press)
In February, Italian accessories label Furla unveiled its redesigned sans serif logo, its sleek typography inspired by arches found inside the palazzo of the brand's Furla Foundation in Bologna. The city too is renowned for its signature porches. It's this architectural element which has inspired the construction of the brand's newly renovated flagship in Milan's historic Piazza Duomo, designed by David Chipperfield Architects Milan.

'We were inspired by the history of Milan, the heritage of the great Italian designers pervades the city even now,' Chipperfield explains of the design of the double floor space, which has been enlarged to 263 sq m. 'Gio Ponti, Vico Magistretti, Achille Castiglione, Gae Aulenti and many others.' Arches are a focal element, noted not only in the boutique's architecture, but also in the curving shapes of fixtures and furnishings, formed from anodized aluminium. The store's walls have a tactile finish, coated in rough plaster formed from different clays, which contrast with original enclaves and niches, which have been left intact.
Tactility is integral to the space, which also features smooth flooring formed from pastellone plaster, tables in lacquered wood and sugary coloured marble and circular hemp carpets.

Chipperfield – who has designed retail spaces for Bally, Valentino and SSENSE – remains positive regarding the endurance of bricks-and-mortar retail. 'Although our shopping habits are changing and our lives have become more influenced by the virtual, we still value the physical experience and the quotidian rituals of urban life. In designing the Furla store we continue our commitment to the importance of the physical qualities of the retail experience and the importance of presentation of beautiful objects,' he says. The space also features an additional physical space, for pop-ups and events.
RELATED STORY
In light Covid-19 restrictions, Furla fans keen to get a glimpse of its new space, will have the chance to do so digitally, with an online 3D virtual tour (opens in new tab).
INFORMATION
davidchipperfield.com
furla.com (opens in new tab)
furlaopeningparty.com (opens in new tab)