David Chipperfield designs SSENSE's first flagship store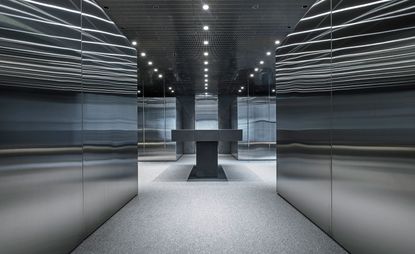 (Image credit: David Chipperfield Architects)
SSENSE MONTRÉAL is a flagship boutique of firsts. Not only is the five-storey 13,000 sq ft space the first brick-and-mortar store of the avant-garde retail platform – founded in 2003 by brothers Rami, Bassel and Firas Atallah – it is also David Chipperfield Architects' inaugural Canadian commission.
And it's one that doesn't disappoint. Housed in narrow 19th-century structure, SSENSE MONTRÉAL functions as a building-within-a-building. Inside the traditional facade stands a concrete construct, boasting eight minimalist fitting rooms, and a fair faced concrete and glass roofed café, that calls to mind the canteen of a spaceship.
SSENSE MONTRÉAL functions as a building-within-a-building, with a concrete structure housed within a 19th-century facade
A blend of the classic and the contemporary, the double layer space is a symbol of the concept behind SSENSE MONTRÉAL. Not your typical boutique, it acts as a touchpoint between the online and offline shopping experience. Through a newly developed digital interface, customers are able to order from over 20,000 pieces online – by innovative brands including Wales Bonner and Kwaidan Editions – before trying them on in the stark, spotlit and padded bench-lined changing points of the space, all within 24 hours.
'E-commerce enables scale but it is suboptimal in important ways, especially in terms of fostering human connection,' says SSENSE co-founder and chief executive officer Rami Atallah, of the concept which allows customers to book personal shopping and merchandising appointments online. It's a physical dialogue that digital retailers are continually developing. Take, 24 Sèvres, which launched last June, and brings the architectural atmosphere of Parisian store Le Bon Marché to the screen, or Chanel's decision to partner with Farfetch to bolster its e-commerce output.
SSENSE MONTRÉAL is sublimely futuristic. David Chipperfield Architects – whose luxury retail clients include Bally, Valentino and Brioni – developed a 60-cm grid system throughout the space's concrete structure, allowing for hidden convertible systems to house mechanical and technical elements. Just as seamless, a 'vertical lift module' was constructed to allow for swift storage and delivery of items. With the space opening on 3 May, we can't wait to place our order.
INFORMATION
For more information, visit the SSENSE website (opens in new tab), and the David Chipperfield Architects website (opens in new tab)
ADDRESS
418 rue Saint Sulpice
Montreal
QC H2Y 2V5
Canada
VIEW GOOGLE MAPS (opens in new tab)