David Chipperfield delves deep for very personal bag design
'It has been an opportunity to design a bag that suits my lifestyle,' says the architect of the collaborative project with German accessories label Tsatsas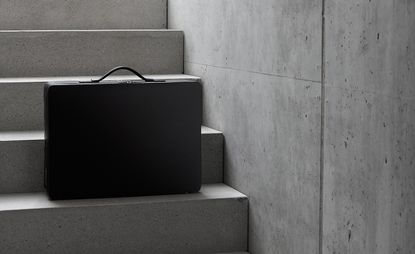 (Image credit: Gerhardt Kellermann )
'It was a meeting of true minds,' Esther Schulze-Tsatsas, co-founder with partner Dimitrios of the Frankfurt-based handcrafted leather accessories brand Tsatsas, says of their collaboration with architect David Chipperfield. Unlike Chipperfield's architectural creations, SUIT-CASE is an inner exploration of form and functionality to create an item that answers to his own desires and aspirations.

Three years ago, the architect became aware of Tsatsas' work when he sought a partner with whom to develop a suitcase that met his very personal needs. 'I have spent most of my life travelling. Instead of complaining that every bag I buy does not work, it has been an opportunity to design a bag that suits my lifestyle.' As a rule, he rarely takes check-in luggage, which means the bag would need to be good enough for a week's trip and, importantly, carry a suit without it creasing.

The joint project dovetailed with both parties' areas of expertise. Esther and Dimitrios' background in architecture and industrial design distinguished the brand's approach to manipulating leather; each design, be it a handbag, backpack or clutch resembles a miniature piece of architecture, in which making patterns and prototypes is treated in the same way as dealing with form and space, connecting the user and their environment. And for Chipperfield, working with the duo was reassuring: 'We had the security of people who knew how a bag should be constructed and were able to provide a material form for what the bag was to be used for and its priorities,' he says.
This was not Tsatsas' first attempt at creating a luxurious and timeless suitcase. In 2013, the duo was commissioned by Wallpaper* Handmade to create a one-off wheeled piece of luggage 'Kage'. Although not commercialised, it laid a solid foundation for the collaboration to come. The design for SUIT-CASE started from a quick sketch by Chipperfield (literally on a paper napkin), built upon each other's ideas and gradually came together as they developed all the parts.

From Tsatsas' previous research, they knew of a biodegradable and emission-free wood fibre that would work for the base structure, which they then covered with calfskin leather from a sustainable local tannery. The interior was lined with soft lamb Nappa leather and natural canvas; a metal folding coat-hanger and other metal fittings, were made from recycled brass in Italy. Handcrafted in Offenbach in the workshop of Dimitrios's family's 40-year-old leather business, the genius of its construction is reflected in its mere 2.7kg weight. The thickness of the leather has been great reduced while still leaving it sleekly resistant and stable.

Plans for a physical launch of SUIT-CASE in April in Chipperfield's studio during the Salone del Mobile in Milan were scuppered by Covid-19. And the pandemic was to change not only the original release but also the way its creators re-evaluated the concept of travelling: 'It became clear to us that it was not just another piece of luggage but also the desire for a different approach to travel in the future. We need to make decisions about which flights are really necessary; move away from travel as something stressful and towards the direction of a more conscious perception and experience of travel,' says Dimitrios. Accompanied by a SUIT-CASE, whose material and finish stand for longevity and an appreciation of the world that surrounds us.
RELATED STORY
INFORMATION
davidchipperfield.com (opens in new tab)
tsatsas.com (opens in new tab)