Alternative retail websites for fashionable festive gifting
Look to luxury etailers Rêve En Vert, APOC Store and Doda the Store, Aspect and Zero-Living for feel-good gifting options that support emerging creatives and artists, and have a sustainability-focused mindset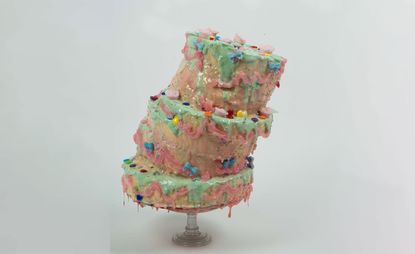 (Image credit: press)
Whether we're seeing friends and family face-to-face or through a computer screen this festive season, we've never felt more urge to gift in a more thoughtful way. Whether it's an environmentally-aware made-to-order purchase, or a present that supports emerging and avant-garde creatives, a host of innovative etailers provide enchantingly alternative gifting options. They'll have equally uplifting effect whether opened underneath the Christmas tree, or sent to surprise someone by post. Prepare your wrapping paper now.
Feel good festive gifting: Rêve En Vert
Tired of trend-driven spending, co-founder and CEO Cora Hilts launched luxury sustainability e-tailer Rêve En Vert in 2014. The site operates according to an environmentally-aware output, placing focus on brands that manufacture with a social and ecological conscience, using organic or upcycled materials, working with local communities, paying a fair living wage and reducing carbon emissions and waste. Its fashion, beauty and lifestyle sections span from fragrance to fitness, baby to bridal wear, featuring brands including Wallpaper* Design Awards 2019 winner Haeckels, Riley Studio and Feldspar Studio.
For feel good festive gifting, we recommend browsing Rêve En Vert's Made to Order section, where you can custom purchase minimalist ceramics by Marloe Marloe, snuggly knits by Maydi and ruffled pillow sets by Arkitaip. There's a worrisome amount of waste associated with the holiday season, and purchasing using a bespoke service slows down the process of manufacturing and reduces excess production. Fan of a festive solo stroll? We also recommend tuning into the Rev On Air podcast, which features interviews with a spectrum of sustainability experts, from sustainable furniture maker Sebastian Cox to natural beauty pioneer Susanne Kaufmann, hosted by Hilts herself.
APOC Store
The onslaught of the Covid-19 pandemic saw large department stores dropping seasonal orders from burgeoning brands, leaving them with piles of excess stock, or of boutiques placing brand-diluting demands on small labels, requesting styles in specific shades or fabrics. In a bid to place purchasing power back into the hands of niche labels and artists, Tracey Suen and Jules Volleberg launched avant-garde retailer APOC Store in autumn 2020. The curated marketplace, which spans fashion, accessories and art, allows sellers to specify their needs, whether they're choosing to create one-off styles, made-to-order commissions or to sell repurposed pieces. Suen and Volleberg work collaboratively with their designers, which include surrealist accessories label D'Heygere, eccentric milliner Benny Andallo and ceramics artist Pauline Bonnet.
For the festive season, APOC Store has launched a selection of exclusive gifting drops, which include ecclectic charm jewellery by Marland Backus and sculptural socks by Shek Leung. On the hunt for homeware? Allow us to direct you to artist Vincent Olinet's fake cakes and resin shelves in the shape of slices of bread. A gift for the extrovert in the family? Celia Calderón Asensio serves up embellished swathed bodysuits that will turn heads all party season.
Doda the Store
London-based fashion editor and stylist Grace Wright launched luxury jewellery and accessories e-tailer Doda the Store in February 2020. Subverting the notion of the trend-driven 'It' bag or the fleeting jewellery trend, the pleasingly hued online space specialises in craft-focused pieces by independent designers, including Stockholm-based Mehrotra, which works only in natural materials, and Spanish-born London-based jeweller Sandralexandra, who has a penchant for pearls.
Shopping for someone obsessed with organic cappuccino tones? Felt specialist Cecilie Telle's bucket and pod bags are available in an array of brown hues and are gloriously tactile in their handmade finish. Fancy gifting something that will glint in the winter sun? Sisi Joai's recycled glass pendants will bring some sparkle to a stocking, and will shine their way into summer too.
Zero-Living
Zero-Living – an e-commerce site and bricks-and-mortar boutique in London's Mayfair – labels itself as the home of planet conscious brands, encouraging conscious consumption and specialise in sustainability across fashion, home and lifestyle. Over 85% of the store's brands are manage by women, and they therefore donate a percentage of profits to WEN The Women's Environmental Network.
A sustainability advocate, Natalie Denyer founed Zero-Living in 2018, having become disillusioned with the retail sector, and its prevalence of poor environmental and social practices. Three years on, the store has gone from being a back-of-an-envelope idea to a platform with over 50 brands and bigger plans for the future. For eco-minded festive gifts, we suggest looking to its Zero Waste section, or Christmas shop, which features stationary, clean beauty and bath time sets, alongside FSC printed cards, recycled paper gift wrap and Christmas decorations. Writer: Nuray Bulbul
Aspect
The Aspect platform was born out of a desire to help reduce waste and help luxury brands following the Covid-19 crisis. In an industry where 20% of garments go unsold, the platform is conceived with driving a systemic change towards slower and more considered fashion for the luxury market. Exterminating the wholesale model, the website helps independent designers present a trans-seasonal blend of Archival, New Season and Made-to-Order items to reduce industry waste. The genius behind the platform is Milun Kumar. It was whilst working in Fashion Buying & Account Management at retailer Harvey Nichols that Milun was witness to the many environmental pitfalls within the fashion industry. Aspect offers exciting independent brand's including Worme, Cottweiler, Delly Deacon, The Ouze, Eleanor Butler-Jones and Oxley and customers can discover emerging brands and new pieces, irrespective of the season. Writer: Nuray Bulbul