Biocontributing packaging by Hæckels wins Wallpaper* Design Awards for Best New Grooming Product
Bio packaging from the UK's Margate-based wellness brand Hæckels wins our coveted 2020 Wallpaper* Design Award for Best New Grooming Product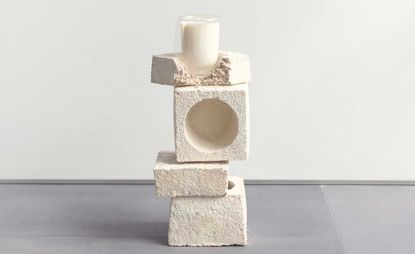 (Image credit: haeckels.co.uk)
WINNER
Biocontributing packaging, by Hæckels
A cosmetic brand's good reputation is increasingly dependent on the use of recycled materials, but there are also notable efforts being made towards zero-impact and 'closed loop' sustainability. For Margate-based wellness brand Hæckels, sustainability has been on the agenda since day one, when founder Dom Bridges created a bar of soap from seaweed. This year, Hæckels overhauled the packaging for its products, making protective boxes from mycelium (the thread-like root system of fungi) and agricultural waste, with product information printed on recycled paper studded with seeds. This 'living, breathing' material performs like plastic, but can be grown, recycled and readily decomposes. 'You can just throw the whole thing out of the window,' says Bridges. It's a bold move, but proves respect for the planet doesn't mean compromising on function or aesthetics.
KEY FEATURES: Mycelium boxes and seed-paper packaging that perform like plastic
haeckels.co.uk (opens in new tab)
SHORTLIST
'Afropicks' combs, by Simon Skinner
When Swedish designer Simon Skinner struggled to find an Afro comb in Stockholm, he took matters into his own hands. The result is a playful set of 'Afropicks', produced using laser-cutting, casting and 3D-printing to shake up the conventional form, and celebrate diversity and black identity in Sweden. Each of the eight picks is named after a person of African heritage whom Skinner interviewed during the research process, prompting gloriously varied aesthetics and functional approaches. These included 'Jade', which is comprised of several lengths of curved steel, held together by a white oval clasp, 'Miliona', which preserves strands of real human hair in cast resin, and 'Femi', in 3D-printed aluminium, which has an abrupt wave in its teeth. These picks are both a celebration of individual characteristics and objects that narrate stories of migration and its effect on Swedish society.
KEY FEATURES: A series of combs for Afro hair with different functions and aesthetics, and their own narrative
simonskinner.se (opens in new tab)
CBD wellness products, by Natureofthings
CBD, once viewed as a controversial substance, is now causing stratospheric ripples through the beauty and wellness industry with its apparent ability to alleviate everything from anxiety to chronic pain. Wellness brand Natureofthings, which launched in September, describes itself as the 'bridge between CBD and the clean beauty world'. Its product portfolio consists of natural bath immersions, skin treatments and digestible powders, many of which include a 'judicious' dash of CBD. Its packaging, comprising stone-like tubs and pared-back sachets, features minimal branding, transparency and no hyperbolic claims. The Nourishing Body Creme is a CBD remedy infused with black pepper and cacao butter to relieve muscle soreness and prevent inflammation using jojoba, grape seed and plant-derived squalane, while the Lucidity Powder, soluble in water, includes a brain-sharpening cocktail of nootropics such as bacopa and lion's mane mushroom.
KEY FEATURES: A range of luxury wellness products with a dash of cannabidiol
natureofthings.com (opens in new tab)
Optune AI personalised skincare regime, by Shiseido
Launched on the Japanese consumer market this year, beauty company Shiseido's Internet of Things skincare system Optune is built to solve the most complex of dermatological riddles. As skincare brands gear up to leverage the increase in digital and 'experience' consumption, the 147-year-old company has proven that even the most traditional of brands can vie for a seat at the AI table. Shiseido's monthly subscription service kit sees an iPhone app and dedicated skincare dispenser work in tandem to decipher 80,000 skincare patterns, fine-tuned through algorithms. Users begin by taking a photo of their skin with their phone's camera, which calibrates skincare needs factoring in air humidity, temperature, pollen count and sleep data. Based on the data, an 'optimal' skincare formula is then dispensed via five 'Optune shot' cartridges, capable of creating up to 1,000 different concoctions, to align with shifts in mood, weather and personal skincare needs.
KEY FEATURES: A monthly subscription service providing perfectly calibrated skincare using AI
shiseido.co.jp (opens in new tab)
Razors, by Tom Dixon x Harry's
New York-based men's care brand Harry's and celebrated British designer Tom Dixon have collaborated on this limited-edition modular shaving instrument launched at the London Design Festival. The razor's key feature is a handle comprised of sleek aluminium blocks that can be switched to form distinctive configurations. During the festival, the brands staged an experimental pop-up barbershop at Tom Dixon's HQ, The Coal Office, where visitors to the interactive shaving bar were treated to a hot shave and had the chance to design and build their own distinctive razor. The project combines Dixon's trademark lustrous materials and geometric forms with Harry's shaving know-how, celebrating the tactility of the ritual.
KEY FEATURES: Modular aluminium handles and high-quality blades
tomdixon.net (opens in new tab); harrys.com (opens in new tab)
Mary Cleary is the Beauty & Grooming Editor of Wallpaper*. Having been with the brand since 2017, she became an editor in February 2020 with the launch of the brand's new beauty & grooming channel. Her work seeks to offer a new perspective on beauty, focusing on the pioneering personalities, product designs, and transformative trends within the industry.