Morocco-based Marrakshi Life combines traditional techniques with a New York aesthetic
Clothing brand Marrakshi Life champions a unisex, hand-tailored line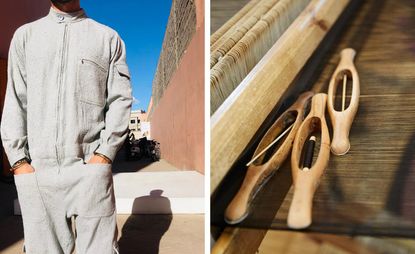 (Image credit: marrakshilife)
A trip to the sun-soaked Medinas in Marrakech changed Randall Bachner's career path in ways he didn't imagine. Having booked a flight one January for a 10-day trip, the New York-based photographer said 'the light, the pace and the energy' of the vibrant and sprawling desert-city left him inspired. 'The love of craftsmanship here made me feel like you could create anything in Marrakech,' he says. 'I never felt the possibility for something new in New York like I felt in Morocco.'
This notion played on his mind until 2013, when Bachner packed a bag and flew to Morocco for a three-month period 'to see how it would go… there was very little planned,' he says. But it seemed his journey was fated; he met Mohamed Zerhloul, who introduced Bachner to key local craftspeople including his master weaver and his tailor — both of which are also called Mohamed. 'It's the Mohamad trilogy,' he laughs. 'Together, we explored this idea of handwoven garments.' Marrakshi Life was born.
From the off, the brand's vision was to seamlessly mesh Moroccan fabrication and traditional techniques with a more New York aesthetic. Today, the clothes are unisex, with loose-cut and utilitarian silhouettes in vivacious hues reminiscent of the technicolour souks.
A boiler suit from Spring / Summer 2021 in desert shades is adorned with an applique palm leaf; a boxy lab coat is decorated with silhouettes of sand dunes. The rustic fabrics are hand-washed before each Marrakshi Life garment is sewn to soften them against the skin; his jet-setting lifestyle as a photographer influences his designs. 'We're making clothes that cater to this lifestyle of urban comfort,' he says.
The brand has grown steadily, now employing some 55 employees in Marrakech, and today it's sold at international retailers including Matches Fashion. But even as demand increases, Bachner is committed to the low-impact, local production model that Marrakshi Life was founded upon. 'All our garments are made to order, so we are not forced to invest in inventory,' he says. To combat the traditional sizing discrepancy between menswear and womenswear, elasticated waists are a prominent feature — it also adds that sense of leisure and ease into otherwise tailored garments. Clients can also request bespoke sizing for a more custom fit. 'We only make pieces our clients are ordering. In this era of sustainability, I am very conscious to work as locally as possible. Creating a positive vibe is the most important element in the day to day as a manufacturer,' says Bachner, who has spent the last six months in Marrakech due to the Covid-19 lockdown. 'We have a responsibility to our team to treat everyone with respect.'
INFORMATION
marrakshilife.com (opens in new tab)