Advene's debut bag is forever
'We want our debut bag to stand the test of wear, weather, and time'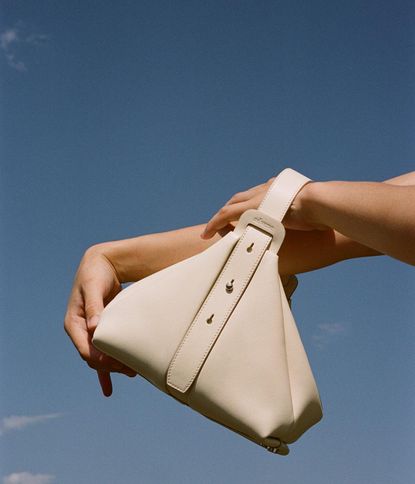 (Image credit: advenedesign.com)
There's something sublimely simple about the design of Advene's Age bag – a folding triangle silhouette that nestles naturally under the shoulder, features only essential embellishments and an easy magnetic closure. Often elementary design is, in fact, the most multifaceted. It took a year for the New York brand's co-creators Zi Xuan and Yijia Wang to develop the style, one which is the result of six different prototype iterations and the consequence of multiple conversations with fabric tanneries, textile labs and hemp farms. The style has conscious design stitched into every seam.

Xuan – a fashion industry veteran who worked at Marc Jacobs and Coach, and Wang – whose marketing background focused on consumer behaviour, united over a interest in design that benefits its customers long term. 'Industrial manufacturing divorces the end product from its original design context, resulting in goods that bear no trace of the materials, people, and passion behind their creation,' says Xuan. Wang also noted in gap between the din of brand marketing, which wasn't contextualised against innovative product development. After discovering there wasn't a bag in the marketplace that united their dual aesthetic and environmental requirements, Xuan and Wang set about developing the Age.
The Advene age bag: conscious design stitched into every seam
'We started digging deeper into the market and quickly learned that consumers need to choose between price, style, and sustainability. We think they deserve better,' say Xuan and Wang. Advene's Age – which is available in a black or white colourway – is made using a durable yet buttery leather which is 100% traceable and a byproduct of the food industry. From the leather's raw hide to its finished form, the highest levels of ethical and environmental standards are maintained. Fabrics are produced in a scope-C gold-standard tannery certified by the Leather Working Group, of which there are only 13 worldwide. Additionally, the Age lacks plastic filling, which is commonly used to structure the silhouette of bags. Instead, design engineering ensures its maintains its architectural shape.
RELATED STORY
'We are able to not only track and monitor the social, environmental, and human impact of each bag, but also challenge the traditional ways of material sourcing, construction, and development to reimagine how modern handbags can be,' Wang of Advene's production approach.

There's also elemental beauty in the design of the brand's packaging, which includes a ribbon-detail box formed from humble greyboard, that is usually used as an construction underlayer. 'We thought, It has such a wonderful raw yet refined texture on its own, why cover it up?' say Xuan and Wang. 'Thanks to our packaging engineer's patience and knowledge, we collaboratively created this FSC-certified greyboard box that is elegant and versatile enough to be kept and repurposed.' In their research process, the duo were also shocked by the low quality of dust bags, creating a pared-back 'wrap' version from OCS- and GOTS- certified deadstock hemp, 'that can be reused as bandanas or table cloths.' You can read more about environmentally-friendly fabrics in our comprehensive guide to sustainable fashion.

'We want our debut style to stand the test of wear, weather, and time,' add Xuan and Wang. Think of it as a style that will carry you through life.
INFORMATION
Receive our daily digest of inspiration, escapism and design stories from around the world direct to your inbox