Take it slow: LA trainer brand No One on setting its own pace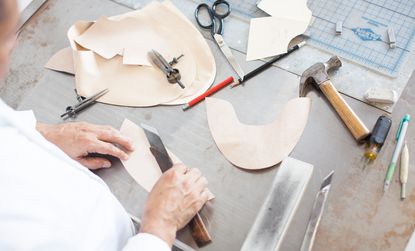 (Image credit: press)
'I guess it was the longest most drawn out way of answering the question "What is your brand?" chuckles Mark Gainor, creative director of new LA-based trainer label No One, of creating a hardcover book to mark its launch. The project, titled Diagram of Disorder, features an amalgamation of metaphysical images, from star sprinkled images of deep space, to the Greek mathematician Euclides. 'We wanted something that captured the spirit of the brand,' he adds. 'I'm actually quite sad we put a shoe in there.'
With a double page focused on 'The Study of Machines' and the 'Study of Materials', Diagram of Disorder captures the spirit of No One, a trainer brand dedicated to the artisanal production of sneakers, using the highest quality materials.
Gainor, who learnt the intricacies of trainer production while visiting factories in China, yearned to produce footwear closer to his LA home. 'The brand started off as a daydream on a flight to China,' he says. 'I was spending all my time in these sample rooms, seeing where designs come to life. I loved what was happening inside them, to be able to learn from those people even with the language barrier was incredible.'
No One's designs, comprised of the Alpha, a desert boot, and the newly released Bravo, a German Army inspired trainer, are created in its laboratory-style Venice studio. 'For the Bravo, the entire process takes about two weeks,' Gainor explains. His team, consisting of more traditional cobblers, including a pattern-cutter with 30 years experience, and younger shoemakers, produce around 18 pairs at a time.
'We've named the styles after the naval alphabet, so that they have an utilitarian and anonymous feel,' Gainor says. Utility-focused shapes yes, but the techniques and materials used are anything but. Every shoe is hand lasted, a process usually reserved for bespoke shoe makers.
The Bravo is cut from suppled speckled pony hair – 'I always wanted a pair in that material but I never saw it done properly for men,' Gainor explains. Its heel accents and leather tongue are crafted using vegetal tanned Vachetta leather from the Tuscan village of Santa Croce sull'Arno. Exquisitely luxurious, the Bravo is also lined with plongé lambskin from the Chanel-owned French tannery Bodin-Joyeux.
'These are generational companies that really specialise in making one or two articles,' Gainor explains. 'It's interesting to go out and find other obsessive people who only make one thing and know everything about it.'
INFORMATION
For more information, visit the No One website (opens in new tab)