On the map: artist William Kentridge's tapestry for Ermenegildo Zegna's London store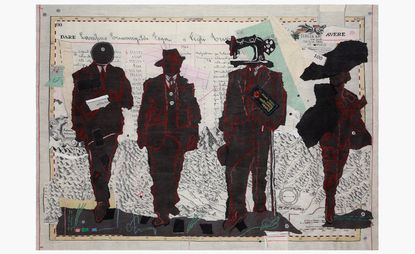 (Image credit: Kendal Young)
All through history, people have woven tapestries to tell stories. A new one by South African artist William Kentridge, hanging in the Ermenegildo Zegna store on New Bond Street in London, tells several interconnected tales, including that of the visionary Italian entrepreneur Ermenegildo Zegna, who took his father's looms and built a wool mill in Trivero, in the Alpine foothills, in 1910.

Today, the fourth generation of Zegnas carry on the story of this family-run company. When they planned a new shop for London, Ermenegildo's granddaughter, Anna Zegna, sought out Kentridge to create a tapestry for the company's Art in Global Stores series. 'There are so many connections between what we do – our work, passion, tradition and heritage – and how he treats materials is the same,' says Zegna. 'We needed to connect the dots in weaving this history of ours into a tapestry that could be a sort of film, connecting the bits and pieces.'

Although unfamiliar with the Zegna brand prior to this commission, Kentridge did own something by it. 'By chance I looked inside a jacket I'd bought several years ago and discovered that it was from that shop,' he says. He has also produced a great deal of artwork in Italy, including mosaics for a metro station in Naples, a frieze on the banks of the River Tiber, and work for the staging of The Magic Flute at La Scala in Milan.
Kentridge works in a wide range of media and has created more than 40 tapestries in the past decade or two. Many of them show shadowy images of people against a backdrop of maps, what he calls 'a sense of people moving across the world'. To help feed his imagination, Zegna sent the artist archival documents and images of the company: photos of the wool mill and of Ermenegildo, ledger accounts, and cardboard patterns.

The resulting tapestry is titled Dare/Avere, Italian for the debit and credit columns in accounting ledgers. Four figures, three men and a woman, are portrayed in silhouette against a map of northern Italy. They are, Kentridge says, 'somewhere between human figures and a man who is simply a suit'.

When Zegna looks at the tapestry, she sees 'my grandfather, who was going around the world to bring Zegna fabric to sell'. One figure appears to be carrying a newspaper. One wears a hat, while another has a Zegna label stuck to his lapel and an old sewing machine instead of a head. The sewing machine is Italian, Kentridge points out.


'In the 1960s, when I was a child, Italy existed in South Africa in the form of motor cars, scooters, typewriters and sewing machines –the Necchi sewing machine my mother had.' Anna Zegna recognises the machine as the same kind her grandmother used.

Behind the figures' heads appear pale yellow and green patterns used to make suits, and a ledger page from 1944, complete with a woven image of Ermenegildo Zegna's own handwriting. It was a key year for Ermenegildo Zegna, who lacked the funds to buy raw materials due to the war and whose business was rescued by a Swedish purveyor who appreciated the beauty of his fabrics.

This tapestry is also a story about fine wools and the anonymous craftspeople who spin, dye and weave them. Kentridge says one of the many reasons he is drawn to tapestries is because they are pixelated images 'made up of thousands of decisions at each place where the warp meets the weft'. First-rate weavers have 'the dexterity of harp players and must make the decisions more like a musician as to the exact moment of transition from one line to another, of how a very fine detail gets rendered in the less exact form of the tapestry.'

For decades he has collaborated with the Stephens Tapestry Studio, founded in 1949 in Northern Swaziland by Coral Stephens and now run by her daughter Marguerite. For this work, he gave Marguerite a small collage, which she blew up photographically before annotating it and laying it behind warp threads on big Gobelins-style upright looms. She says it was a particularly complicated piece, requiring five weavers to work for two and a half months. In fact, she asked Anna Zegna for permission to make it bigger than the originally agreed-upon size to accommodate the tiny mountain symbols (each with shadows) and the names of Italian towns. Knowing full well the complexity of weaving techniques, she agreed.

The weft is made of mohair handspun in Swaziland. The edges are woven in the palest natural grey of Lesotho goats, the only kind that produce this particular shade. The sections representing suit patterns are woven from a fine Mohair Trophy goat, the winner of an annual competition that Ermenegildo Zegna conducts in South Africa, and that the company uses for its suits. Stephens says this thread comes from goats that are specially raised and handwashed. Touch this section and you'll feel that it's softer than the rest.

Now that the tapestry is hanging on the third floor of the Zegna store, on the one wall large enough for it to be properly admired, Kentridge is keen to see how it occupies its place in the shop and in the company's ongoing story. 'I'm interested to see how the tapestry earns its keep,' he says. 'How it feels in the space. The men in suits on the tapestry, and the men in suits on the shop floor.'

As originally featured in the December 2016 issue of Wallpaper* (W*213)
INFORMATION
For more information, please visit the ZegnArt website (opens in new tab)
ADDRESS
37-38 New Bond Street
London W1S
VIEW GOOGLE MAPS (opens in new tab)