Olé! These Balearic brands will bolster your summer spirit
Are these small-town brands some of Spain's best kept secrets?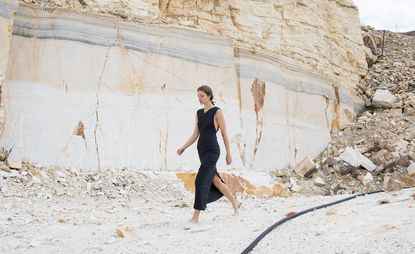 (Image credit: Cortana)
The Coronavirus crisis is a turning point for the fashion industry. With global fashion weeks cancelled, orders pending and retailers going declaring bankruptcy, questions about the current model seem to multiply: Is there another way to produce fashion? Must brands necessarily be based in big hubs to succeed? Do we really need so many yearly collections?

The answers are yes, no and not nearly as many as we think. At least for these four Spanish brands, which enjoy budding international success despite being based in small towns, having ultra-localized production and working in slow cycles… Or perhaps because of those exact things. All of them inspired by the culture and traditions of the Balearic islands, they are nonetheless in touch with the world at large.
Cortana
Possibly Spain's best kept fashion secret, Cortana was born in 2001, when Mallorca-born Rosa Esteva, then a recent fine arts and fashion design graduate, decided to try her luck at opening a store in the island's capital, Palma. It was a risky move but it also felt like the right time. I had been drawing since I was a kid, and had tons of ideas that matched the spirit of the Balearic islands.'

Nearly two decades later, Cortana is known for its understated chic, her long linen tunics, silk palazzos and draped evening dresses in a palette of sandy, Mediterranean blue, terracotta, ivory and sun tones. 'I never get tired of exploring this island's landscape. Its countryside, its sea life and its changing winds are really what inspires all of my collections.' Even though most of her studio is now based in Barcelona – where she has two more shops, alongside her Madrid and original Palma outposts – she still goes back to Mallorca every season to draw each new collection.

Production takes place in small artisan ateliers near Barcelona, with a focus on handmade expertise. 'Finding those artisans was definitely not easy', says Rosa. 'When I started the brand I didn't know anything about production, and fashion insiders are not very prone to share their secrets! I had to do my own research, but ended up finding some incredible professionals. There is something to Spanish artisanship, a touch of imperfection that makes the end result so unique.'

Despite Spain's lockdown – one of Europe's strictest – and its effects on local manufacturing, things haven't fundamentally changed for the brand. 'Thankfully, already being quite a small structure and producing all of our pieces extremely close to home, our business model has not been significantly challenged, just slowed.' Which, she says, hasn't all been bad. 'I was lucky enough to be on lockdown here in Mallorca, and that gave me the change to pause and listen to the silence. I now feel renewed.'
Goya
When, a decade ago, Kimberley Tecles-Byrom started visiting Formentera with the man who would become her husband, she started wearing menorquinas, 'because that's all everyone wears on the island'. Finding the traditional leather-crafted shoes particularly comfortable, she then decided to also don them at work, in the London offices of Alexander McQueen. 'People would comment on them; that's when the idea started forming in my mind.'

A Manchester native with a global family background ('my mum is Australian and my dad is Mexican, with British and Spanish heritage', she reveals), Kimberley moved to London with University of Leeds degree in fashion marketing and the hopes of becoming a journalist. 'I ended up in Net-a-Porter instead, which was the best possible introduction to the fashion industry, before moving to Alexander McQueen as e-commerce manager and then, in 2015, to Loewe in Madrid.'

She started building Goya (the name of the brand is a wink to her Mexican grandmother's nickname) around that time. Learning as she went along, she designed shoes and knocked on doors in the Alicante region, looking for artisans to work with. 'The idea was to have very recognisable sandals that would be easy to wear, inspired by menorquinas but not constructed like actual menorquinas.'

Made in an atelier near Elche – around 170 km away from her current home in Valencia, where she moved last year – Goya shoes integrate a rubber boot-style sole and unique stitching and signature details, like green piping on the back strap. Materials vary from the very minimal black suede to crocodile effect leather or quilted leather, goat hair or velvet. Seasons are non-existent. 'Which has been a blessing with the Covid-19 situation, as I haven't felt any drop in interest in the brand during the last few months', she says. 'Lately I have noticed I tend to look for smaller brands with a story and a point of view. Maybe this means I'm not the only one.'
Masscob
'We were so innocent and clueless when we started this brand… I wonder if we could do it again!' No one is more surprised at the longevity of Masscob than its two founders, the very chatty, very candid Marga Massanet and Jacobo Cobián. Both born and bred in La Coruña – the Galician town better known to the fashion industry for being around the corner from Arteijo, Inditex's global HQ – the pair graduated in law and subsequently spent some time traveling, but they had never crossed paths until they sat side by side on a plane back home.

'We were around 24 then. Needless to say we never got to be lawyers', says Jacobo. A budding personal relationship drove them to discover a common creative curiosity, and Masscob was then born in 2003. 'We decided to get established in La Coruña, which back then was kind of crazy, as it's a small town as removed from Paris or London as it gets. But it felt like the right decision to take, production-wise', Marga says. 'There's a big textile tradition in the region. But even so, it was hard to find the right ateliers from us. We were looking for artisanship at a time when it was dwindling'

Things have now changed. 'We work with some fantastic Galician manufacturers and also have our own small atelier, where we make all our prototypes.' The brand also has a presence in international department stores (including Liberty) and small local stores ('we love small business! It's what gives each city its own distinctive character', they enthuse). They also have standalone stores in La Coruña, Madrid, Barcelone and Palma.

'Marga's family comes from Mallorca; we spend time there and the islands have inspired our aesthetics since the very beginning', explains Jacobo. Designed with an arty girl with secret boho chic tendencies in mind, Masscob's collections range from workwear-inspired trousers to architectural trench coats, deconstructed suits and volume-abundant dresses in vibrant nature-inspired tones.'We like juxtapositions', they say.

Lockdown caught them landing from Los Angeles. 'We were in shock', says Marga. 'We were just back home, expecting to start selling our Summer collection, and suddenly everything was interrupted.' Things are slowly getting back on track. 'We've had encouraging news from our shops, but things are undeniably slower', reveals Marga. 'Which, to be honest, is very in line with our philosophy', adds Jacobo. 'We make two collections a year in small workshops with exclusive Italian fabrics that usually take three months to be delivered. Good things take time.'
Ball Pagès
Espadrilles might be ubiquitous in the fashionable districts of most capitals right now. Seven years ago, though, that wasn't the case. 'I wore them constantly, back home in Catalonia, in Ibiza on holiday, and in Paris. They never failed to get noticed', says Gemma Serra. The Barcelona native never dreamed she would end up starting a shoe company. She is, in fact, an architect who worked for years at Jean Nouvel's studio in Paris, where she would meet her husband, before they both moved to Toulouse.

Then, in 2013, her life changed when she and her espadrilles were photographed by Garance Doré while dropping her son off at school. 'She introduced me to Carole Benazet, from the multi brand store Département Féminin, who asked if I would make a capsule collection for the store.' A departure from her original calling, true, 'but we were in the throes of the recession - not a great time for architecture - so I decided to take the chance.' Gemma then went to Ibiza looking for seasoned artisans, and found the ones she liked best specialised in making the shoes used for the island's traditional dance, the ball pagès. 'That's how the brand was born. We made 200 pairs and people seemed to like them… Then Opening Ceremony called.'

Ball Pagès has not only changed Gemma's life, but also her parents'. Born in Barcelona and Girona respectively, Marissa and Salva are now in charge of production and management. 'They were as new to shoemaking as I was, but they had so much enthusiasm', says Gemma. Production now takes place in the small town of Arbúcies, in Girona, which allows for international demand to be fulfilled.

'We still use the same artisanal methods and fabrics, like Spanish-sourced sisal (a fibre derived from the agave traditionally used for ropes and fishing nets), to which we add leather for a more durable, city-friendly shoe. Which explains the brand's success on a global scale. 'Actually, logistics and international delivery were our worst problems during lockdown. Especially USA deliveries', says Gemma. Production was also shut for three weeks. 'There was a lot of incertitude… After all, we're a family-owned company. Which, paradoxically, is also what I think has driven a lot of new customers towards us lately. I guess the Covid-19 crisis is having a lot of unexpected consequences.'