Allbirds unveils plant-based alternative to leather
Allbirds, pioneer of sustainable fashion, unveils a sustainable fabric alternative Plant Leather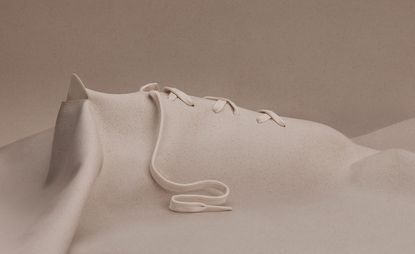 (Image credit: allbirds)
Chitosan: a fibre formed from the shells of Canadian snow crabs that can be made into T-shirts. SweetFoam: a material for the sole of a trainer, formed from sugar cane. Eucalyptus: a tree used to create the knitted uppers of sneakers. San Francisco-based footwear and apparel brand Allbirds has an impressive array of eco-friendly fabrications up its sustainable sleeve. And now, the label – which announced a major environmentalist partnership with Adidas last year – has added another to its arsenal. Plant Leather: a natural plant-based leather alternative.

Allbirds' latest innovation follows the brand's $2m investment in Natural Fiber Welding Inc, a US-based company that works to transform the soft goods materials industry, from one that relies on heavily petroleum- based products into one that incorporates circular, plant-based materials. Currently, the upper of Allbirds' minimalist trainers are created using Merino wool, eucalyptus, and castor bean. Its latest investment into plant-leather research has ensured it can develop a further outer fabrication, that is sleek, luxurious and lusted after.
RELATED STORY
The 2016-founded brand is committed to providing consumers with information regarding the carbon footprint of its pieces. 'I think designing with a carbon number is going to become a really interesting way to talk about the topic of sustainability in the future,' Allbirds' founder and CEO Tim Brown told Wallpaper* last autumn, after it released its first apparel collection, which was labelled according to its carbon number. 'Using carbon footprint as a design constraint can really be incorporated in creative problem solving and make products different.' The brand's Plant Leather is made from vegetable oil, natural rubber and other bio-ingredients, with 40 times less carbon impact than traditional leather and 17 times less carbon impact than synthetic leather, which is made from plastic.
Allbirds plans to incorporate Plant Leather into a major commercial footwear launch in December 2021 and you can read more about the brand's initiatives and innovations in our comprehensive sustainable fashion guide. Our feet are tapping with eco-anticipation.
INFORMATION
allbirds.co.uk (opens in new tab)