Eco footwear pioneer Allbirds launches apparel line
The San Francisco-based sustainable shoe brand launches its first clothing collection, crafted using TrinoXO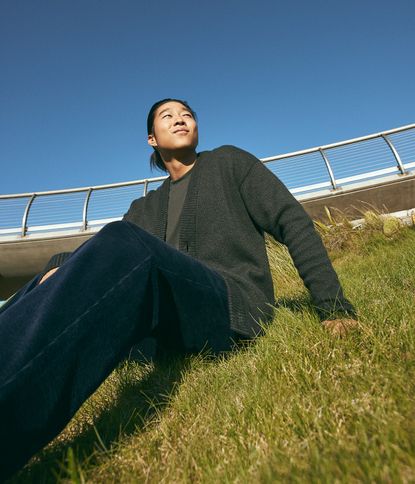 (Image credit: allbirds.co.uk)
Wallpaper* Newsletter
Receive our daily digest of inspiration, escapism and design stories from around the world direct to your inbox
Thank you for signing up to Wallpaper. You will receive a verification email shortly.
There was a problem. Please refresh the page and try again.
You might not expect that t-shirts can be made with a waste fibre formed from the shells of Canadian snow crabs, but when you consider that Allbirds incorporate sugarcane, castor bean oil and eucalyptus into their eco-aware designs, it's vital to let your imagination run wild.

The San Francisco-based brand, whose soft streamlined sneakers have become synonymous with timeless, sustainable design – and who launched a synthetics-subverting performance shoe and range of renewable underwear this year – has added another enduring product category to its repertoire. Allbirds' apparel collection features t-shirts made using Trino XO – another innovative fabric in the brand's environmentally aware arsenal – formed from Merino wool, eucalyptus and Chitosan, a fibre formed from naturally discarded crab shells.

Allbirds' footwear features essential silhouettes that have been engineered with an eco-aware design mindset. The Dasher, the brand's first sports shoe, which launched in April, forgoes traditional petroleum-derived synthetics, featuring a 3D knitted upper crafted from eucalyptus fibres, a soft inner formed from Merino wool and a midsole made using Sweetfoam, a sugarcane-derived EVA. The four-and-a-half year old label has now applied the same precise premise to its men's and women's apparel collection, which features cardigans, puffer jackets and jumpers. 'Does the world need another t-shirt?' says Tim Brown, Allbirds' co-founder and CEO. 'The short answer is no, unless it's better.'
Take the brand's puffer jacket, which has an exterior formed from a blend of Merino wool and Tencel with a fluorine-free water repellent, and is insulated with recycled polyester. Or its t-shirt, made with a fabrication evolved from Trino, the wool and eucalyptus blend found in Allbirds' socks and underwear. Trino XO incorporates Chitosan, which has anti-odour qualities. 'Traditionally anti-microbial treatments use an extractably mined silver or zinc,' Brown explains. 'We found a waste stream off the seafood industry which we were able to substitute.'
RELATED STORY
Allbirds has devised a consumer-friendly life assessment tool to quantify the carbon footprint of its creations. The footprint of its Dasher shoe is 9 kg of carbon dioxide per pair, estimated by the brand to be nearly 30% lower than the average trainer. 'Traditionally, with production, you're worrying about what something looks like, what it does and the cost,' Brown explains. 'We think carbon footprint is the fourth variable.' Allbirds' apparel is also labelled according to its carbon number. Its t-shirt has a footprint approximately 20% lower than a standard polyester design, with 7.1 kg of carbon for a men's and 6.3 kg for a women's, in part because it requires fewer washes throughout its lifecycle. 'Using carbon footprint as a design constraint can really be incorporated in creative problem solving and make products different.'
'I think designing with a carbon number is going to become a really interesting way to talk about the topic of sustainability in the future,' Brown adds of the numerical minset behind Allbirds apparel launch. 'We don't have all the answers, but the different tweaks you could bring in to reduce that number year on year really represents the future.'
INFORMATION
Receive our daily digest of inspiration, escapism and design stories from around the world direct to your inbox