Eco footwear pioneer Allbirds debuts Dasher performance shoe
Launching today, the Dasher running shoe forgoes petroleum-derived synthetics in favour of natural materials including sugarcane and tree fibres, challenging industry wisdom about material performance and setting new standards for sustainability. We visited Allbirds' San Francisco HQ in early February for an exclusive first look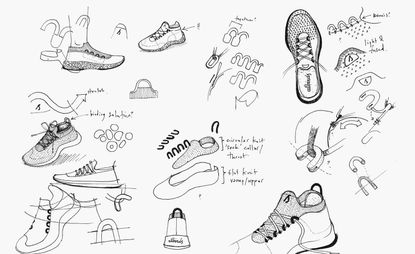 (Image credit: Jamie McLellan)
Wallpaper* Newsletter
Receive our daily digest of inspiration, escapism and design stories from around the world direct to your inbox
Thank you for signing up to Wallpaper. You will receive a verification email shortly.
There was a problem. Please refresh the page and try again.
Wool, sugarcane, tree fibres and castor bean oil are the unlikely building blocks with which Allbirds creates its shoes. Since its launch in March 2016, the brand has blazed the trail for planet-friendlier footwear, showing the industry that making shoes without petroleum-derived synthetics is not only a technical possibility, but also a viable business model. With a product range that includes everyday sneakers and high-tops (both available in weather-repellent versions that incorporate a bio-based waterproof lining), slip-ons, flats and boat shoes, Allbirds has something for every season and almost every casual activity, with the notable exception of sport.

Until today. With the launch of its Dasher shoe, intended for running, Allbirds has officially entered the performance footwear game. The brand now looks poised to disrupt a $50 billion industry that, despite valiant efforts, remains closely entwined with petroleum products.

The Dasher leverages the material technologies that Allbirds has refined over the years. Its upper is 3D knit from eucalyptus fibres, which are lightweight and breathable; with an inner lining of merino wool, chosen for its softness as well as temperature-regulating and moisture-wicking properties. The sole comprises three layers: an insole in bean foam, a midsole in the brand's signature Sweetfoam (a sugarcane-derived EVA), and natural rubber traction pads on high-wear areas.

All these components are natural and renewable – as Allbirds' co-founder Tim Brown says, 'We've been told many times by people more experienced than us that for a product to be performance-based, it needed to be synthetic. The idea that we could challenge that is part of the inspiration for this whole project.'
The materials come with impressive sustainability credentials. The eucalyptus fibre, for instance, is sourced from South African farms that rely on rainwater rather than irrigation. Compared to conventional cotton material, it uses 95% less water and generates half the carbon. Sweetfoam, meanwhile, is made from a byproduct of manufacturing food sugar, and has a negative carbon footprint. Collaborating with Brazilian petrochemical company Braskem, Allbirds developed the material in 2018 and made it open-source, so other companies in and beyond the footwear industry can use it too. (And it's not just environmental credentials that Allbirds is passionate about: through various third-party programmes – FSC for eucalyptus, Bonsucro for sugarcane, ZQ for wool – it strives for fair trade, good working conditions and high standards of animal welfare throughout its supply chain. It has also proudly maintained B Corp certification since its beginnings.)
Says Jad Finck, the brand's vice president of innovation and sustainability: 'The Dasher is like everything we've learned along the way, combined into one optimised shoe'. Which is not to say that this is the footwear equivalent of a compilation album. Both in form and function, there are important innovations that make the Dasher a compelling competitor to traditional running shoes.
Allbirds shoes have always been known for their understated aesthetic, so much that the New Yorker once called them 'excessively nondescript'. But as the oft-repeated adage goes, good design is as little design as possible. With its unaggressive silhouette, muted single-tone uppers (better to pair with a typical sportswear ensemble), and inconspicuous branding, the Dasher is instantly recognisable as an Allbirds product, and stands out in a market that seems saturated with flashier performance footwear. The design cues that hint at this being a running shoe are subtle, such as a dash pattern on the knit of the upper and on the base of both midsole and traction pads, meant to evoke speed. 'The analogy I always use is the Millennium Falcon going into hyperspace,' enthuses the brand's head of design, Jamie McLellan. 'The stars stretch out, and so they become little dashes.'
RELATED STORY
Among the design heads of shoe brands, McLellan has the rare distinction of having worked as a furniture and product designer (his portfolio includes lighting, chairs and tables for New Zealand brand Resident, a meal tray for Cathay Pacific, a series of bike frames, and even a kayak). His diverse experience has been well-suited to bringing fresh perspective to footwear, though the development of the Dasher, with its technical requirements, called for expertise that he didn't yet have. This is where design director Olivier Henrichot came in: an industry veteran with almost two decades of shoe design experience, Henrichot cherished the opportunity to work at a company that didn't merely seek to rehash an old formula for a new season. The two worked closely on performance adaptations – such as locating the eyelets externally, so the upper is as seamless as possible; contouring the footbed, to provide ample arch support; and widening the heel for stability. Notably, the composition of the Sweetfoam midsole was given a two-layer structure that maximises cushioning and energy return.
All this makes for an impressive performance shoe debut, tested extensively by over 50 amateur and professional athletes before coming to market. For Brown, who had once played for New Zealand's national football team and always wanted to maintain a connection to sport, this is both a big professional moment and a personal triumph: 'My dad likes them. Usually he's particularly critical, but he's a fan, so that's good,' he confesses.
Product innovation aside, the Dasher is groundbreaking for the fact that it will be the first shoe to carry a carbon number. Working with third-party environmental consulting firm Clean Agency, Allbirds has devised a life cycle assessment tool to quantify the carbon footprint of each of its products, taking into account material production and processing, manufacturing, customer usage (washing over the shoe's lifetime), and end-of-life emissions. Transport has been excluded, as it varies with the customer's location. Even then, the carbon number is a remarkably transparent expression of the implications of consumption. The Dasher's footprint stands at 9kg of carbon dioxide per pair, which according to Allbirds is nearly 30 per cent lower than the estimated average sneaker.
'We feel like we're entering a different moment in time, where the topic of sustainability is shifting from empathy and engagement to action and objectivity. You need to declare what you're doing right and what you're doing wrong,' explains Brown, who adds that the brand is in the process of offsetting all carbon emissions dating back to its founding. He also hopes that one day carbon numbers on consumer products will be as ubiquitous as nutrition labels for food. It's a lofty goal, but as Brown and his co-founder Joey Zwillinger often say, Allbirds is about creating 'better things in a better way'. By that measure, both the Dasher and its carbon number are a big step forward.
INFORMATION
The Allbirds Dasher is available from 28 April, £120/€135
allbirds.co.uk
Receive our daily digest of inspiration, escapism and design stories from around the world direct to your inbox
TF Chan is a former editor of Wallpaper* (2020-23), where he was responsible for the monthly print magazine, planning, commissioning, editing and writing long-lead content across all pillars. He also played a leading role in multi-channel editorial franchises, such as Wallpaper's annual Design Awards, Guest Editor takeovers and Next Generation series. He aims to create world-class, visually-driven content while championing diversity, international representation and social impact. TF joined Wallpaper* as an intern in January 2013, and served as its commissioning editor from 2017-20, winning a 30 under 30 New Talent Award from the Professional Publishers' Association. Born and raised in Hong Kong, he holds an undergraduate degree in history from Princeton University.