Tread lightly: eco trainers to minimise your carbon footprint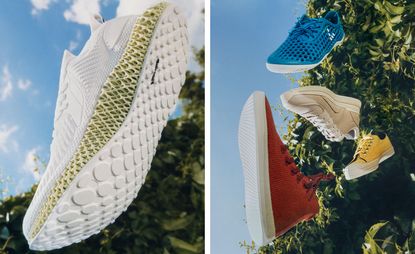 (Image credit: Sebastian Lager)
Left, Adidas: Adidas partnered with non-profit Parley for the Oceans to produce a range of sneakers with uppers of woven recycled ocean plastic. 'Alphaedge 4D Parley', £250. Right, top, Vivobarefoot: promoting a back-to-nature way of walking, Vivobarefoot also use a number of sustainably-produced materials, including an algae-based foam called Bloom. 'Ultra III Bloom', £75. Upper-middle, Everlane: this e-commerce darling's 'carbon neutral' sneaker uses natural and recycled rubber, recycled plastic, and leather from the 'world's cleanest tannery'. 'The Trainer', $98. Lower-middle, Novesta: founded in Slovakia in 1939, Novesta uses natural rubber soles, which are machine-pressed on cotton or linen uppers, without using toxic glues. 'Star Master Suede', €69. Bottom, Allbirds: with a $1.4bn valuation and celebrity investors, Allbirds rivals Veja as the poster brand for sustainable sneakers. Its materials include eucalyptus fibre. 'Tree Toppers', £115.
Training shoes, sneakers or even kicks if you prefer, have become a key territory in the sustainable fashion turf war. The fashion industry's environmental impact – it produces more carbon emissions than international flights and shipping combined – is increasingly under scrutiny. And trainers leave a particularly large and unpleasant footprint, as they use a lot of different and 'problematic' materials – leather, nylon, synthetic rubber, plastic and viscose – and involve a number of different manufacturing processes – injection moulding, foaming, heating, cutting and sewing. That means a lot of resource-munching making and logistical toing and froing up and down the supply chain. Where they are made also matters.

Over three-quarters of the world's trainers are produced in China, where manufacturing is still – despite some positive moves – vastly reliant on fossil fuels. (If you want to get to grips with the complex sustainability issues around sneaker production, check out the excellent Better Shoes Foundation website.)

For sustainably-minded entrepreneurs then, sneaker-making leaves a lot of room for footprint-reducing manoeuvres. Perhaps the most visible of these niche players (and getting less niche by the day) is Paris-based Veja. The brand was launched by childhood friends Sébastien Kopp and François-Ghislain Morillion in 2005. With backgrounds in banking, neither was, by their own admission, a 'sneaker head'. But intent on a sustainable business, they understood that sneakers was a market where they could make a big impact.
Veja's shoes, mostly plain white and with a distinctive coloured V, are entirely produced in Brazil. The brand works with local organic cotton producers, Amazonian rubber farmers and a factory that turns plastic water bottles into thread for uppers. Crucially, argue the founders, most Veja customers are only dimly aware of its sustainability credentials, if at all. It has prospered largely on good looks. And it has really prospered over the last three years, with sales up 70 per cent in 2018 to €30m. Recent launches include a collaboration with Rick Owens and its first running trainer, the Condor.

A more recent launch, but also gaining attention, is Allbirds. A favourite of tech workers and off-duty celebs, the brand was co-founded in San Francisco two years ago by Tim Brown, a former professional New Zealand soccer player, and Joey Zwillinger, an engineer and expert in renewable materials. They went public with just one shoe design, with a seamless superfine merino wool upper. Brown's fundamental idea was to make a shoe using fewer processes but in better and more sustainable materials. The brand has since added a eucalyptus-based fibre and a sugarcane-based rubber to the mix. It has reportedly sold $100m-worth of shoes and the company is valued at over a $1bn.

Launched in the US in 2010 and another $1bn-plus brand, Everlane is built on selling stylishly low-key basics online (though it now has stores in New York and San Francisco) and supply-chain transparency. This year, it unveiled a sneaker sub-brand, Tread, with 'The Trainer', in recycled plastic and rubber and the lowest-impact leather it could find.

These brands now head a list of producers, each with their own approach to making sustainable sneakers. All, though, including Veja and Allbirds, remain relative minnows in the industry. It should also be noted that all have concentrated their efforts on simple 'leisure' shoes. The more complex mechanics and materials used in performance shoes, particularly cushioning synthetic foam, make them a significant challenge in terms of sustainable manufacturing.
RELATED STORY
The industry's real heavyweights, Nike and Adidas, have made moves towards sustainable manufacturing. Nike's Flyknit material reduces waste and its Flyleather is made from recycled leather scraps. The brand says over 75 per cent of its shoes now use some recycled materials and it is by far the industry's biggest user of recycled polyester. Adidas, meanwhile, has partnered with campaign group Parley for the Oceans to produce a range of shoes with uppers made from recycled ocean waste and has committed to transitioning fully to recycled plastic by 2024. This year it launched 'Futurecraft Loop', its first fully recyclable sneaker, made entirely of thermoplastic polyurethane (TPU), which will be available in 2020.

In a way, the big players have been smartly outmanoeuvred by the sustainable start-up brands, not stuck with 'legacy' production systems that take time to re-engineer. The sportswear giants also produce far bigger ranges and in far bigger numbers and have to make sure that any sustainable innovation is scalable, that production can be ramped up without massively increasing costs. Ultimately, however, advances they do make will have a far bigger impact.
Though it doesn't release official figures, it is estimated that Converse produces up to 100 million pairs of the 'Chuck Taylor All Star Classic' a year. That's 100 pairs of 'Chucks' sold for every pair of Vejas. This summer, Converse launched three upcycled or recycled versions of the 'Chuck Taylor'. One, a partnership with Thread International, is produced using recycled PET from plastic bottles; another, this time a partnership with vintage clothes specialist Beyond Retro, features a recycled denim upper; while a third uses recycled waste canvas from its own mills.

The simplicity of the fundamental 'Chuck Taylor' design, now a century old, means Converse can make big shifts working with just a few of its key manufacturers. And crucially, ask them to do it without investing in expensive new machinery. Converse is working around the way its shoes are currently made, but these new processes already create 20 per cent less carbon and use 30 per cent less water. And while the new Renew range is being made in relatively small numbers initially – in the hundreds of thousands – Converse is looking at ways to ramp that up and reduce costs, and is investigating other sustainable materials.

All of these brands are conscious that a sustainability promise alone isn't enough to seal the sale. But as Converse acknowledges, it's not just external consumer demand and pressure that is driving the move to more sustainable production. That pressure is also coming from inside the company and major brands now understand that attracting and keeping the best young talent means committing to better behaviour and clear sustainability strategies. Doing nothing is no longer an option.
As originally featured in the September 2019 issue of Wallpaper* (W*246)