Green stuff: Bottletop's eco-chainmail accessories
Reebok launches the Forever Floatride Grow, its first plant-based performance shoe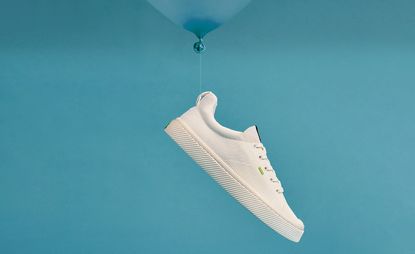 (Image credit: press)
Wallpaper* Newsletter
Receive our daily digest of inspiration, escapism and design stories from around the world direct to your inbox
Thank you for signing up to Wallpaper. You will receive a verification email shortly.
There was a problem. Please refresh the page and try again.
Fashion's polluting impact on the environment has never been more in mainstream consciousness. From its unsustainable manufacturing methods to its wastage of plastics into our seas, the textile industry is in the throes of coming to terms with its status as an unenvironmentally friendly repeat offender. As brand's consider the sustainable status of their supply chains and sync their environmental efforts with their production methods, we've zoomed in on some of the sustainable brands, projects and pieces getting the Wallpaper* green light, from accessories crafted from upcycled trainers, to sunglasses made from marine debris…
Bottletop
When you log on to Bottletop's website, the words you are greeted with are: 'Think before you shop'. With sustainability at the heart of the brand's ethos, the message reads just right. Founded in 2002, the brand's distinct design aesthetic combinines scrap leather, recycled bottle caps and upcycled aluminium ring pulls. Today Bottletop has refined its signature style, keeping with its eco-friendly DNA, and is now operating its own atelier and training programs in Brazil and Nepal. These continue to source sustainable materials and help generate local employment and raise funds for grassroot education in impoverished parts of the world. Our personal current favourite is the Bellani Mini Enamel with its glistening black metal finish. It takes a skilled artisan a full day to make one of these cross-body beauties and knowing it's sustainable genesis we can carry it into 2020 with a clean conscience.
Reebok
From plant-based diets to plant-based proteins, harnessing the power of plants has quickly become the benchmark for living sustainably. This week, Reebok has revealed its creation of the first plant-based performance running shoe. Launching in Fall 2020, the Forever Floatride Grow is made from the most sustainable natural components while still meeting best-in-class performance standards. Aside from reducing the use of petroleum-based plastics, the Forever Floatride Grow most notably boasts a cushioned, responsive midsole, made from sustainably grown castor beans. Building upon Reebok's Forever Floatride Energy shoe, the new iteration also brandishes a strong and breathable eucalyptus tree upper, a naturally odor resistant sockliner made from Bloom algae foam and a natural rubber outsole, sustainably sourced from real rubber trees as opposed to the petroleum-based rubber used in most other performance products. Now that's a new standard.
Cocoon
As our environmental awareness increases, so we're celebrating the concept of a circular economy, where clothing and accessories are worn in a continuous loop, preventing pieces from being carelessly thrown away (it's estimated in the UK that £140 billion worth of clothing enters landfill each year). In line with this mindful business model, the clothing rental market is set to boom. One such proponent of this concept is newly launched handbag rental service Cocoon, a membership club, which for £99 per month, allows subscribers to bag a different style, be it a Balenciaga-slogan bowling bag or a mini Gucci Dionysis. The joy of the service allows you to invest in your own It bag every month, without the steep investment, and allows your accessory of choice to evolve according to your every style whim. Pieces range from vintage treasures to limited edition styles, with December offering up accessories from Saint Laurent, Celine and Fendi. Come January, you can also tote striking shoulder bag styles from Valentino and Chanel. Forget new year's resolutions, consider them your 2020 style evolutions. Photography: Morgane Lay and Jonny Cochrane
Stella McCartney x Adidas
Stella McCartney's second interpretation of the Adidas Stan Smith is titillatingly technicolor. Created in vegan-friendly leather — echoing McCartney's crultey-free ethos — the redesign features rainbow accent laces and kaleidoscopic indented laser-cut stars on the side panel. McCartney enthusiasts will recognise these hues from the brand's S/S 2020 collection, yet the homage to Stan Smith himself still remains, with his portrait printed on the tongue of the right shoe. The end result is still a sleek white sneaker but McCartney's playful spin makes these kicks the most coveted rendition yet.
Sézane
Parisians are not exactly renowned to have a disposition for sport, but French brand Sézane is breaking that stereotype. With her new capsule collection 'Sézane Education Philosophique et Sportive', founder Morgane Sézalory is proving that there is a way to combine Parisian chic with athletic wear and an eco-friendly lifestyle. We can't wait to get kickstart some cardio with a clean conscience sporting these sustainable pieces made out of GOTS certified cotton and a 100 per cent recycled or eco-friendly material. These pieces are everything we need for a weekend yoga session, a power walk with friends, or to stay comfortable during those red-eye flights. We are particularly enthralled by the elegant vintage-centric button details, elevating our mere gym garb from sweaty sportswear to eco-friendly athleisure. And although the French famously wouldn't be caught dead wearing their workout clothes outside of the gym, we are absolutely charmed by the idea of spending our weekends, no matter the activity, in comfort and style with an environmentally sound mind.
Cariuma
Hot on the heels—or rather the treads—of consciously-designed sneaker brands Veja and All Birds comes Cariuma from Brazil, and its newly launched IBI sneaker.

Apt for a footwear brand, Cariuma is literally building their sustainability roadmap from the ground up. The brand has committed to make each sneaker 100% carbon neutral, by reducing CO2 emissions and recycling every drop of the water used during the design and production process: reducing waste through thoughtful design is co-founder Fernando Porto's mission. Impressively the brand also takes into consideration the shipping of its shoes, offsetting emissions though a partnership with Native Energy and Amazon rainforest conservation.

The new low-rise pared back lace up IBI sneaker has a lightweight, flexible sole made from sugar cane EVA, and a memory insole crafted from sustainable cork that shapes to your foot. And the uppers? Cariuma is the first brand to turn bamboo into a high-performance footwear fabric—blended with recycled plastic bottles, it is lightweight, flexible, and good looking. Bamboo is fast to regenerate: a single bamboo pole can shoot back up in six months, versus the 30 years to grow a tree.
Founded by Harvard MBA David Python and product designer Fernando Porto, the Brazilian duo bring their impressive business track records to the table and boast impressive growth stats from day one: they sold to 29 countries in their first month after launching in May 2018.

Believing each pair gets better with age, Cariuma flies in the face of box fresh sneaker culture. Refreshing steps forwards.
Melissa
This year marks the 40th anniversary of Melissa, the creators of the malleable jelly shoe, and we're celebrating in criss cross style with the launch of its new limited-edition releases. The Alma shoe and Origem bag, named after the Brazilian words for 'soul' and 'origin', take inspiration from its South American heritage and nod to where the Grendene family (now owners of Melissa) once produced plastic nets to protect bulbous bottles of wine. The net result is a series of lattice slip-ons and bags that resemble the very same wine carboys that are used by wineries of South Brazil to this day. The styles come in four colourways and both are made from non-toxic and cruelty free thermoplastics, that are manufactured with 0% production waste. A wondrous wine-inspired design, but without the crippling hangover.
Agnona x Creative Growth
Luxurious Italian label Agnona has teamed up with Creative Growth resident artist Carrie Oyama on a green-fingered collaboration. Following quite literally in the lines of Austrian painter Egon Schiele, Oyama's delicate drawings see intricate webs of monochrome lines, some with rare dashes of colour that seem to capture a sense of movement and gesture. Drawn only in her left, non-dominant hand, her sparing linework seems a perfect fit for a blank canvas made from Agnona's white cashmere. The end result is a limited-edition series of embroidered cashmere pouches, with hand-cut crepe de chine and chiffon detailing capturing the sense of familiar human form. The project ties together the artistic aims of Creative Growth as well as showcasing Agnona's finery, and the pouch is available to purchase online or at Agnona's Albemarle Street boutique.
Duran Lantink at Browns
As brands begin to rethink their supply chains and the fabrics they use in their manufacturing processes, so labels are beginning up upcycle and reuse deadstock fabrics in a bid to encourage a circular economy. One such designer who has used this concept from the get-go is burgeoning Dutch LVMH Prize nominated Duran Lantink, who splices and dices discarded old clothing to create colourful and exaggerated designs.
Now, as part of Browns' newly announced Conscious category – designed to nurture a circular economy – the innovative London retailer has teamed up with the designer on a 45 piece men's and women's collection made using deadstock clothing from its delivery warehouse. 'Green PVC, orange rubber, souvenir jackets, yellows, reds and even black was so striking to me,' says Lantik of the tones and textures that made up his designs, which include cut-and-sew tailored jackets and patchwork pleated dresses. 'The pieces become a puzzle of my own making,' Lantink adds. 'I visualise what parts I can transform into something new and put back together again.' To accompany the launch, Lantink has also installed a sculpture at Browns' East London location, defined as an 'apocalypse shop' which incorporates collages he created when studying at Gerrit Reitveld Academy in Amsterdam. The installation is on view until 18 November.
Sheep Inc.
When it comes to the question of who is making our clothing – and the complex nature of supply chains and manufacturing processes – there is a tendency to feel distanced from where our jeans were dyed, how the sheep sheared for our soft merino wool jumpers were treated, or how cotton was grown and cultivated for our wardrobe-staple shirts. But new knitwear label Sheep Inc. – which specialises in soft merino wool sweaters in naturalistic tones – is bolstering our connection to clothing production, for when you purchase one of the label's timeless designs, you also adopt a sheep from the New Zealand farm where its wool was produced.
Scan a tag on Sheep Inc.'s sweater hem, which also contains the jumper's unique serial number, and you'll also discover the full details of its manufacturing process and carbon footprint, from sheep to sweater. Pioneering total transparency, Sheep Inc. will also invest 100% of sheep adopted proceeds to biodioversity projects, with advice a panel of climate change experts, including Mark Maslin, Professor of Climatology at UCL and Tom Popple, senior partner at Natural Capital Partners, which will offset each jumper's carbon footprint by tenfold, and ensure the label becomes not a carbon netural label, but the world's first carbon negative brand.
Reformation
London-based Reformation fans, rejoice! For the LA-based, environmentally friendly leader of laid back and feminine Cali cool has opened its first European outpost in West London. The 100% carbon, water and waste neutral brand's newest sleek Westbourne Grove outpost, is a leader in sustainable retail design. Take its vintage furniture, use of eco-friendly fabrics and incorporation of recycled materials, that aligns with the Reformation's penchant for eco fabrics, repurposing of vintage silhouettes and compostable packaging. We suggest you make a sustainable stop off asap.
Cubitts
What if our household waste, instead of ending up in the bin, could be transformed into appealing optical objects? London-based eyewear brand Cubitts has taken on the challenge to turn ten waste materials, including potatoes, CDs, milk cartons and mushrooms, into fabulous frames handcrafted in its King's Cross atelier. These alternatives to cellulose acetate – the type of plastic used in most quality frames – will be tested to determine which one will be worthy of adorning our eyes and turned into a commercial range. Alongside the REDUX project which taps into a recycling-focused circular economy, the brand is directing its efforts towards becoming more sustainable at every step of its business, from reusing production offcuts to reducing packaging and recycling used glasses. When it comes to new opticals, will you opt for cornhusks or chopping boards?
Oliver Cabell
From Everlane to Good Guys, Nike to Novesta, brands are making great strides when it comes to sustainable sneakers. The latest label making steps into the field is Minneapolis-based label Oliver Cabell. Its sleek Phoenix trainer – available in black or white – is the culmination of two years of research and 48 samples, and impressively 3D printed using recycled plastic bottles. To create the shoe, recycled water bottles are sterilised, washed, cut into flakes and spun into fibre. This fused yarn is then fed into a 3D knitting machine to create each individual trainer. 'This process results in 80 per cent less waste and a seamless upper with no cutting, stitching or discomfort,' explains the brand's founder Scott Gabrielson, who launched the label in 2016. 'We feel that the Phoenix is the culmination of what we've been striving for since we launched.'
MWOVEN by Martina Spetlova
London-based Czech-born designer Martina Spetlova uses luxurious hand woven leather in her intricate designs. The designer graduated from Central Saint Martins in 2010, and her full womenswear collections have evolved into a curated selection of handbags and leather jackets. With a sustainable mindset, Spetlova has been working exclusively with European tanneries focusing on animal welfare and using only by-products from the meat industry – otherwise destined for landfills – as well as non-toxic dyes. Each piece's lining is then made from regenerated ECONYL, a fibre made of recycled ocean's plastic waste. Social enterprise is also at the heart of her brand, and Spetlova works with Syrian women refugees, in partnership with a local independent NGO, to handcraft her carefully sourced material and turn them into colouful, conscious items. In her efforts to become fully transparent, the designer is now including an innovative blockchain technology to her wares through a scannable chip, which narrates the product's journey from raw material to your closet. We think they're the guilt-free leather goods of the future.
Serac
Norway-born outdoors enthusiast and industrail designer Tore Mortvedt co-founded Oslo-based performance label Serac in 2016, and his urban interpretations of Scandinavian skiwear work hard in harsh and wet climates. Next month, the label launches 'The Osaka Project' a collection which includes the hybrid 3362 jacket, a style available in black or sand, with a Midas touch-worth gold insulated inner. Victorious in its versatility, this inner can also be doubled up as a striking bomber jacket, while its 3L cotton shell can also be worn as a thin external layer. Each of Serac's garments is logged according to its own individual serial number, and its entire A/W 2019 collection is created using Recycled Thindown, which reduces cold spots and seepages, and with a sustainability-focused standpoint, also uses nylon from Swiss Schoeller, which manufactures the fibre from a responsible and environmentally-aware output.
Bally
The history between Bally and Mount Everest is well heeled. In 1947, the outerwear experts provided the Swiss expedition party to the famed peak with custom, rubber-soled footwear. In 1953, Nepali-Indian Sherpa Tenzing Norgay and New Zealand mountaineer Edmund Hillary were the first individuals to reach the summit of Mount Everest, and Norgay did so in a pair of Bally reindeer boots, first bestowed to him during an earlier expedition. Now, the Swiss brand has taken sustainable steps to preserve one of the world's most extreme mountain environments, with the Peak Outlook initiative. In May, a group led by Dawa Steven Sherpa embarked on a treacherous clean-up mission - battling the shifting surface of the melting Khumbu Glacier and the damaging Cyclone Fani - to remove a ton of waste from Everest's 8000m plus 'Death Zone'. Just this year, 1200 climbers have passed through this area (between Base Camp and Everest's summit) and with each expedition a shocking amount of camp debris is left behind. 'The mountain lifestyle is not only core to Bally's heritage but an integral code in the roadmap for its future,' says CEO Nicolas Girotto. 'I am proud that its Peak Outlook initiative is just one element of a larger commitment to sustainability.' You too can make inroads into its environmental path: Bally has also launched a 'No Mountain High Enough' slogan GOTS-certified organic cotton t-shirt, with 100% of net proceeds benefitting future expeditions.
Vilebrequin
As a brand born on the shores of the French Riviera, Vilebrequin is joining the wave of swimwear labels fighting against plastic waste in our oceans. While the advancement in sustainable bikinis and one-piece swimsuits is widening women's horizons, Vilebrequin decided to also cater for the conscious male holiday-goers. With a line of punchy hued shorts made of 100 per cent recycled yarn, the label is helping to tackle fashion's waste problem by reusing the plastic caught by Mediterranean fishermen and spinning it with other recycled textiles into a light and innovative fabric. Now men have no excuse not to dive right in.
Rêve En Vert
Hôtel Les Roches Rouges on the Côte d'Azur provides plenty of Instagram eye candy. There's a seawater swimming pool honed into coastal rock, a Mediterranean garden populated with figs, mimosa and ferns and Fifties Modernism-inspired furniture. But the hotel is not just spectacular on the outside. Its internal systems are spot on too, as the hotel is committed to a host of sustainable practices. Its fish and fruit juice supplies are sourced using environmentally-aware processes, its restaurants use local produce, and where possible single use plastic is avoided. Now, Rêve En Vert, the chic online retailer of sustainable products, has popped-up at the hotel for the summer, with a Roches Rouges Collection boasting a host of poolside essentials, including oceanic marble-hued S'well bottles, bold swimwear by Talia Collins and sleek sliders by D'Arçé. The pop-up is on view until the end of October, but we're making our reservation right now.
Prada
Nothing is more synonymous with sleek synthetic sportswear than the black nylon backpack which Prada first introduced in 1984. The style has been a mainstay of practical yet polished wardrobes for 35 years. Now, as part of the Milanese brand's sustainability and environmental efforts – which also saw it ban the use of fur in May – Prada has launched Re-Nylon, a series of men's and women's bag styles, from totes to duffel bags, crafted using recycled nylon. Prada has teamed up with textile yarn producer Aquafil, manufacturer of Econyl - a fibre created from nylon waste found in items including fishing nets and carpet panels. The brand has also reinterpreted its triangular logo, with the use of a looped arrow nodding to its new push for a reusable, circular economy. It plans to be virgin nylon free by 2021. We'll be bolstering our Prada nylon collection with this multi pocketed backpack, and boosting our own environmental efforts too.
Parley for the Oceans
In 2016, American artist and Wallpaper* Artist's Palate collaborator Doug Aitken teamed up with Parley for the Oceans to take art underwater, with a series of below sea level geodesic pavilions. These structures changed appearance according to the tides and movements of sea life and encouraged art and sealife lovers alike to engage with the ocean. Now, Aitken is one of a roster of artists – including Ed Ruscha, Jenny Holzer and Julian Schnabel to partner with Parley on a series of Ocean Plastic® bags; design-led totes created form approximately five plastic bottles, recovered from remote islands and coastlines by Parley's global cleanup network. It's estimated that one to five trillion plastic bags are consumed annually worldwide and each bag is used for an average of 21 minutes before being discarded. These bags – including this style printed with an optically patterned take on Aitken's underwater pavillions – will last for countless minutes more. Plus you'll be carrying a piece of art around with you too.
Stella McCartney
Stella McCartney's latest eyewear line really has us seeing clearly. The brand has long flexed its sustainable credentials, and its newest selection of opticals and sunglasses are created using responsibly sourced materials such as bio-acetates, which are made from biodegradable wood fibres and the esters of citric acid. With their curving cat eye frames, these optical styles have a retro flair. The frames nod to the wares of vintage LA starlets, but boasts a sustainable vision of the future too.
Medina Swimwear
In the past year, swimwear brands have really taken the plunge in terms of sustainability, and brands like Arket, Galamaar and Elliss have invested in Econyl, a recycled nylon which uses waste from the oceans and landfills, including carpets and fishing nets. This summer, we're making strong strokes towards Medina Swimwear, an eco-conscious label founded by Andalusia-born Lourdes Medina. For her designs, which span sporty surf tops in spacey silver and pin-up worthy one pieces with criss cross straps, Medina favours Ecoynl fibre, supplied by Italian company Carvico, which is UV and chlorine proof, sun cream and oil resistant. What's more, each season the brand will donate a percentual sale from every swimsuit to a non profit organisation dedicated to clearing up our oceans. We can't think of a better reason for taking a dip.
Lacoste
In a pledge to save endangered species, Lacoste has teamed up with the International Union for Conservation of Nature (IUCN) to create ten limited edition polo shirts, each representing an animal in danger of extinction. For this second edition, these rare specimens will once again replace the iconic crocodile logo on the shirts to help raise awareness and support the work done by the IUCN to conserve the wildlife. As May 22nd marks International Day for Biological Diversity, nine Lacoste stores in the world, as well as the online platform, are turned into a space highlighting the issues facing one specific specie. For instance, we'll see London's Covent Garden flagship store sporting the Yemeni mouse-tailed bat as its mascot and selling the polo exclusively. The number of shirts produced for each edition corresponds to the number of animals remaining in the wild – which can go as low as 50 for the Philippine's Cebu damselfly or 90 for the white antelope known as the addax. With only 3,520 polo shirts available in total we'll make sure to act fast and lay our hands on these adorable items created for a good cause as all profits will help the IUCN's actions on the ground.
Theory
New York-based brand Theory is making seriously environmentally friendly inroads. Two years ago it launched Good Wool, a collection made using premium traceable Australian merino wool, and now it has released Good Linen, a twenty-eight piece men's and women's offering of sharp, minimalist silhouettes created using Global Organic Textile Standard (GOTS) certified organic linen, cotton linter viscose, and Roica™ eco-smart elastane. The collection's linen is woven in a preferred fiber-focused Italian mill, and this summer we'll be flexing our style and sustainable credentials in blazers with nautical rope tie details, gauzy sand coloured cardigans and city suits. We know good things when we see them.
Myar
Italian label Myar works with military precision. It's not just army and navy silhouettes – from peacoats to Japanese field solider trousers – which inspire the brand's founder Andrea Rosso, it's the physical material with which these garments were made. 'There are lots of military clothes just sitting in warehouses totally unused, but there is a beauty to the design, despite the negative connotations,' Rosso told Wallpaper* in our September 2017 issue (W*222), the year he started his brand. Aligning with the concept of a recycling-focused circular economy, Myar takes deadstock military garments and reworks them into something new. Showing real fashion force is the label's S/S 2019 women's offering, which features parkas with striped details and nipped in drawstring waists, ponchos with sizeable pockets and relaxed trouser suits in utilitarian greens. Stand to attention in style!
Arket
Last summer, Arket made a sustainable splash with its debut range of swimwear, constructed using Econyl - a regenerated nylon yarn constructed from plastic waste like fishing nets and carpet, which clog both landfills and our oceans. For S/S 2019, the brand has returned with a fully sustainable men's and women's collection of poolside pieces. These sleek and refined swimwear designs include spaghetti strap swimming costumes, sporty bikinis in lawn green and slip on men's shorts in bold red hues. We'll be sporting them all summer.
Prism
It's been a decade since Anna Laub launched Prism, the swimwear label which is every stylish sun seeker's second skin of choice. For the brand's ten year anniversary this year, Laub is showcasing a series of capsule collections, and one is particularly green-fingered. Laub has looked back into Prism's archive and set her sights on its debut eyewear collection, which included a pair of cream tortoiseshell cat-eye sunglasses. These are now available in environmentally friendly bio-acetate. A new style is also imagined in black with an orange mirror lens. 'Making classic, long-lasting products is at the core of what we do,' Laub says. 'Everything I've designed has always had an ethical point of view at its heart, but it's also key to look at new developments in how to move fashion forward into the modern day.' Now that's an anniversary vision we can set our sights on.
Roscomar
After backpacking around the world, Johan Olsson took a drastic turn in his career path and went from a comfortable job in finance to launching his own sneaker brand in 2017. Based in London, Roscomar is at the crossroads between a Swedish conscious mindset and a Californian retro style, which nods to the spirit of adventure and suits an active lifestyle. Featuring canvas uppers and a custom rubber sole, the sneakers boast a linear silhouette and a lightweight feel created with high quality, ethical materials. From working with certified manufacturers in Vietnam to offering vegan alternatives and donating £1 from each sale to the United Nations Carbon Offset Program, the label is constantly directing its efforts to minimise its impact on the planet. Presenting two new silhouettes and materials including suede, leather and Merino wool, the unisex shoes have already attracted fans from across the globe thanks to a laid back design sporting a recognisable logo at an affordable price point.
E. Tautz
Before our clothes reach our shelves, it's likely they have travelled thousands of miles across the globe, which makes a locally made garment one of the most sustainable items of our wardrobe. Undertaking a journey of only 34 miles from yarn to the finished product, the new Tautz British Military denim is entirely crafted in the heart of Lancashire using the resources found on site. Designer Patrick Grant brought back to life a staple of the British Army wardrobe taking pieces from his own archive to reveal the pure olive green and ecru colours of the yarn. Using traditional dyeing techniques, Blackburn Yarn Dyers reproduced the shades into new threads that were then woven, cut and sewn by traditional manufacturers and ancient suppliers of the British Army. The collection includes three styles of trousers, a classic denim jacket and oversized tote bag following the brand's refined yet modern codes and proudly bearing the made in Britain tag.
Salvatore Ferragamo
2018 Wallpaper* Guest Editor Tomás Saraceno has had a busy month. Fresh from unveiling The Cosmic Web at Salone del Mobile, in collaboration with Bulgari, the artist has dipped his Argentina-born, Berlin-based toe into the world of environmentally friendly fashion, with a piece debuted at Salvatore Ferragamo's 'Sustainable Thinking' exhibition at the brand's Florence Museum.
The Italian label is dedicated to developing sustainable manufacturing solutions. Last summer, it launched an eco-version of its famed 1938 rainbow sandal, with 100 trees planted on the outskirts of Catania for every 100 pairs sold. 'Sustainable Thinking' features a series of artworks and clothing designs by a host of artists and fashion designers, including Eileen Fisher, Christopher Raeburn and Saraceno, which muse on creativity and sustainability, and experiment with upcyled or organic materials. Saraceno's Aerocene Explorer, Backpack AE101 (2016) is a starter pack for sustainable sleepovers. It features a reinforced solar balloon, a recycled plastic bottle, a remote-controlled video-camera, GPS sensor; solar battery pack and even a WiFi dongle.
During the scarcity of the war years, Ferragamo himself was famed for experimenting with unusual materials in his designs, like fish skin, hemp, tree bark and raffia. In celebration of the exhibition opening, the brand has launched '42 Degrees', a rainbow detail capsule collection of sneakers and bags, designed by two of its young designers - Flavia Corridori and Luciano Dimotta. The pieces are made using white chrome and metal free tanned leather, natural rubber soles, plant dyes and organic fibers. Saraceno's backpack and Ferragamo's enviromentally-aware accessories: fashion forward options for our next outdoors endeavour. Image courtesy of Tomás Saraceno, Aerocene Foundation, Berlin and Pinksummer Contemporary Art, Genoa. 'Sustainable Thinking' is on view at the Museo Salvatore Ferragamo, Florence until 8 March 2020.
J Brand
'The most environmentally challenging aspect of the denim industry today is the magnitude of water it requires,' says Mary Peffer, VP of global marketing & brand creative at J Brand. The LA-based denim leader is on a moisture-reducing mission to limit its manufacturing water wastage, and by 2020, it will be 100% committed to operating using sustainable practises. J Brand's Pre Fall 2019 collection abounds with water-saving wonders: an eco-wash which limits water wastage (it's estimated that an average denim supplier wastes 380,000 gallons of water every day), laser cutting techniques are used to create distressed denim instead of toxic chemicals, all hardwear elements are recycled and fabric off-cuts and trims are even repurposed into insulation. What's more, mined pumice stones have been replaced with artificial 'eco stones'. 'While we cannot disclose our secrets, we were thrilled the team was able to use an environmentally friendly alternative resulting in the same aesthetic effect,' Peffer adds of the innovation. 'Sustainability is a responsibility we are dedicated to, but does not mean settling for lesser product'. Photography and art direction: Mary Peffer. Fashion: Karla Welch. Model: Langley Fox
Camper
Using a yarn made of recycled plastics, Camper has turned its sporty sneaker Drift into a sustainable style. Since creating its first shoe Camaleón made by recycling leather scraps and used tyres, the Spanish brand has always focused on eco friendly design: 'In the past, we've developed special projects with ethical or environmental considerations, but by updating a bestselling contemporary design like Drift, we signal a deeper commitment to sustainability,' says CEO Miguel Fluxà. 'Today, the speed of entry of innovative "considered" materials – which can achieve the aesthetic qualities we require – signals a really exciting opportunity for both ourselves and the footwear industry as a whole.' By using advanced technology and minimising its carbon footprint, Camper delivers a breathable summer sneaker, for both men and women, which doesn't cost the earth and helps save our oceans. Photography: Aylin Bayhan
FEIT
Founded to fight against mass production, New York-based label FEIT is the go-to destination for footwear lovers in search of something a little more unusual. Every piece is delicately crafted with natural materials and hand sewn by master shoemakers from around the world. For spring, its founder Tull Price has tackled the unsustainable materials used in the sneaker market to deliver a fully sustainable and all-natural shoe style using absolutely no synthetics in the process. The organic latex sole has been developed with a long and intricate technique using the milk of rubber tree plant, which gives its translucent appearance. Produced in a limited edition of 60 pieces in each tan and white, the Latex Low is inspired by classic basketball sneakers from the 60s, and stands exactly where luxury and sustainability meet.
Elliss
For Spring/Summer 2019, Selfridges introduced five new brands as part of its Bright New Things project to promote sustainability and prove that ethics can also be synonymous to stylish design. Enter Elliss, a London-based label launched in 2016 and consciously producing quirky underwear, dresses and bodies entirely on site with organic or recycled cotton, hemp and bamboo – fabrics that are just as kind to the skin as they are to the planet. The designer and founder Elliss Solomon creates collage pieces with vintage, punchy prints and underwear in soft colour tones that are beautifully luxurious, all made in London for women to feel comfortable and sassy in one fell swoop.
Good News
Dover Street Market's seasonal changeover is one of the most anticipated moments on luxury retail's calendar. For it marks the moment when the global boutiques' installations, presentations and roster of designers is reinvigorated for the next six months. There's a sustainable slant behind S/S 2019's changeover too, as this week also marks the launch of Good News – an environmentally friendly sneaker label – at Dover Street Market in London. The brand's bright high tops and pumps are created using recycled rubber soles, organic cotton uppers and a recycled eco-lite footbed, proving you'll be making a newsworthy, sustainable step into spring.
E. Tautz
For those carousing down Lamb's Conduit Street in Central London, E. Tautz's pop-up shop at Pentreath & Hall is well worth a pit-stop. For housed inside the space is a sumptuous selection of the British menswear label's A/W 2018 collection, from checked shirts to chunky cords, knitted cardigans and XL scarves, all produced using a range of sustainable fabrics. So why not invest in a winter wardrobe which is environmentally conscious too? Every piece in the offering is produced in the United Kingdom: take the brand's raw cotton yarn, which after being imported from JG Ballard in California, is spun in Dukinfield, Greater Manchester, knitted, finished and hand-dyed in Leicester, and cut and sewn in Blackburn. A pop-up with an ethically-conscious punch.
Everlane
As one of the original direct-to-consumer clothing companies that disrupted the fashion industry, Everlane has rarely played by conventional rules. This week, the San Francisco-based label has moved the yardstick even further with the launch of its ReNew collection – a line of warm outerwear, fleece pullovers and parkas for both men and women, which is made from recycled plastic fibers gleaned from 3 million plastic bottles. With transparency becoming one of the brand's signature values, Everlane has also pledged to eliminate all plastic waste from its supply chain by 2021. This continues the brand's commitment, which has already seen it create a denim collection made by Saitex, a denim factory that recycles 98% of its water and runs on alternative energy, as well as overhaul its silk supply chain, so that its silk collection is now produced at a factory in China that will completely function using regenerative farming, recycled water and renewable energy by 2021. Talk about a new standard.
Danse Lente
There's something satisfying about seeing an accessory you love developing new idiosyncrasies over time, like the patina of a leather bag evolving over years of use, or marks and scratches acting as sentimental symbols of a memorable event. This is an emotion which London-based label Danse Lente is tapping into with its latest Rehome Project. For the initiative, the label are looking to find new owners for their bag designs – including the thick strapped Johnny bucket bag and the graphic Phoebe shoulder bag – which have small imperfections and are deemed unsellable on the shop floor. The accessories have been revamped in Lente's London studio and are available to purchase from 16c Calvert Avenue until 2 September. After all, it's our flaws which makes us most fascinating, especially when they're environmentally inclined.
Hala Kaiksow
'I really wanted to have the colours shine,' says Bahrain born-and-based Hala Kaiksow of the hues in her recent 'Al Qursan' collection. Kaiksow shot its accompanying collection in Hatta, an hour and a half outside of Dubai, and the location's remote and sandy plains complement the natural linens, silks, hand-woven camel's wool and sheep's wool in the collection. Kaiksow studied in both Italy and America, but she operates her artisanal label from Bahrain, hand weaving her creations on a manual loom. 'The garments can take up to a few weeks to create,' she says of her meticulous non-industrialised pace. For 'Al Qursan', Kaiksow was inspired by autumnal hues, and researched natural dyes which 'retained a richness' of her chosen colour palette. 'I try to derive my pieces from traditional clothing patterns, and reimagine them for today's consumer' she says.
Le Kilt
In North East London-based label Le Kilt's online manifesto, founder Samantha McCoach lists 'integrity' and 'vulnerability of raw materials' as essential keywords. This sincerity is evoked in her label's commitment to sustainability. Think an upcycling-focused aesthetic for A/W 2018, which sees denim and cashmere pieces patched with offcuts from the label's kilts. McCoach, who is also fascinated with the concept of heritage (her knitwear and signature kilts nod to traditional shapes and uniforms), also collaborates with a host of independent factories and artisanal producers, including Blackhorse Lane in London's Walthamstow and Scotland's Sanquhar Knitters. Fittingly, she imagines her label as a family tree growing roots - one which is continuing to mature from an environmental standpoint.
Want Les Essentials
A recent viral video taken in Santo Domingo, the capital of the Dominican Republic, of huge swathes of plastic washing ashore, highlights the shocking damage of plastic waste to our coastal environments. One accessories brand employing an innovative alternative to synthetic fibres is Montreal label Want Les Essentials. The brand uses Econyl, a fibre created from recycled nylon waste, like fish nets and carpets, in its designs. This crossbody 'Bryce' bag taps into fashion's penchant for sporty accessories, and is environmentally friendly too.
Yatay
It took two years for Umberto De Marco, founder of Italian footwear label Yatay to develop his brand's environmentally friendly trainers. The sleek and versatile styles, which are available in both high- and low-top shapes, feature an upper crafted from recycled fibre and bio-based resins, a biodegradable PU sole and organic cotton buttresses and toecaps. Details also have a sustainable focus, and include Italian hemp shoelaces and solvent-free linings. With specific focus on the impact of deforestation, Yatay will also plant a tree for every trainer purchased. A leaf motif sole nods to this nurturing approach; a truly soulful detail too.
Salvatore Ferragamo
In 1938, Salvatore Ferragamo designed the now renowned rainbow wedge for Judy Garland, a suede silhouette featuring a kaleidoscopic heel. Now, the house has reinterpreted the style with a sustainable slant. The updated 'Rainbow Future' wedge features a hand-finished platform in veritable wood, crafted in organic crocheted cotton, with a leather lining finished without using carbon dioxide emission or water consumption. Other eco-friendly flourishes include the use of water glue, non galvanised brass and 100 per cent recycled sewing thread. Ferragamo also have teamed up with fellow Florentines Treedom – the 2014-founded company which works with farmers on planting trees in order to bring environmental and social benefits to their communities. For the 100 pairs of shoes created, Treedom will plant 100 trees on the outskirts of Catania, Sicily. How's that for an over-the-rainbow reward?
Carcel
'Carcel', the Danish fashion brand operating in both Denmark and Peru, is Spanish for 'Prison'. Far from a coincidence, the label relies on an unconventional partnership: Carcel's Danish designs are hand-made by incarcerated women in Cusco, Peru. Louise van Hauen and Veronica D'Souza, the founders of Carcel, believe that sustainable fashion can play a role in ensuring imprisoned women are given fair wages (they pay their salaries directly) and the opportunity to learn new skills.
With products made of 100 per cent locally sourced baby Alpaca Wool, Carcel offers sustainable products that are functional, delicate and soft. The fashion brand has launched a batch of limited styles at NET-A-PORTER, placing focus on their ethical foundations: fair wages, local materials, and protecting the planet.
To eliminate waste, Carcel avoids stock by producing limited batches of styles, launching them one at time. The fashion brand, whose products each carry the name of the woman who made them, makes no compromises. Even as they grow, Carcel takes pride in the power of 'slow fashion,' and its role in promoting and protecting design, planet and people.
Katharine Hamnett
Outspoken and provocative, designer Katharine Hamnett is renowned for using fashion as a response to the socio-political and environmental issues. Hamnett's legendary slogan t-shirts have challenged many cultural shifts, such as '58% Don't Want Pershing', 'Clean Up Or Die' and 'Save The Future'.
Hamnett relaunched her brand in 2017, and in a fabric-focused protest against fast fashion and unsustainable manufacturing methods, its most recent collection uses organic or recycled fabrics, and has a military-inspired aesthetic. This A/W 2018 Will Parker, designed in collaboration with Italian jacket label Duvetica, is a 1982 re-issued shape, that is made from 100 per cent recycled polyester and down.
Clean Waves
Parley for the Oceans, the Cyrill Gutsch-founded platform designed to raise awareness around the fragility of our oceans, has already got a glowing track record when it comes to sustainable fashion projects; the company has partnered with both Stella McCartney and Adidas on trainers made from ocean plastic. Now, it has teamed up with Corona to create a fundraising platform named 'Clean Waves', which will culminate in a series of interdisciplinary projects aiming to fight aginst plastic marine pollution.
We've got eyes for its first offering – a limited-edition run of sunglasses, created from upcycled Parley Ocean Plastic. Each mirrored lens style features individual graphic coordinates connecting each pair to a specific slice of oceanic paradise affected by marine pollution. The styles are available in white or with coral and sand-inspired mottled frames, and for every 100 pairs sold, Corona and Parley for the Oceans will expand their commitment and protect one more island against marine plastic pollution for one year.
Phipps
Former Dries Van Noten menswear designer Spencer Phipps launched his eponymous menswear line during A/W 2018's Paris Fashion Week. The American Parsons School of Design graduate, showcased a relaxed collection in rusty retro tones, including cropped cagoules, ribbed knitwear, cargo trousers and slouchy shorts, paired with pendants and beanie hats, that sung of a surfs up-inspired lifestyle. Phipps is dedicated to ethical and environmentally friendly manufacturing processes from the get go: for A/W 2018, the designer experimented with organic cottons, recycled nylons and undyed Mongolian yak hair.
Jinah Jung
Burgeoning South Korea-based accessories designer Jinah Jung was keen to design 'useful items with abandoned materials' when she was put in contact with the global creative director of Le Coq Sportif Frédéric Pertusier. Supplied with ten boxes of incomplete factory cast offs, Jung set to work creating backpacks, holdalls and cross body bags constructed from a patchwork of uppers, insoles, shoelaces and tags. The result is a unique and kaleidoscopic approach to upcyling, where trainers become textile swatches themselves. 'I was inspired by artist Brian Jungen's Nike Air Jordan shoe sculptures,' Jung says. 'It was such a fun process to reconstruct the shoes as bags, and to play with colours and materials like a puzzle.'
Receive our daily digest of inspiration, escapism and design stories from around the world direct to your inbox
Jack Moss is the Fashion Features Editor at Wallpaper*. Having previously held roles at 10, 10 Men and AnOther magazines, he joined the team in 2022. His work has a particular focus on the moments where fashion and style intersect with other creative disciplines – among them art and design – as well as championing a new generation of international talent and profiling the industry's leading figures and brands.