Two American fashion brands on championing timeless dressing
New York brands Peter Do and Marina Moscone on what is driving their businesses today and tomorrow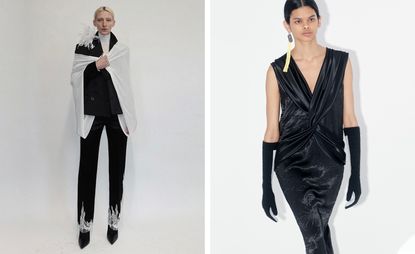 (Image credit: press)
In light of the pandemic, many fashion designers have been forced to pivot and rethink their businesses. And yet, some are emerging more robust and relevant than ever. Two New York brands have shown resilience in eschewing 2021 trends and instead focusing on what they always set out to do: create beautifully made, considered clothes that inspire and uplift, whilst placing wearability front and centre. Having founded their businesses on principles that have helped them weather a challenging year – timeless, adaptable, high-quality pieces, made to last – they are not only enduring, but inspiring us to look ahead.

Here, Peter Do and Marina Moscone tell us in their own words what is driving their businesses today and tomorrow.
Peter Do
Peter Do moved to New York from his native Vietnam ten years ago, establishing his eponymous collective label in partnership with four co-founders in 2018, with modern tailoring and slouchy sophistication at its core. Do's intention was to build a brand that values the often overlooked behind-the-scenes work of the talented tailors and seamstresses at the heart of New York's fashion industry. In response to a recent swell of anti-Asian racism, the brand has been actively backing the Asian American business-owner-led campaign #EnoughIsEnough to support underserved communities.

'We create clothes from living in them. Peter Do is founded on tailoring, so certain traditional values of structure, fit and the integrity of each garment remain important to us. But we also recognise the importance of adaptability. How can the garment be worn in different ways to adapt to a woman's everyday life? When I was growing up in Vietnam, I only had a handful of clothes, which were made and worn for specific occasions. I never even owned a jacket, because the weather was hot year-round. Everything you wore had to be light and open in order to do what you needed to do. We take that blueprint and fine-tune it with our own codes.
'The woman we dress hasn't changed. She still has the same values when it comes to her wardrobe – she dresses for her own pleasure, buying things that are considered, and last forever. Our tailoring is selling really well because I think people still want to have a sense of normalcy when working from home. Just as the pandemic started, we introduced knitwear and shoes into our e-commerce offering. Our customers want to be comfortable, but at the same time they want pieces that they can play with, that look beautiful.

'From the beginning, we've always done what feels right to us. Which means taking care of the team first and foremost. The brand received industry support, but we also saw the importance of putting in place our own channels by developing an e-commerce site and social media platform early on. We wanted to have our own voice, which is now paying off. We also spent a lot of time finding the right workshops and suppliers here in New York – it's much more efficient to work with them in person.
'New York is chaotic, but it produces the most resilient types of people. We live in a global economy, but I think there's advantage to investing in the communities around you. When New York shut down at the beginning of the pandemic, we found creative ways to engage with and support our communities, from our workshops in midtown to various small businesses and charities. New York is my home. It's allowed me to be myself and it's a city that embraces change. It defines it.' – Peter Do
RELATED STORY
Marina Moscone
Marina Moscone launched her eponymous label in 2016, along with her sister and business partner, Francesca. Formulating an understated elegance that touches both day and eveningwear has earned the label widespread recognition and admiration amongst women who value elevated and easy luxurious pieces. Born in Vancouver to a South African mother and an Italian father, the sisters spent summers in Abruzzo – an influence that would emerge in the fabrics and artistry of the brand years later. Today, their business follows a pre-collection model combined with creating special custom items, negating the demanding churn of the fashion calendar.

'I think women now are looking for fewer but better pieces. They are not just shopping but collecting, looking for thoughtful designs that have purpose, with no filler. When I'm designing, I ask myself, "Do each of these looks have intention?" During the pandemic, I was not travelling every other day, and Francesca and I really looked at what we wanted to do going forwards. I felt run down and uninspired by a constant desire for excess. Consumerism is about more and more all the time.
'For the first time in years, I had time to think clearly and I realised I want to work on artfully thought out, beautifully designed pieces that take time to evolve. I don't want to design for the sake of design. We have a big custom client base, and it seems to me that women are adding more quality bespoke and curated pieces to their wardrobes. I think there is a sense of hope and optimism attached to shopping for a post-Covid 19 world.

'I've spent the whole pandemic in New York. Watching women navigating how to keep going with life in a pandemic has motivated me to keep making clothes, whether it's a bias-cut slip or an oversized T-shirt. The pieces are still made to the highest standard of luxury. I want women to look at what I make and say, "This will work in my life." More importantly, I always want my pieces to remain open to interpretation, open to whatever a woman is doing – whether it's working at home, painting, dining, travelling, dancing.

'I personally like to wear evening pieces in more of an undone way – a tuxedo jacket with my Nike Air Force 1s, or shirting over slouchy trousers. We have our own online boutique so we have the data, and we have seen people continue to buy smartly tailored pieces – because the clothes are seasonless and because they are intended to be collected and made to last.
'Ours is a New York brand, but I grew up multi-cultural. I've always considered myself Italian-South African and I think that's why I feel I have a global perspective, even though I'm rooted here in New York. Being "stuck" in New York this past year was an amazing way to fall in love with the city all over again.

'I think there are many advantages to being agile and somewhat nimble – pandemic or no pandemic. We are family-run and we've built this incredible, committed team. We want to be progressive and know that evolution comes from uncomfortable change sometimes. We are open minded to that.' – Marina Moscone
Receive our daily digest of inspiration, escapism and design stories from around the world direct to your inbox
Tilly is a British writer, editor and digital consultant based in New York, covering luxury fashion, jewellery, design, culture, art, travel, wellness and more. An alumna of Central Saint Martins, she is Contributing Editor for Wallpaper* and has interviewed a cross section of design legends including Sir David Adjaye, Samuel Ross, Pamela Shamshiri and Piet Oudolf for the magazine.