'At home or in the office, I want to wear beautiful things again and again'
Introducing The Meaning Well, a London-based slow fashion label specialising in luxurious everyday silhouettes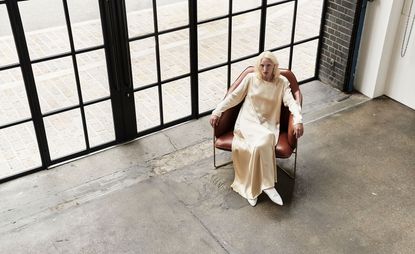 (Image credit: Jacob Hodgkinson - Photography)
Last March, London-based Thailand-born fashion consultant Katie Ruensumran travelled back from Paris Fashion Week, as the threat of the Covid-19 pandemic began to unfold. 'I thought, "this is going to be serious"', she says. '"We're going to have to rethink everything"'. Within a fortnight of her return, the UK entered its first lockdown. Shops, restaurants and offices shuttered, and the impact a global pandemic would have on the fashion industry in terms of employment, production and revenue became a reality.

When Ruensumran returned to her small studio in east London to pack up her things in the wake of lockdown restrictions, she encountered people in the creative industries, from pattern cutters to graphic designers who'd already lost their jobs. 'I wanted to do something about it,' she says. The result is The Meaning Well, a small fashion label specialising in relaxed, voluminous silhouettes made using deadstock fabrics, developed with a tiny team of a pattern cutter and a graduate fashion design student.
With her label, Ruensumran is keen to subvert the notion of a one-wear-only purchase. Her ruffled taffeta dresses, insouciant slips and slouchy shirts and blazers are designed for trend-subverting investment. 'At home or in the office, I want to wear beautiful things again and again,' she says. 'The concept of seasons just isn't working anymore.'

Utilising her industry network, Ruensumran contacted fabric manufacturers for waste fabrics she could use to create her designs. Her floral print day dresses are formed from deadstock upholstery fabrics, several of which were originally produced for hotel soft furnishings. Emphasising The Meaning Well's focus on seasonless pieces, the brand won't release a plethora of new silhouettes, instead reissuing designs in different rescued fabrics. Ruensumran has already connected to a Thai factory left with thousands of metres of fabric, after an enormous clothing order was cancelled. 'We can create new things with old things,' she says.
RELATED STORY
INFORMATION