Paris Fashion Week A/W 2020 Editor's Picks
From Coperni's sartorial take on the ever-evolving tech world to Ottolinger's old-school intarsia knitwear, we bring you the Wallpaper* pick of the Paris' A/W 2020 shows and presentations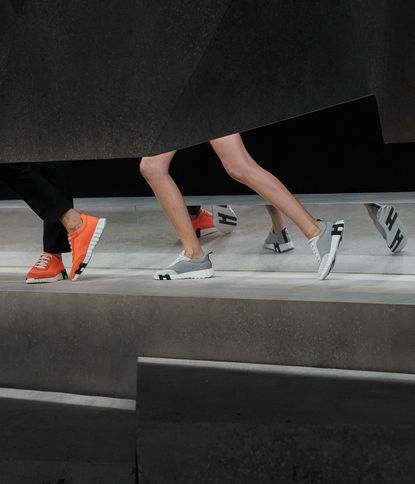 (Image credit: press)
Hermès:
Pierre Hardy has been busy. Fresh from unveiling his colour blocked designs for the Parisian maison's debut lipstick collection 'Rouge Hermès', the designer also showcased his latest footwear designs for the brand (he has been creating shoe designs for the house since 1990). For A/W 2020, he unveiled sleek sneakers with 'H' logo soles, metallic ankle boots with sculptural hardware heels and chunky Oxford shoes with stacked soles and sporty ankle straps. Hermès has you sorted from your face to your feet.
Andreas Kronthaler for Vivienne Westwood:
'I was trying to expel the evil spirits which are around', said Andreas Kronthaler backstage of his 9th show for Vivienne Westwood. Well, at this point we could certainly do with some evil spirit expelling, and the Austrian designer delivered with a collection exploring liberally the almost endless possibilities of the bleu de travail, the traditional French workwear garment, and, in contrast, referencing the Belle Epoque with an array of corsets and delicately draped gowns. There were some frivolous accessories in the shape of magpie-worthy crystal-studded pumps and boots, as well as revolutionary elements (a humongous headpiece made entirely of bleu-blanc-rouge 'cocardes', as well as necklaces made of chili peppers and garlic). The collection remained subtle, though, with the most overtly political commentary in charge of the live music provided by German singer Susanne Oberbeck, aka No Bra. The show was closed by Bella Hadid sporting a puffy-sleeved lace bride gown, a dagger attached to her belt, under the supervision of Dame Vivienne Westwood, who sat front row wearing one of the collection's dresses, a lilac number printed with a lightning motif, but got up enthusiastically to kiss Hadid during the finale, proving energy is still very much running high in her brand.
Atlein:
Antonin Tron is defining a new era of timeless dressing through his collections filled with true classics that manage to nevertheless look edgy and modern enough to have gathered a consistent, mostly millennial, client base. His latest collection delved deeper into that edginess, playing with a bit of a nineties revival through gorgeously draped silk slip dresses, lace details (first time the French designer has worked with the material), python prints in beige, peacock green and oceanic blue hues, and quilted coats offering a hint of preppiness. But if Tron's stylish forays into the past are bound to appeal to his fans, so will be their manufacturing process: a devoted climate activist — He is part of the Parisian chapter of Extinction Rebellion — the designer is always looking for new ways to keep his collection as sustainable as possible, ensuring production is kept in traditional French factories and rescuing textiles from Italian mills. This time, he revealed, 50 per-cent of the collection was the result of an upcycling process. Then again, Tron sees his collections as a challenge to be surpassed as much as a creative endeavour. The show was accompanied by a video created by Argentinian artist Tomás Saraceno exploring the idea of an air travel operated by heat and wind instead of fuel. A climate emergency exploration, yes; but one that delved more into the realm of possibility than the anxiety inducing. We could definitely use some of that at this moment.
Nanushka: Drawing inspiration from society's bourgeois sobriety in the 70s and the stick-it-to-the-man mindset of 90s grunge, Nanushka presented a motley collection in Paris this season. In the terracotta-toned venue, two narrow platforms took centre stage as models weaved through understated totem poles wearing turtlenecks, cardigans, and quarter-zip sweaters layered over the brand's signature dresses and fluted skirts. Killing two birds with one stone, the label presented womenswear mixed with menswear - which explored elongated silhouettes and soft suiting in shades of bottle green, espresso and clay. All in all, Nanushka's nomadic notion had us longing for an adventure.
Thom Browne:
There was something apocalyptic to this fashion week Sunday: under heavy rain, wind and coronavirus concerns, a day that started with Kanye West's famous Service and went on to fully explore the effects of a climate change armageddon at a Balenciaga show held between a digital stormy sky and a flooded runway reached its peak at Thom Browne a couple of hours later. Misleadingly, the set at his usual Beaux-Arts venue looked like a winter wonderland. Artificial snow (made out of paper) covering trees didn't give away the real theme of the show: Noah's ark. A terrifying prospect given the last few hours/days and the real-time deluge outside. But Browne's fairy tale-infused imagination directed the narrative towards something more lighthearted and magical. This was the designer's first-ever co-ed show, and couples made their appearance on the runway side by side, holding hands (and an array of incredibly cute animal-shaped bags). It was nearly impossible to tell the boys apart from the girls, but that was the whole point. Skirts, blazers and ties are gender-neutral at Thom Browne; exquisite tailoring is all that matters. And this was couture-worthy tailoring: coats were made out of patchworked wools, Prince of Wales, check and pinstripe motifs, sometimes cut with animal shapes, blazers were deconstructed and repurposed into halter tops, houndstooth overcoats sprinkled with sequins reproducing the motifs, and raw-edged herringbone inserted in a suit. The final look were matching sequin bolero jackets complete with a snake, worn over organza shirts and pencil skirts, walking across the catwalk to roaring applause from the crowd, proof that, once in a while, going a little easy on apocalypse goes a long way.
Ottolinger:
Cosima Gadient and Christa Bösch have found their sweet spot. The german duo behind Ottolinger know perfectly well how to mix the right dosages of desirability, timelessness and innovation to create an irresistible cocktail, and this season was no exception. In their hands, old-school intarsia knitwear became transgressive, patchworked duffle coats a statement and tie dyed two-piece suits a must. Once again, the duo proved they cut a mean bodycon dress while making it look more arty than sexy in the process (renaissance painting digital prints helped) and that their treatment of denim is unique (this time it was ruched and coated in gold paint). But new pieces including burned — literally — silk suits and a finale with a punk version of an off-the-shoulder organza princess dress proved Gadient and Bösch still have a lot in store.
Moynat:
The accessory specalist's creative director Ramesh Nair is obsessed with unusual materials, and for A/W 2020 he drew on the architectural associations of the house, creating a series of imaginative minaudière using stone. The technically advanced creations are formed using thin slivers of slate which have been curved like leather, and are incredibly light and cool to the touch. They'll also be a major talking point at any dinner party.
Stella McCartney:
A farmyard's worth of animals frolicked down the sustainability-focused designer's runway, as McCartney's models were broken up by people dressed up in animal costumes, like blue eyed cows and bunnies. Animal motifs also abounded in the A/W 2020 offering, with Milky Way-embroidered capes paired with metal monkey necklaces, fluid dresses swishing with peacock feather silks and knitted jumper dresses pinned with horse brooches. McCartney had more vegan leather and shaggy animal-free shearling than ever in the brand's A/W 2020 offering, and the designs continuing to set the eco-friendly pace for how luxury brands should be operating today.
Deveaux:
Creative director and street style photography supremo Tommy Ton usurped a New York Fashion week show in favour of an intimate presentation in a modernist apartment in Paris. The beauty in Deveaux's designs lies in their details, and guests were able to inspect the pieces as models strode insouciantly in padded coats, oversized tailoring, ruffled smocks and shirt dresses in tones of tan, cream and black.
Mugler:
Casey Cadwallader is on a quest to explore sexiness. Taking literal cues from Thierry Mugler himself, the American designer presented another collection of provocative pieces. Leather was his material of choice, moulded into wrapover coats, sarong skirts, trousers and tops so skintight they even revealed the models' belly buttons. But he clearly was more comfortable with jersey and mesh, shaping them into leotards and dresses with so many cutouts only the Kardashians and their crowd would dare wear them outside. But there were also hints of more wearable styles, particularly an athleisure-inspired knee-length dress that came in different colours and was worn by different body types (casting is one of Cadwallader's strongest and most exciting points). If only regular clients could see more of those pieces, we would probably fall as much in love with the brand as celebrities and influencers have.
Coperni:
Easing back into their brand Coperni, Arnaud Vaillant and Sébastien Meyer eschewed their trademark conference-peesentations in favour of a more traditional fashion show, with good results. Lured as ever by the tech world, the duo chose Station F, a startup and technological hub in Paris's up-and-coming 13è arrondissement, as the pristine venue in which their latest collection was showcased. They proposed a full wardrobe with a futuristic, Gattaca-like twist, one that will no doubt appeal to minimalists. References ranged from the 90s — skinny suit trousers were paired with ruched cutout tops, deconstructed shirts and shimmering silk double-breasted jackets — to the 60s with leather mini dresses and skirts reminiscent of their time at the helm of Courrèges. A couple of pieces stood out, particularly a translucent wrapover plastic raincoat and a glorious white leather trench. It's functional garments like that that keep the public rooting for Coperni after all these years.
Off-White:
After a season of advised rest, Virgil Abloh returned to the Paris runway, erecting a stadium size catwalk show, walked by a plethora of supermodels – including 3 Hadids (Bella, Gigi and their mother Yolanda too), Carolyn Murphy and Karlie Kloss. Abloh's glamorous girl gang strutted around a series of red Mercedez, sawn in two and installed as sculptures on the runway, sporting the brands signature hybrid silhouettes. This meant tulle ballgowns with ruffled Arc'teryx anoraks, cow print trousers and spraypainted leather jackets, high shine dresses and thigh high boots - a sublime blend of sportswear, eveningwear and tailoring. At the catwalk's finale, confetti erupted from the ceiling, fluttering onto models below. Abloh was back with a bang.
Miu Miu:
Bygone elegance has been a theme of A/W 2020 (just look to Fendi's femme fatale inspired 40s-centric collection), and it's an aesthetic that Miuccia Prada also explored with a tongue in cheek aplomb. At Miu Miu's Palais d'Iéna showspace – lined with retro floral carpet and pink neon lighting, courtesy of OMA – a host of A-list models strode in crumpled satin dresses, fake fur collar pea coats paired with bejewelled sheer camisoles, puffball taffeta skirts and tartan knit bodysuits. In a week which was dominated by threat - there was a joyful escapism to the silhouettes on show, only enhanced by the strut-enhancing show soundtrack, including Chicago's All that Jazz.
Pierre Hardy:
Eager for some evening wear options, we were particularly struck by Hardy's space age sandals and ankle boots imagined in a unusual holographic leather. These kitten heels reveal a touch of toe cleavage for added seduction. We'll be flaunting Hardy's stompy bovver boots come autumn. The silhouette may have been ubiquitous on the Paris catwalks (see Issey Miyake, Valentino and Paco Rabanne) but the brand's version have a subtly graphic lilt, featuring contrasting coloured slip beaded details.
Jack Moss is the Fashion Features Editor at Wallpaper*. Having previously held roles at 10, 10 Men and AnOther magazines, he joined the team in 2022. His work has a particular focus on the moments where fashion and style intersect with other creative disciplines – among them art and design – as well as championing a new generation of international talent and profiling the industry's leading figures and brands.