Sustainable denim brands for winning this winter
We present the sustainable denim brands proving they've got good jeans when it comes to environmentally friendly and ethical fashion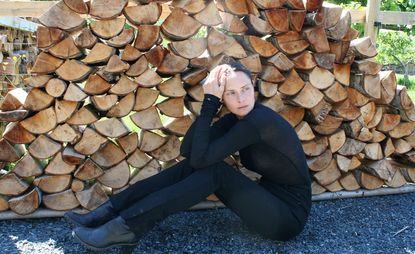 (Image credit: press)
As the denim industry fights for a more sustainable image, dialogue has emerged as its secret weapon. From water wastage in cotton production and jeans manufacturing – it can take 75 litres, per pair, to fake that worn-in look, with tons of garments destined for landfill – to the human loss of skills and local industry caused by tightening margins, the cost of denim is as much social as environmental. But growing awareness of the need for sustainable fashion is driving the discourse between consumers, designers and suppliers that is needed to remodel denim from the rivets up. Here we present the sustainable denim brands with an ethical approach to jeans woven into their DNA.
Sustainable denim brands
Bite
'It's about paring your belief system with your personal life,' Elliot Atkinson co-creative director of Bite Studios, told us back in 2018 of his sustainability-focused, slow fashion-encouraging brand. Now the 2016-founded label has also brought its good genes to denim, with the launch of its first jeans line – a succint trio of styles, a slim, wide and straight leg – created in collaboration with sustainable denim pioneer Nudie Jeans. Here, model Tasha Tilberg insouciantly sports the designs on her organic farm in Canada. Which green patch will you find to flaunt yours?
Oxley
By the end of 2019, Richard Oxley – a Central Saint Martins graduate, who has worked for both Vivienne Westwood and Huntsman – had sold over 150 pairs of his upcycled bleached jeans through Instagram. A year before, the designer had started experimenting with the geometric diamond print seen in his graduate fashion collection, translating it onto vintage denim and selling his patterned designs to friends, when he was not busy gardening.
In a meditative and eco-aware mix, Oxley splits his time between cultivating Burnt Fen Flowers, a biodynamic flower farm in Norfolk, and creating organic cotton T-shirts and hand-printed high-waisted denim and jackets. The designer's green-fingered venture also influences his sartorial creativity, symbolised when his bleached jeans are seen drying in nature, surrounded by sprawling fields and trees.
Re/Done
Upcyling brand Re/Done estimates that it has diverted over 145,000 garments from piling up in landfills, since the LA label launched in 2014. The brand, which celebrates the time-honed appeal of classic silhouettes, beloved by rock and roll icons, from denim to vintage T-shirts, doesn't just use deadstock garments in its designs, it also operates using practices which reduce water waste and CO2 emissions. Other sustainable methods Re/Done employs? Orders are distributed using recycled hang tags and biodegradable poly bags, 75 per cent of factory production waste water is saved through a three-stage purification system, and pumice stones that are used in production to stonewash denim, are repurposed and incorporated into housing insulation in low-income communities.
Re/Done is also boosting its circular fashion model with the launch of its latest reselling platform Re/Sell, an e-commerce peer-to-peer marketplace that allows its fans to sell on Re/Done designs in return for store credit. Re/Sell is currently being trialled in the United States. Keep your eyes peeled for a wider international launch.
shopredone.eu (opens in new tab)
Blackhorse Lane Ateliers
Making is everything at Blackhorse Lane. The brand evolved from a Walthamstow atelier renowned for keeping denim manufacturing in London alive, which explains its focus on treating machinists with the respect usually reserved for designers. 'Our factory is beautiful, we eat together, and the team is well paid and owns equity in the company,' says head of Digital & Marketing, David Giusti. 'We're changing perceptions of what being a maker means.' This dedication to craftsmanship continues at a new Shoreditch store where, alongside its raw denim staples, lives a repair service and haberdashery offering all the hardware, selvedge and encouragement needed to create your own. The atelier has also unveiled a collaboration with Belstaff, an elegant triptych of dark denim womenswear designs: jeans, a jacket and a tote bag.
blackhorselane.com (opens in new tab); belstaff.co.uk (opens in new tab)
Reformation
RELATED STORY
Hot on the heels of its sustainable activewear offering, LA brand Reformation continues to demonstrate its good jeans. The label's recent capsule denim collection allows consumers to trace the full lifestyle of their jean purchase, from 'Farm to Butt'. Particularly peachy, Reformation is the first global brand to craft its denim pieces from Good Earth Cotton, the first Australia-based carbon-positive cotton farm. You can read more about its strides within eco-fashion in our comprehensive sustainable fashion guide. Jeans, including the utilitarain high-rise 'Carpenter' cut, and the pocket detail wide leg 'Alyssa', feature scannable pigments, created by fellow Austalians Fibre Trace, which can be scanned to reveal the entire life cycle of their construction. Denim with do-good DNA.
thereformation.com (opens in new tab)
Arket
Craft-inspired patchwork designs continue to be a hit on the spring catwalks (see Dolce & Gabbana, Max Mara and Rokh), and in our wardrobes. Now, Arket has launched a spliced and diced denim collection that has sustainable credentials. Its denim series of skirts, tote bags, jackets and jeans is crafted using upcycled offcuts from Arket's own recycling programme, in collaboration with I:Collect. The pieces have a bohemian 1970s feel, and should you have a soft spot for the designs, we suggest you settle into the collection's offering of patchwork pillows too.
arket.com (opens in new tab)
Self-Cinema
'They are the greenest high fashion jeans we think you can buy anywhere,' say the founders of Self Cinema, Anthony Rock and Samuel Thomas, of the denim pieces found as part of their Sweden-based brand. The label, which launched in July 2018, is focused around a slow fashion mindset, encompassing collections which are 80 per cent carryover and 20 per cent seasonal, including timeless items such as Breton jersey sweaters and nylon cagoules. The brand sources its indigo denim in Japan and its dual-ring spun fabric composition, which features in jackets and straight leg jeans, is made up of half recycled organic and half organic cotton. 'It wears really well and the denim ages beautifully,' say Self Cinema's founders.
COS
Last autumn saw the launch of COS' sustainable denim collection, and now the Scandinavian label has launched the latest iteration of its eco-aware offering. Timeless, classic and utterly versatile designs are prioritised, encouraging shoppers to keep them in their wardrobes for years to come, including loose leg, barrel cut, flared and skinny leg jeans. Men's and women's pieces in the offering have been crafted with either recycled or organic cotton, with attention placed on damage-free finishes, including rivet-free detailing. The label has also innovated in its colouring techniques, using natural dyes and materials, including hemp.
cosstores (opens in new tab)
E.L.V. Denim
Named after east London where her jeans are produced, and the vintage pieces reused in them, Anna Foster started E.L.V. Denim in response to throw-away consumerism's influence on fashion. Saving used denim from landfill, she handpicks, deconstructs and splices together two pairs of discarded jeans to create her signature style, 'The Twin'. And the sustainable message is backed up with luxury-level expertise, reflected in a made-to-measure service at retail studio, Alex Eagle. 'It's about educating buyers that recycled products can be modern and sophisticated,' says Foster. 'They feel relevant while giving people the satisfaction that they're helping the environment'.
elvdenim.com (opens in new tab)
Ullac
'When we worked out our values, and what things cost to produce, we realised that normal retail would make our clothes too expensive,' explains Chris Lynd of Ullac. 'We want to create something ethical but accessible, and by not wholesaling we can do that.' Working exclusively with organic cotton, sustainable denim mills – like Candiani, and its traditional family-run factory near Bologna, comes with a hefty price tag. But by avoiding store mark-ups and selling exclusively through its online shop, and Hackney Downs studio, Ullac avoids passing the cost of buying into their ethical, genderless vision for workwear-inspired denim onto the customer.
Ullac (opens in new tab)