The elegant simplicity of Arts & Science's Aoyama flagship
Designed by Atelier Tsuyoshi Tane Architects (ATTA), Arts & Sciene's new Aoyama flagship in Tokyo, offers a play between curves and lines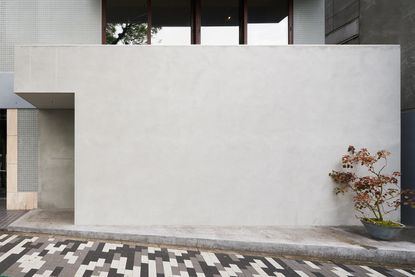 (Image credit: Daici Ano)
Wallpaper* Newsletter
Receive our daily digest of inspiration, escapism and design stories from around the world direct to your inbox
Thank you for signing up to Wallpaper. You will receive a verification email shortly.
There was a problem. Please refresh the page and try again.
The façade, set on a quiet central Tokyo street, is as low-key as it is simple: a windowless block of smooth, grey concrete, with a cut-out segment leading to a side entrance. Forget eye-catching shop windows. Conventional retail concepts are eclipsed in favour of a more discreet approach at Arts & Science, the Japanese select store and brand known for its pitch-perfect good taste, which recently opened a new flagship in the Aoyama district.

Designed by Atelier Tsuyoshi Tane Architects (ATTA), the closed concrete exterior hides a serene and intimate two-level haven of natural light, with perfectly balanced curves and lines in textured shades of greys and browns. 'The facade is a way to express the image of a brand,' explains Paris-based Tsuyoshi Tane. 'The expression of absence is a way to display the shop façade, in order to be more intriguing for the visitor and contrast with the open and transparent.' The new store – a relocation of its original Aoyama flagship just down the road – is a perfect fit with Arts & Science.

It was in 2003 that creative director and longtime Tokyo resident Sonya Park opened the first Arts & Science store in a quiet lane in Daikanyama. Her motivation was simple: born from her frustration at not finding the things she wanted in Tokyo, she set out to source and create the clothing and lifestyle products she loved, using high-quality materials and craftsmanship. With a name inspired by the idea that the perfect product is a balance of both art and science, today, there are 11 stores (including one café) in Tokyo and Kyoto showcasing products made mainly in Japan, but also crafts, arts and textiles that have caught Park's discerning eye across the globe.
The new flagship is in an exercise in elegant simplicity. Central to its concept? A play between curves and lines: more precisely, the freedom of 'arts' is represented in the arcs and curved walls of the first floor; while the straight lines of the ground floor interior are inspired by the discipline of 'science'. Entering the store, the ground floor is a serene space with clean lines of smooth, light grey concrete, with curated clothing hanging on metal rails, accessories displaced in minimal glass and steel cabinets and a rectangular block counter. Despite the absence of a shop front window, natural light flows easily into space via a narrow skylight made from a strip of glass rods from Germany in the ceiling, while a lightweight curved staircase – a black raven in sculptural clay by artist Stephanie Quayle sitting beneath it – steals the show on the rear wall.

'Natural light is the essence of the space,' says Tsuyoshi. 'In order to bring the natural light, we created a sky light on the ground floor and also opened a large void in order to bring the light from the upper floor.' Upstairs, the atmosphere shifts into softness: straight lines and corners are replaced by gently curved walls while the space is cocooned in a warmer palette of earthy brown shikkui plasterwork, woods and brass.

'We researched the shared origins of art and science throughout history and where they may have started diverging,' explains Tsuyoshi. 'We then conceptualised our idea into: art as "arc" and science as "straight", which is the fundament of geometry.' The interior on the ground floor (science) has straight lines and greys; and the upper floor (arts) has arcs, curves and shades of brown.' Scattered throughout the store are hints of craftsmanship and design that perfectly complement the Arts & Science philosophy; the simplicity of the organically-grained wood chairs by late Swedesh designer Axel Einar Hjorth and the smooth modern curves of Faye Toogood's Roly-Poly dining chairs among them.

Other touches recently on display range from the exquisitely abstract lines of Ernst Gamperl's wooden bowls to a black lacquer-layered ceramic vase containing a yellow burst of spring buds by Japanese artist Kenta Anzai. 'Shopping should be a very intimate and private experience,' explains Park. 'I think that being able to see in from outside through a huge window would make our customers feel a little too exposed. I wanted the whole experience to feel a little extraordinary and outside of a normal daily environment. Something between a boutique and a gallery.'
INFORMATION
Receive our daily digest of inspiration, escapism and design stories from around the world direct to your inbox