Artist Philippe Parreno is given carte blanche to curate a multi-media exhibition at Paris' Palais de Tokyo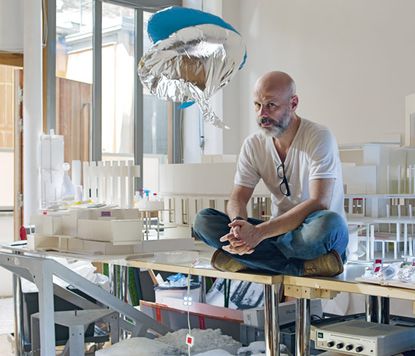 (Image credit: Jonathan de Villiers)
When the Palais de Tokyo reopened in 2012 after several years of restoration work, unveiling a 22,000 sq m exhibition – almost three times its original volume – the museum's new director Jean de Loisy was intent on using it to experiment with the notion and format of exhibitions. Handing the entire space to a single artist, he believed, would be 'a fascinating confrontation to enormity'.

It is hardly surprising then that the first creative carte blanche ever extended was handed to Philippe Parreno. The French contemporary artist – profiled in our November issue (W*176) – has dedicated the past 20 years to scrutinising how art meets its audience. Through an array of media (some classical, some unconventional and lo-fi) he tends to view an exhibition as a work of art in itself. The result is the mutli-disciplinary: 'Anywhere, Anywhere out of the World'.

Faced with the labyrinth-like succession of rooms, hidden pockets and corridors of the Palais (which previously served as an archival space, an art school and even a squat), Parreno has done what he does best, bringing in specialists from various visual fields, blurring the lines between art and entertainment.

Hand in hand with movie set designer Randall Peacock and director of photography Darius Khondji, Parreno has reshuffled some of his most famous works and created something entirely new in the process.

Visitors are welcomed by a gigantic, blindingly bright neon board and flickering lights peppered through the hallway. A large nearby screen displays a film of a newborn child 'Anna' (1993), which grows abstract as you walk closer to it - a nudge, perhaps at impressionist masterpieces.

Borrowing codes from amusement parks, he has filled the rest of the space with what he likes to call 'cheap magic tricks for kids'. An electric piano installation plays the virtuoso masterpiece 'Petrouchka' by Igor Stravinsky. The following room is filled with the LED-lit 'Danny La Rue' (2013), which - hanging from the ceiling - abruptly switches on and off, suggesting a mysterious ghost town, reminiscent, perhaps of Hayao Miyazaki's child-like universe. Revolving doors slice the space in two and create secret boudoirs, unveiling a display of pieces accompanied by the sounds of Merce Cunningham's dance troupe in one room. Fake snow falls from the ceiling in a corner of the other room.

The exploration of portraiture, another theme dear to Parreno, is also in evidence. The artist has always been fascinated with the idea of generating parallel representations of people through alternative media, and the show proved no different. While robots reproduced the voice and handwriting of Marilyn Monroe ('Marilyn', 2012), glow-in-the-dark portraits suddenly reveal hidden faces ('Fade to Black', 1995), forcing the audience to scope the walls for hidden messages.
'What Philippe Parreno is giving us is a real-time experience, an expedition rather than an exhibition, a poetical journey through the Palais de Tokyo's strangeness,' said Jean de Loisy.
ADDRESS
Palais de Tokyo
13 Avenue du Président Wilson, 75116 Paris, France