Tameem Antoniades on video games to understand mental health
Coder Tameem Antoniades, co-founder of Ninja Theory, is working with neuroscientists on video games to help understand mental health. He's also tipped by Michèle Lamy as a creative leader of the future, in Wallpaper's 25th Anniversary Issue '5x5' project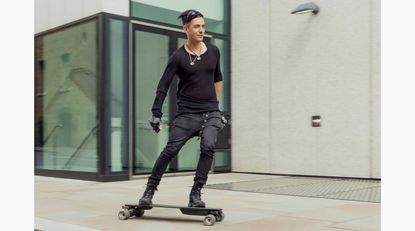 (Image credit: Photography: David Vintiner)
'There is no medium that allows you to become another person and see through their eyes like video games,' states Tameem Antoniades. Co-founder of Ninja Theory, a British game development studio known for DmC: Devil May Cry and the critically acclaimed Hellblade: Senua's Sacrifice, Antoniades pushes the boundaries of technology while providing riveting experiences.
For Antoniades, the most exciting part of being a game developer is working with a vast array of professionals. 'You want your game to be the best, so you have to work with the best,' explains the Cambridge-based designer.
He is tipped as one of 25 creative leaders of the future by artist and performer Michèle Lamy for Wallpaper's 25th anniversary '5x5' project. Says Lamy: 'Tam is somebody who directly answers the question about where we are going and what is the future.'
Tameem Antoniades: video games and understanding mental health
Antoniades' studio has collaborated with actor, producer, and motion capture artist Andy Serkis and writer and filmmaker Alex Garland on console games Heavenly Sword and Enslaved: Odyssey to the West respectively. 'Everyone we work with, we learn from,' he adds. Currently, Ninja Theory is working with Paul Fletcher, professor of health neuroscience at the University of Cambridge, to understand how the brain creates an image of the world.
One of Ninja Theory's most noteworthy games, Hellblade: Senua's Sacrifice, meticulously blends dark fantasy and action-adventure with well-considered themes of mental health. Incorporating research from neuroscientists at Cambridge, Hellblade changed people's perception of what games can do and the places they can take you.
'Video games allow you to make choices based on the character you have become. Hellblade worked well because you're seeing through the eyes of someone with psychosis. That is something very difficult to do in other mediums,' explains Antoniades. 'In film, you can't empathise with characters in the same way you can in video games.' A massive commercial and critical success, Hellblade was one of the reasons Microsoft acquired Ninja Theory in 2018 (the studio retains full creative freedom, and Antoniades continues to serve as its chief creative director); a sequel, Senua's Saga: Hellblade II is in the making.
The Insight Project continues Ninja Theory's exploration of how we can use games to help deal with mental health issues. It's a collaboration with the University of Cambridge and people affected by the issues. 'For projects like Insight, the goal is to use digital technology to allow people to experience what it is like to have a serious mental condition,' says Antoniades. 'And that is how I believe games cross over into the real world. By not being games but being a reality. However, you can't replicate reality unless you understand it.'
Weaving together architecture, cinematography, science, music, costume design, screenwriting, gaming, and tech, the work of Antoniades is immersive, human-centred, and sensorial. He takes people on interactive journeys through compelling environments and intricate storytelling while carefully constructing digital mental spaces.
'Through my work, I want to create life-changing art with game-changing tech, and the best way to get players to understand the reality of others is to create something that feels real.'
INFORMATION
A version of this article appears in Wallpaper's October 2021, 25th Anniversary Issue (W*270), on newsstands now and available to subscribers – 12 digital issues for $12/£12/€12.
Meet more creative leaders of the future nominated by Michèle Lamy here.
Receive our daily digest of inspiration, escapism and design stories from around the world direct to your inbox