Solid state: Rick Owens' latest foray into sculpture and furniture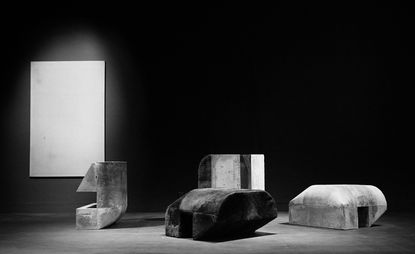 (Image credit: Courtesy of Owenscorp)
He's a favourite of rappers and the man who invented 'grunge-luxe', but California-born, Paris-based Rick Owens is less well known for his connections to brutalist architecture, minimalist furniture design and modernist painting. But a new exhibition at the LA Museum of Contemporary Art's Pacific Design Centre reveals Owens' engagement with these related disciplines.

Organised by MoCA curatorial assistant Rebecca Matalon, in close collaboration with Owens' wife and creative partner Michèle Lamy, 'Rick Owens: Furniture' presents pieces from the line created by the couple in 2007, alongside a group of large-scale sculptures, many being seen in public for the first time.
Sculptures such as Prong (2016) experiment with foam – a new material in Owens' repertoire – continuing the designer's dialogue with modernism and minimalism with blocky, rigid lines and a predilection for monochrome palettes. Among the works unveiled in West Hollywood is a new series of sculptures, titled Totems (2016), reminiscent, Matalon says, of the late Anne Truitt. Heavy-looking, brutal and luxuriant, Owens' objects demonstrate how his understanding of shape extends far beyond the architecture of a body.

Also included are benches crafted from camel skin, concrete and foam – a nod to Méret Oppenheim's surrealist fur tea set. At the centre of the show, Owens and Lamy have constructed an epic, textured alabaster wall, extending to the ceiling. The exhibition also sees Owens experiment with rock crystal, sourced in Pakistan.
'We are thrilled to be able to present the first US museum exhibition devoted to Owens' sensuous and stunning work in furniture and sculpture,' Matalon says. Born in Porterville, California, it was in Los Angeles that Owens launched his stratospherically successful label in 1994. 'This exhibition,' Matalon concludes, 'feels quite a bit like a homecoming.'
INFORMATION
'Rick Owens: Furniture' is on view until 2 April. For more information, visit the MoCA website (opens in new tab)
ADDRESS
MoCA Pacific Design Centre
8687 Melrose Avenue
West Hollywood, CA 90069
VIEW GOOGLE MAPS (opens in new tab)
Charlotte Jansen is a journalist and the author of two books on photography, Girl on Girl (2017) and Photography Now (2021). She is commissioning editor at Elephant magazine and has written on contemporary art and culture for The Guardian, the Financial Times, ELLE, the British Journal of Photography, Frieze and Artsy. Jansen is also presenter of Dior Talks podcast series, The Female Gaze.