A Danish modernist home gets a minimalist interior makeover by Norm Architects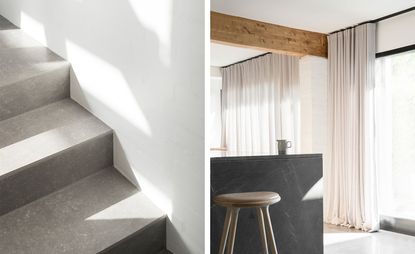 (Image credit: TBC)
Situated around 13 miles north of Copenhagen on the Zealand coast, the small, verdant town of Vedbaek is perhaps best known for its mesolithic remains. But beautifully austere domestic minimalist architecture might be making a close pass. A new project by the Copenhagen-based, multidisciplinary architecture firm Norm Architects is its fourth in the town. 'If you do something well, it often travels fast by word of mouth,' explains practice co-founder and project lead Jonas Bjerre-Poulsen. 'One project automatically has led to another.'

For good reason: Norm's brand of Scandinavian minimalism – with its parallel slabs of washed stone, marble and wood; abundance of natural light; and tasteful proclivity for midcentury design details – is both irresistibly contemporary and timeless.

The client here was a a family of four; the existing building a 1970 modernist house integrated into a hillside near the forest overlooking Vedbaek. Though the exterior has remained intact (simply brushed-up, says Bjerre-Poulsen), the interior was overhauled. Despite this, Bjerre-Poulsen explains that Norm were keen to respect the 'soul of the house, the modernist architectural principles of the era and the location close to unspoilt nature'. The latter was embraced via floor-to-ceiling windows, while the previously small, separated rooms were opened up to create a single continuous floor plan without partitions, completely changing the flow of the space conducive to the life of a family.
To foster synchronicity with the surrounding landscape, luxurious tactile materials and finishes were introduced throughout: plastered brick walls, soap-finished oak, marble and stone in light and grey shades, all of which will patinate elegantly over the coming years, connecting 'the interior with the surrounding nature in a new and improved way,' says Bjerre-Poulsen.

Interior design details were considered with a similar sensitivity, continuing the tradition of spare, unfussy serenity Norm has developed over a decade. 'We believe very much in the modernist dictum of less is more,' says Bjerre-Poulsen. 'But in Scandinavia we have always used simple minimalist objects and furniture made from natural materials, that made them more humanised – [like] the German counterpart steel pieces of the Bauhaus.' For this house, simple furniture pieces in wood, leather and other natural materials were thus chosen.

It's another quiet triumph for a practice built around the dual tenets of restraint and refinement. Who's next, Vedbaek?
INFORMATION
For more information, visit the Norm Architects website