Coil + Drift: John Sorensen-Jolink's furniture is choreographed minimalism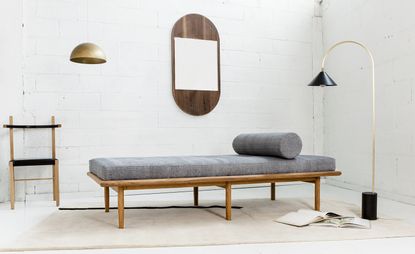 (Image credit: Sean Santiago)
Designer John Sorensen-Jolink is obsessed with the notion of home– which makes sense, because for months at a time he didn't have one.

At the age of 17, Sorensen-Jolink came to New York City to train as a dancer. He performed in the 2012 revival of Philip Glass, Robert Wilson and Lucinda Childs' opera Einstein on the Beach and was part of the original cast of Sleep No More.

Touring took him to farflung accommodations, where his only sense of domestic continuity came from a treasured Diptyque travel candle.

'Objects became very important to me, very valued,' he says.

After 12 years of professional dancing, Sorensen-Jolink pivoted to furniture design with no formal training. He took a woodworking class at Brooklyn's Makeville Studio and an apprenticeship, learned computer rendering, and in 2014 launched his studio Coil + Drift.

Earlier this year, Coil + Drift earned the prestigious ICFF Editors' Award for Best First Time Exhibitor.

'Dancers can do anything,' Sorensen-Jolink says, a little sheepish about the generalisation. But his early accolades in the design world are proof positive. Anyone who chooses their vocation in their teens and sautés full force into such a physically unforgiving life can surely remake themself once the curtain closes.

Being able to communicate in three dimensions is essential to Sorensen-Jolink's success. 'I speak very often about negative space in dance,' he says, 'I try to design furniture that evokes a certain energy or sense of movement.'

Choreographic inspiration comes through in the geometric metal base of his Dusk coffee and side tables, like the triangulated limbs of a well-coordinated water ballet. Or the infinite journey of the eye along the concentric carvings of his June mirror. And even the perfect elegant 'V' of his Canyon Book Display.

'Being a designer is being a communicator,' Sorensen-Jolink says, both in one's vision and the logistical strength of the brand. He credits strong relationships along his supply chain with the success of his studio.

Sorensen-Jolink especially values his wood fabricators– Mennonites working in Pennsylvania's Amish country. Initially, this family business was fabricating Coil + Drift's Rex Sideboard. Sorensen-Jolink hoped that they would also agree to fabricate his Soren Chair… this wasn't an easy sell.

'They had never made anyone else's chair design,' he explains. Rather, the fabricators had crafted their own, traditional design for decades. He describes the moment he breathlessly presented his Soren Chair prototype to the business' patriarch, as the family gathered around. They approved.

'I don't know that they like the chair, but they like the process of making it,' Sorensen-Jolink says, pointing out the simple beauty of the snug joinery.

He shares images of his forthcoming Soren Table, which will match the finish and leather trim of the chairs. The height of the table is such that when the chairs are pushed in, the circular chair backs hug each place setting. A true pas de deux.

Coil + Drift seeks warmth in material things: whether they be marble, iron or wood. John Sorensen-Jolink rolls out the welcome mat to anyone who wants to feel a connection with his minimalist creations.

As for that Diptyque candle?

'I still have it and it still represents home to me,' Sorensen-Jolink says.
INFORMATION
Photography: Sean Santiago
For more information visit the Coil + Drift website